Wincanton's latest news, views and information, including surrounding towns and villages
Headlines » Arts/Entertainment » Pilgrim Singers
Mon 21 Jan '19, 16:07
By John Baxter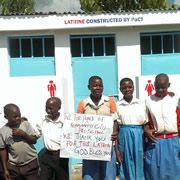 The Pilgrim Singers' 2018 Summer Concert at Wincanton Manor House "The Dogs" raised enough money to cover the cost of building a new toilet block alongside a primary school building in Uganda.
Sun 19 Jun '16, 17:06
By John Baxter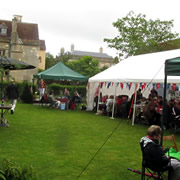 A charity garden concert in aid of Mary's Meal for Syrian refugees takes place at The Dogs in Wincanton on Sunday 3rd July, where The Pilgrim Singers invite you to join them for Summer Strawberries & Song.
Tue 23 Dec '14, 09:36
By John Baxter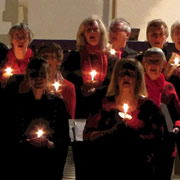 The 6th of December was St Nicholas' Day. It was celebrated in the Parish Church of St Peter and St Paul with a memorable charity concert by the Pilgrim Singers, who gave the rapt audience a wonderful, uplifting evening.
Mon 30 Dec '13, 19:31
By John Baxter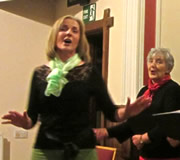 Christmas cheer, singing and candlelight as the Pilgrim Singers performed A Candlelight Christmas in Wincanton Baptist Church.
Mon 11 Nov '13, 18:19
By Andrew De Mora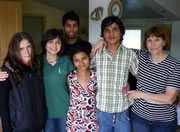 Ansford Academy has kindly provided the venue for a fund-raising Concert organised by Brue Valley Rotary Club to help a new project to support young adults who have grown up in Bulgarian Children's Homes.
Sat 20 Jul '13, 09:51
By Jane Jones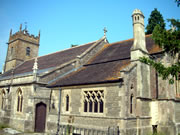 The Pilgrim Singers are coming to Horsington Church to sing a concert to celebrate the finishing of the work on the Church roof. This will take place on Sunday 28th July at 3.30pm followed by a cream tea.
Tue 24 Jul '12, 10:59
By John Baxter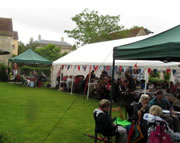 Despite the relentless rain the Pilgrim Singers' Concert in aid of Help for Heroes raised over £1,000 at their concert at The Dogs.
Mon 25 Jun '12, 15:58
By John Baxter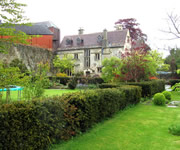 On Saturday 7th July you are invited to a great concert in the garden of The Dogs, Wincanton Manor in South Street, where the Pilgrim Singers will entertain you in aid of the charity Help for Heroes.
Fri 22 Jun '12, 14:56
By John Baxter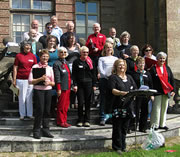 The Pilgrim Singers were in good voice at their latest two concerts, a Jubilee Roof-Aid Celebration at the Parish Church on 2nd June and the second as a participating choir at the Stourhead Festival of the Voice on 9th June.
Tue 10 Apr '12, 15:39
By John Baxter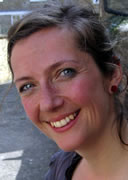 The Pilgrim Choir had a great day together being trained by professional conductor and choir director Ruth Routledge, culminating in an informal concert in the Baptist Church.
Sat 24 Dec '11, 21:07
By John Baxter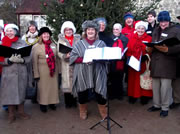 Saturday 10th December in Wincanton Parish Church the Pilgrim Singers sang to a full church in support of Marie Curie Cancer Care and a week later they performed at Stourhead as participants in the Festival of the Voice.
Mon 21 Nov '11, 17:14
By Leah Kitts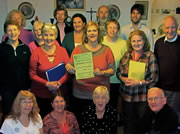 The Pilgrim Singers invite you to an entertaining evening of Christmas music and song on Saturday 10th December to raise awareness and funds for the valuable work that Marie Curie Cancer Care do to support those with cancer.
Fri 15 Jul '11, 11:36
By John Baxter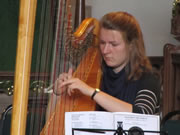 In a charity concert for the parish church roof appeal on Saturday 7th July, the Pilgrim Choir had a great evening with a lovely audience and were joined by talented soloists.
Mon 20 Jun '11, 09:46
By John Baxter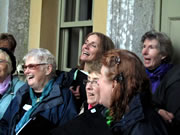 Wincanton's Pilgrim Choir performed under water at Stourhead but still managed to enjoy themselves as they took part in the annual summer Festival of the Voice in less than idyllic conditions.
Mon 20 Dec '10, 17:33
By John Baxter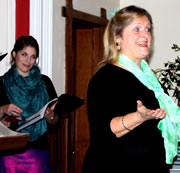 Jane Fenton leads this enthusiastic choir at a concert in the Baptist Church.
Showing 1 - 15 of 15 Articles