Wincanton's focused community website, providing news and information including a full calendar
News » Arts/Entertainment » Pilgrim Singers
Two Very Different Pilgrim Singers Concerts
Saturday 24 December 2011, 22:07
By John Baxter
After the Pilgrim Singers Concert for Marie Curie Cancer Care on Saturday 10th December in Wincanton Parish Church, our Choir Director Jane Fenton was able to email choir members to say:
"Just to let you know that after clearing all expenses we are able to send £1,200 to Marie Curie Cancer Care. Congratulations on such a wonderful achievement and in going out and selling tickets at this most busy time of the year. The church was packed and the comments have been so complimentary."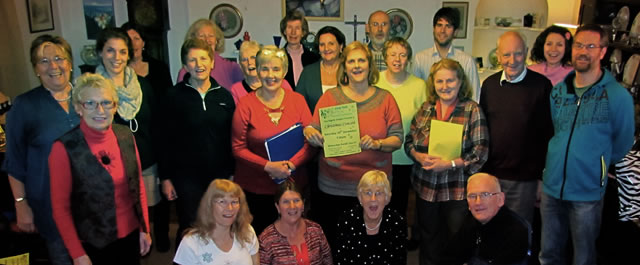 The programme devised by Jane contained not only choral singing, but also poetry and prose readings, two dances, and instrumental and vocal solo performances. At the interval eats and drinks were served and everyone enjoyed the chance to socialise. Writing to Jane, Canon Alan Watson had this to say:
"Mere words and lots of applause somehow feel inadequate to express the sheer delight and pleasure that Saturday's Christmas Concert brought to so many people. I shall therefore add yet a few more words of gratitude.
"It was such a well-balanced programme with so much individual talent in its content that nobody could fail to be utterly delighted with the whole performance. The standard of the singing, the poetry reading and the dancing/singing individual contributions was totally laudable."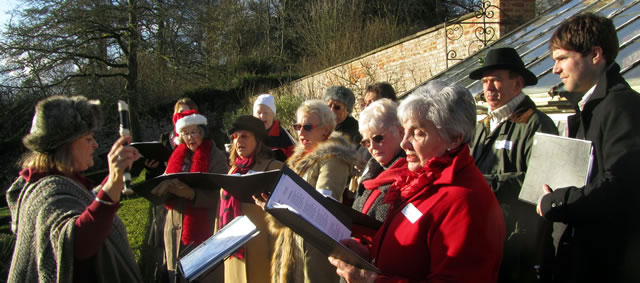 A week later on 18th December the Pilgrim Singers joined the Festival of the Voice at Stourhead to perform in the open on a biting cold day to the crowds attracted by the fairs, food, art and activities that were laid on to be enjoyed, in addition to the wonderful gardens.
Although some of us were laid low with the season's infections, we were in good enough voice to draw an enthusiastic response from the crowd.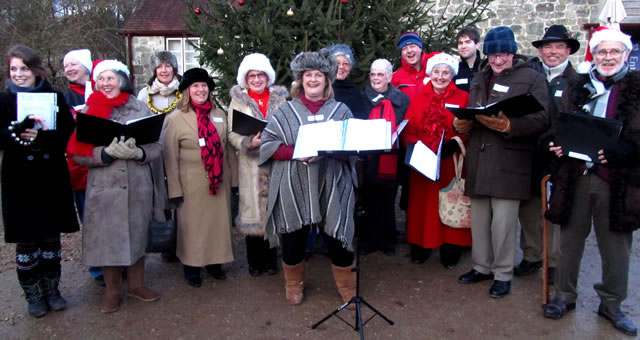 The finale came at four o'clock when Santa turned on the fairy lights and everyone joined us in singing Good King Wenceslas and other favourite carols before scuttling off to enjoy some mulled wine in a warmer setting.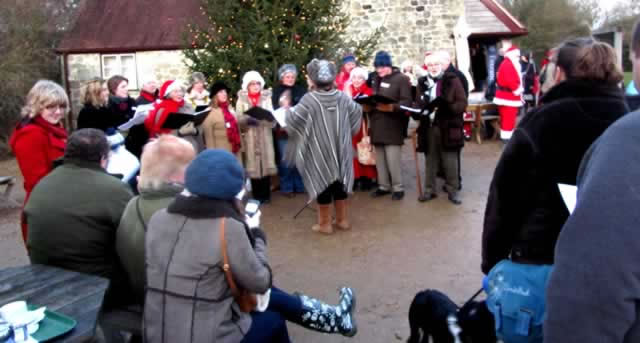 Eat Your Heart Out Gareth Malone.
I am sure many of us have been watching Gareth Malone on TV, the charismatic choirmaster who sets about involving people who have never thought about it to join a choir: bullied children, those living on a large and anonymous housing estate and the wives of soldiers on tour in Afghanistan. In each case we see him leading them to experience the amazing life-affirming power and simple joy that comes of making music together, in a way that many declare they find a life-changing experience.
Well, it seems this is a lesson quite a lot of us in Wincanton and our area have already woken up to. This Christmas has seen three concerts given here by three rather different choirs. First off on 3rd December was Spectra Musica, our local well established chamber choir. That was followed by the Pilgrim Singers on the 10th and that was followed by the massed ranks of the Wincanton Choral Society on the 11th performing parts of Handel's Messiah and Karl Jenkins' "A Celebration of Christmas", Morten Lauridsen's ethereal "O Magnum Mysterium" and a selection of other seasonal favourites together with a pianist, a flautist and a string quartet. There has also been a group singing together at the Balsam Centre. So at a time for making New Year resolutions perhaps some should think about joining a choir.