Wincanton's focused community website, providing news and information including a full calendar
Headlines » Arts/Entertainment » Wincanton Silver Band
Mon 23 Sep '19, 17:38
By Sandra Pearson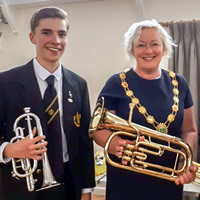 Susan Shelbourn-Barrow, Mayor of Wincanton, supported Wincanton Silver Band's "Meet the Band" event, held at Wincanton Memorial Hall on 22nd September. The band is recruiting, especially younger musicians.
Thu 15 Aug '19, 15:59
By Sandra Pearson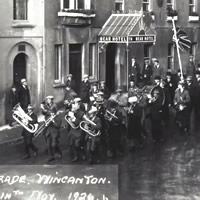 In 2020, Wincanton Silver Band will be celebrating 130 years of music-making in Wincanton. On Sunday 22nd September, the band is holding a "Meet the Band" event at which you can have a go at playing some of the instruments and listen to a short concert from the band.
Fri 26 Apr '19, 16:40
By Neil Chapman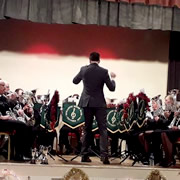 Wincanton Silver Band is putting on a Spring Concert this Sunday, 28th of April, presenting 'Music from the Movies', including Singing in the Rain, Les Misérables, Pirates of the Caribbean and Guardians of the Galaxy, and there'll be popcorn!
Sat 28 Mar '15, 16:00
By John Smith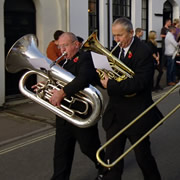 The Wincanton Silver Band is a prominent part of Town life, entertaining us throughout the town year at many local events. Now they are celebrating 125 years of bringing enjoyment to others through their music.
Tue 14 May '13, 14:18
By Julie Verney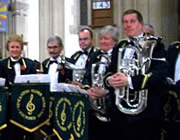 Wincanton Area Parkinson's Group are delighted that Wincanton Silver Band have chosen this local group to share the proceeds of their next concert. Please support the event next Sunday 19th May 2013 at 3.00pm in Wincanton Memorial Hall.
Showing 1 - 5 of 5 Articles