Wincanton's latest news, views and information, including surrounding towns and villages
Headlines » Arts/Entertainment » Wincanton Silver Band
Sat 28 Mar '15, 16:00
By John Smith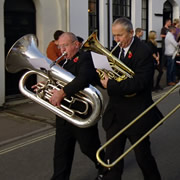 The Wincanton Silver Band is a prominent part of Town life, entertaining us throughout the town year at many local events. Now they are celebrating 125 years of bringing enjoyment to others through their music.
Tue 14 May '13, 14:18
By Julie Verney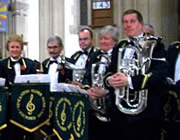 Wincanton Area Parkinson's Group are delighted that Wincanton Silver Band have chosen this local group to share the proceeds of their next concert. Please support the event next Sunday 19th May 2013 at 3.00pm in Wincanton Memorial Hall.
Showing 1 - 2 of 2 Articles