Wincanton's focused community website, providing news and information including a full calendar
Headlines » Arts/Entertainment » Wincanton Silver Band
Wincanton's new Mayor went to "Meet the Band"
Monday 23 September 2019, 18:38
By Sandra Pearson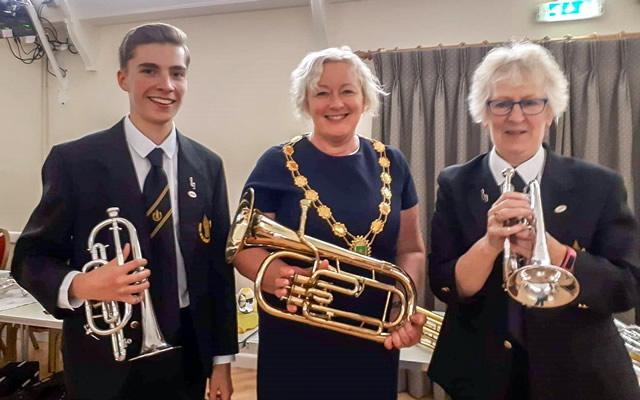 Susan Shelbourn-Barrow, Mayor of Wincanton, supported Wincanton Silver Band's "Meet the Band" event, held at Wincanton Memorial Hall on 22nd September.
The band played a short programme showcasing various sections of the band which included "Hey Jude", "Ruby Tuesday" "Bare Necessities", "Blaydon Races" and "Send in the Clowns", along with "I will follow him" from the film Sister Act. There was also a band history exhibit and a display of a wide range of their instruments. Visitors were able to meet the musicians and try out some of the instruments.
There is something special about listening to a brass band. A stirring march at the front of a parade, a sombre interlude on Remembrance Day and where would Christmas be without a brass band playing your favourite carols?
Wincanton Silver Band has been part of the Wincanton community for nearly 130 years, but it faces a similar challenge to many brass bands up and down the country; to attract new, and particularly younger players. With local school music departments being squeezed by a lack of funding, we can provide an opportunity for children to learn an instrument and become part of the brass band community. We are aiming to relaunch our training band soon on Monday evenings. Please contact us if you or your child are interested in learning a musical instrument.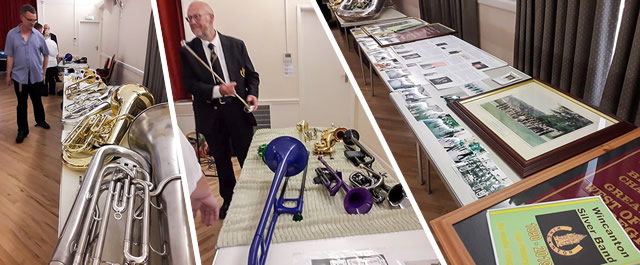 Contesting is part of the brass band tradition and we are returning to contesting next year, representing the town at the West of England 2020 Regional Championships in Torquay. Contesting is great for improving our musical skills and motivating us to practice even more! We raise most of the funding for contesting through our concerts and local paid jobs, but we are always looking for other sources of funding to support us.
If you are interested in joining the band as a player, rehearsal nights are Monday and Thursday evenings from 7:30pm to 9:30pm at the Hopkins Building, Southgate Road, Wincanton.
If you are interested in sponsoring us or would like us to play at a local event, please contact us by email at .
You can next see us at Wincanton Carnival on 11th October leading the parade.