Wincanton's focused community website, providing news and information including a full calendar
News » Arts/Entertainment » Pilgrim Singers
A Transcendent Christmas Concert from the Pilgrim Singers
Monday 20 December 2010, 18:33
By John Baxter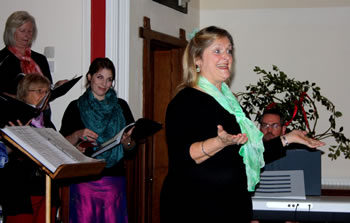 Having heard about this ecumenical choir which "now includes all the churches and none" which performs religious and secular music for charity, and having heard that they were very good and from some members that they just love belonging and that Jane Fenton the Conductor is really amazing, my wife and I were looking forward to the evening.
We were not disappointed. The programme was a well judged mix of old and new, joyful and serious, presented with lightness of touch and the obvious enjoyment of the singers - and this was infectious.
Interspersed with witty contemporary drama snippets relating to Christmas by Lisa Large and Jarrett and friends there was no chance for the attention of anyone to wander and in the middle there was an interval where everyone was provided with an excellent selection of snacks so everyone was able to meet and marvel.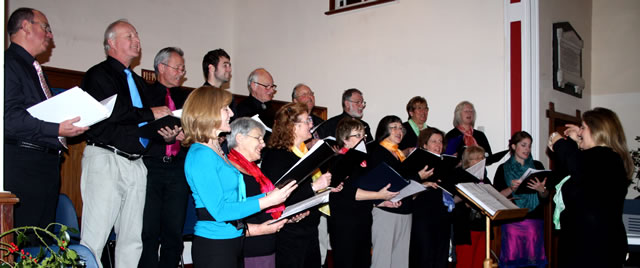 There was also good opportunities for everyone to join in as for "O Little Town of Bethlehem" and "O Come All Ye Faithful".
Sheilah and Leah Kitts sang a beautiful Irish number entitled the Parting Glass and accompanist Paul Hawkins played a seasonal piano medley.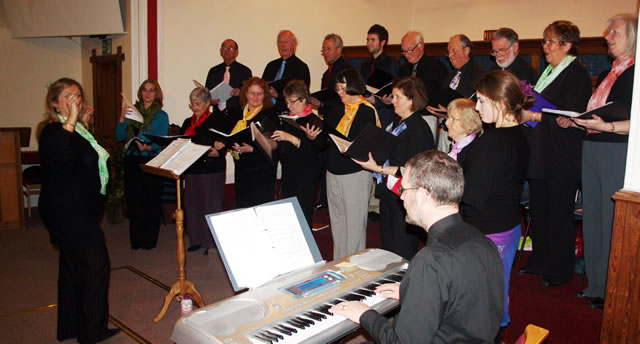 It all added up to an exceptionally good evening and it was really inspiring to find a choir of such a high standard going strong here. (I know they are not the only one) This has been recognised for they were judged "outstanding" at this year's Taunton Festival in what was their first competition.
The choir is keen to recruit more members and Jane does not limit membership to those of proven musical skills and abilities, so if you would be prepared to rehearse on Thursday evenings 6.15-7.30 pm and would like to join, then phone Jane Fenton on 01963 33695.