Wincanton's focused community website, providing news and information including a full calendar
News » Events » Wincanton Town Festival
WTF happened!?
Tuesday 20 July 2021, 20:45
By Helen Brown & John Baxter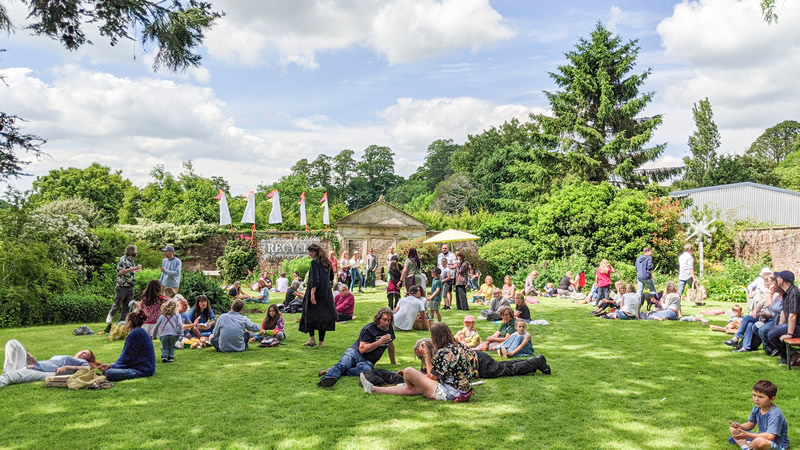 Yes it did! Wincanton was buzzing on Saturday 26th June. The Seed Cafe hosted workshops and talks, Cole's Yard hosted the inaugural Repair Cafe and the Wincanton Town Festival Market ran in the grounds of the Greening the Earth Gallery, formerly Clementina.
The Festival aimed to promote protecting the environment through community involvement. Over 1200 visitors were treated to both.
As well as live music and work by local artists and artisans, there were activities such as foraging, bushcraft, traditional games, story telling, various workshops, and demonstrations of stone carving, willow weaving, wool dyeing, and metal work.
On the lawn behind the gallery, families enjoyed their homemade picnics and food and drink purchased from a variety of local stall holders.
There is no doubt that Wincanton succeeded in showing how a vibrant community can come together to sustain itself and promote protecting the environment.
Thanks to all the participants. Among the many: Self Sufficiency Hub, Wild Ones Forest School, Blighty and Bunker bushcrafters, the Honesty Jar Swap Shop, Home Table Dining, Acorn House Bakery, Bootmakers, The Secret Storyteller, BearCat Collective and numerous planners and contributors.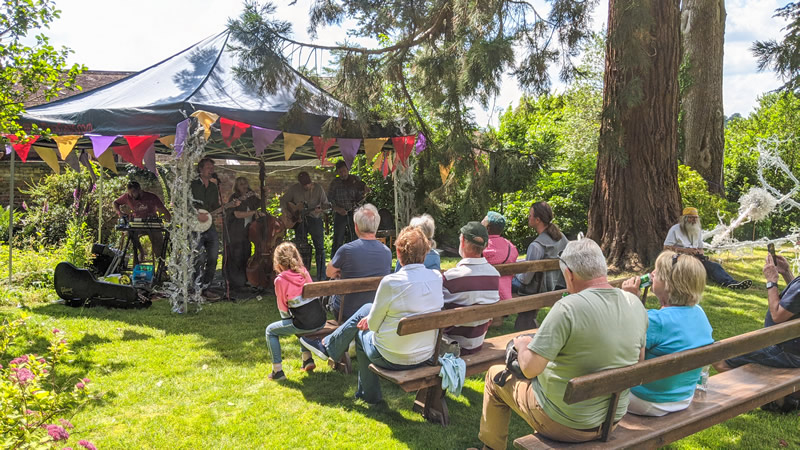 "Visitors walked through Zac Greening's studio and exhibition area, where much of his environment focussed art was on display, and entered into the beautiful gardens with an expansive lawn and varied nooks and crannies while the bands played and the sun shone.

It was a great experience and as several said to me, it was really good to see so many local people enjoying themselves and for the first time in so many months being able to sit out in the sunshine sans masks and socialise with friends and neighbours. At the same time, so many children were able to get stuck into a range of fun activities while so many local businesses and artists were able to show their wares.

Zac, Claudia and all those involved in this event are to be congratulated. I am sure everyone who attended will hope to see this become a well-supported annual event."

- John Baxter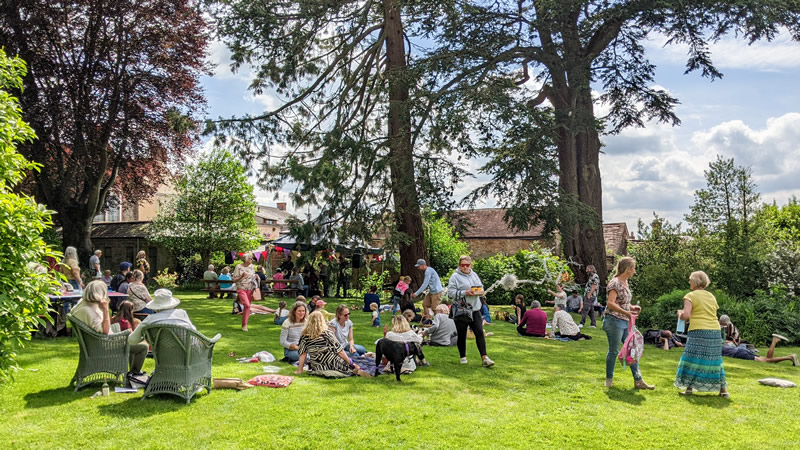 "I'm pleased that the Council was able to support the Wincanton Town Festival market. The event offered something for everyone with an eclectic mix of traditional market stalls, local food/drink, crafts, demonstrations and performance in a unique setting within the historic town centre.

The event was successful in attracting significant numbers of local people and also appealing to those from further afield, providing a significant boost to footfall which helps other town centre businesses during the quieter Saturday afternoon trading time.

This is one of several events and activities planned by local organisations and businesses to encourage visits to the town centre as part of our work on regeneration in Wincanton."

- Councillor Henry Hobhouse, portfolio holder for Wincanton Town Centre Strategy at South Somerset District Council
Following are photos by John Baxter, John Moore and David Seares.
Photos by John Baxter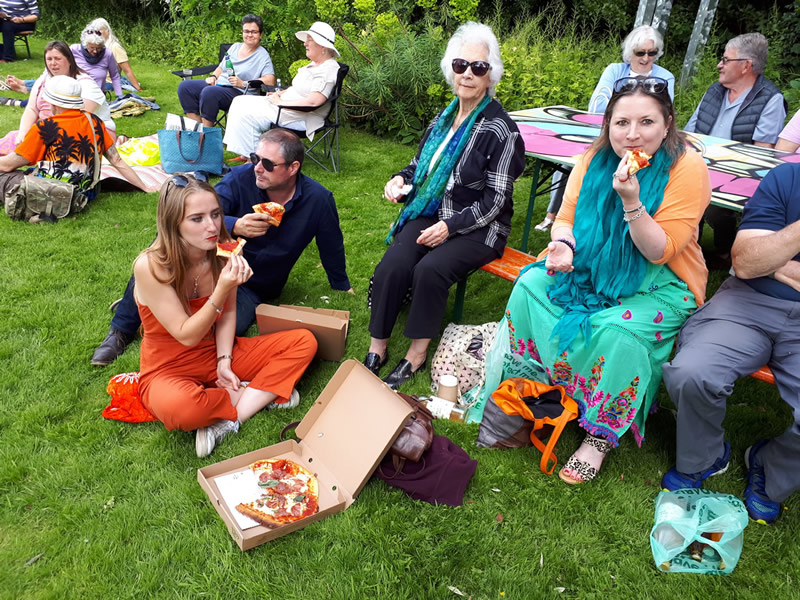 Enjoying a freshly made Pizza from Ian Thomas' oven, usually found at Bootmakers.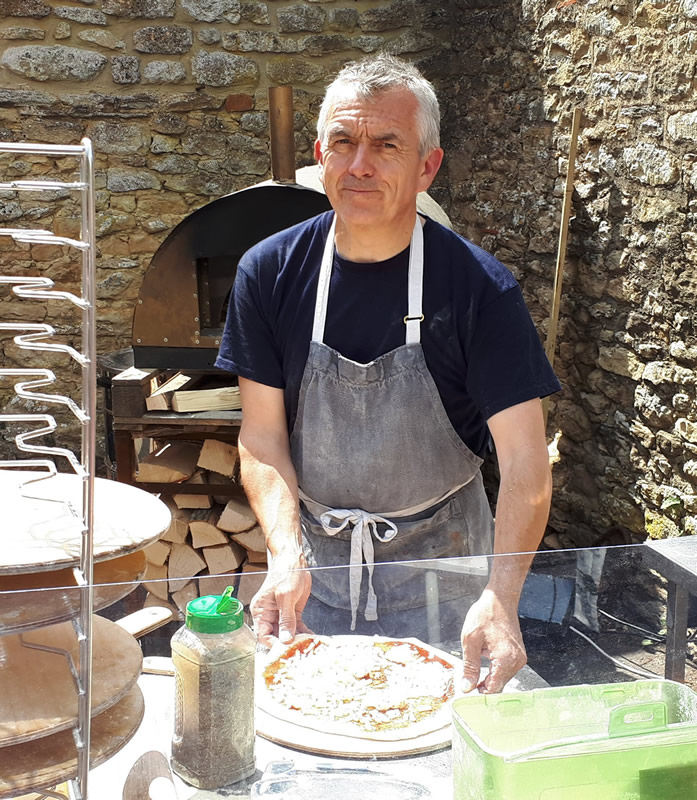 Ian Thomas working flat out making pizzas.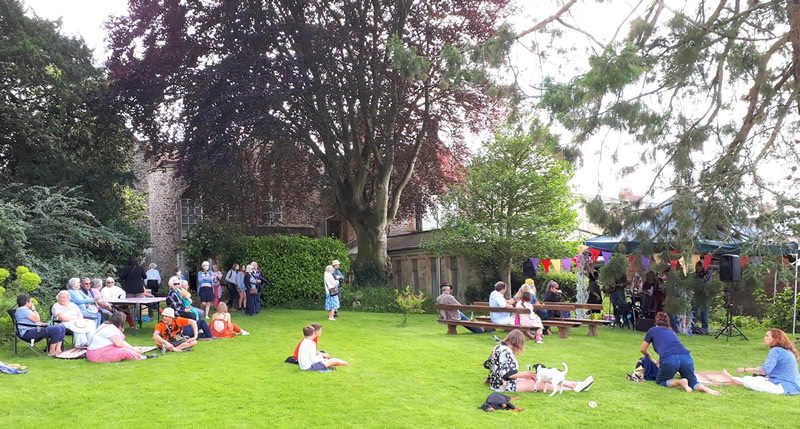 The gardens provided so much space to spread out, enjoy the sun and the music.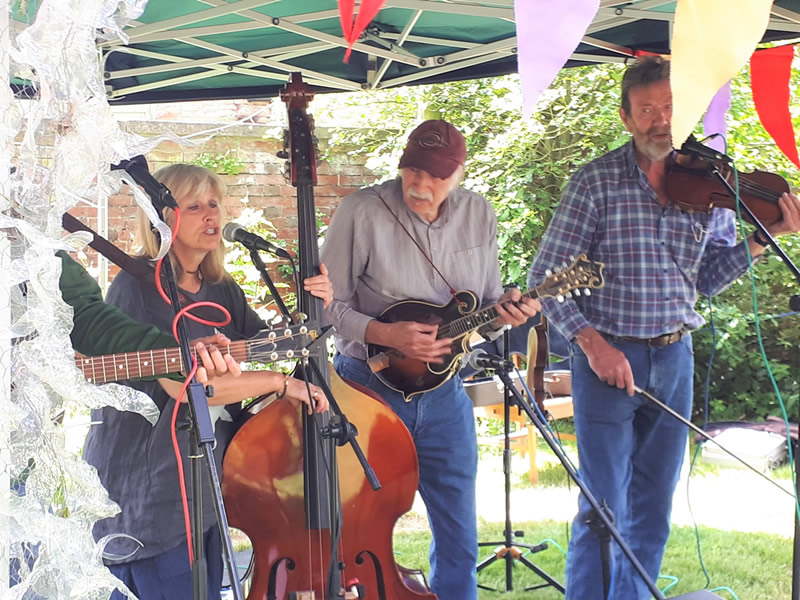 Music rang out throughout the afternoon and early evening from some ten different bands.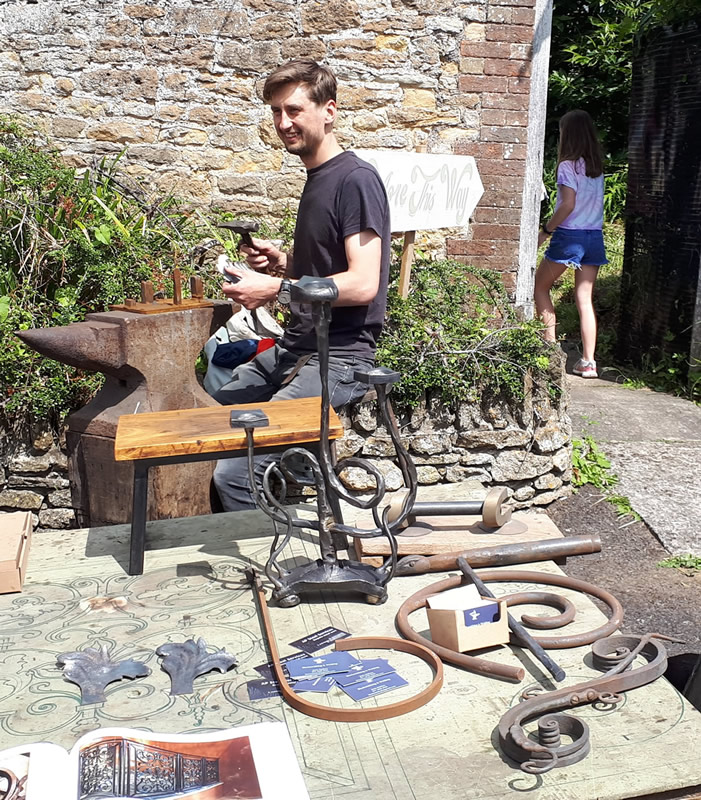 Janis Dalders, the blacksmith was one of the many small local businesses displaying their wares and their skills.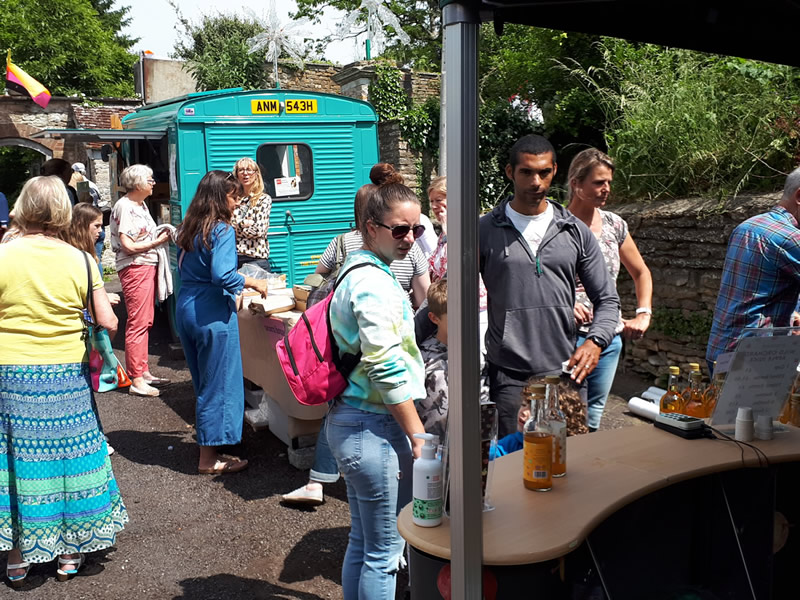 There was a great variety of local foods, drinks, ciders and cheeses and pork rolls as well as the pizzas on hand to satisfy every appetite.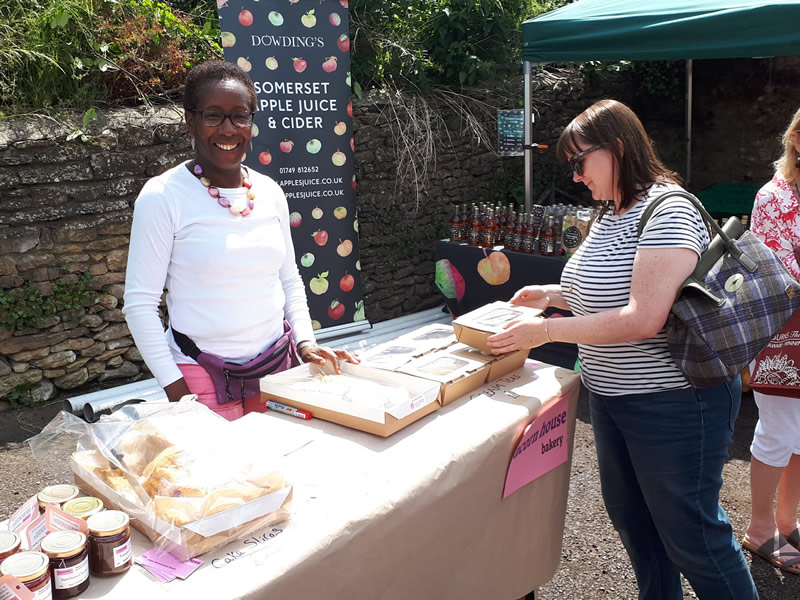 Helen Hermanstein Smith with her specialities from Acorn House Bakery.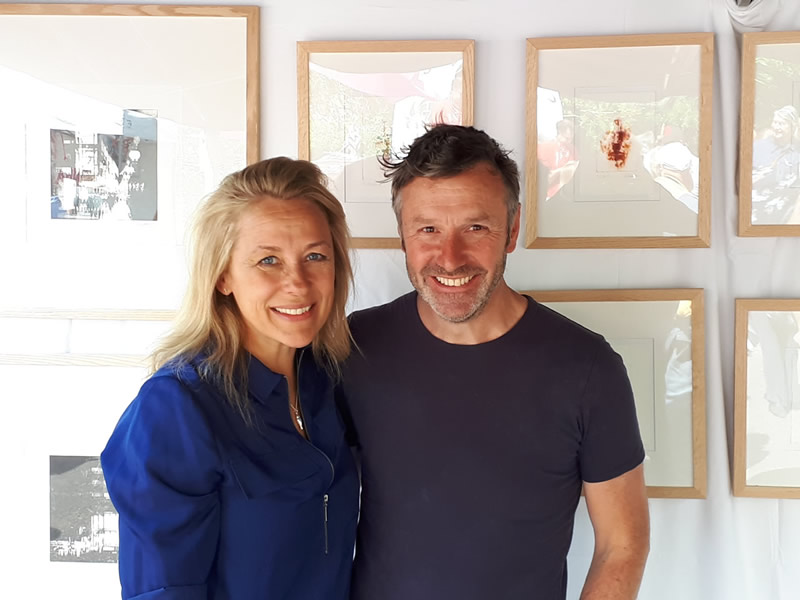 Several artists were on the site displaying their work such as Mike Davis, Graham Swift, Fabrizio Boccha and Paul Newman.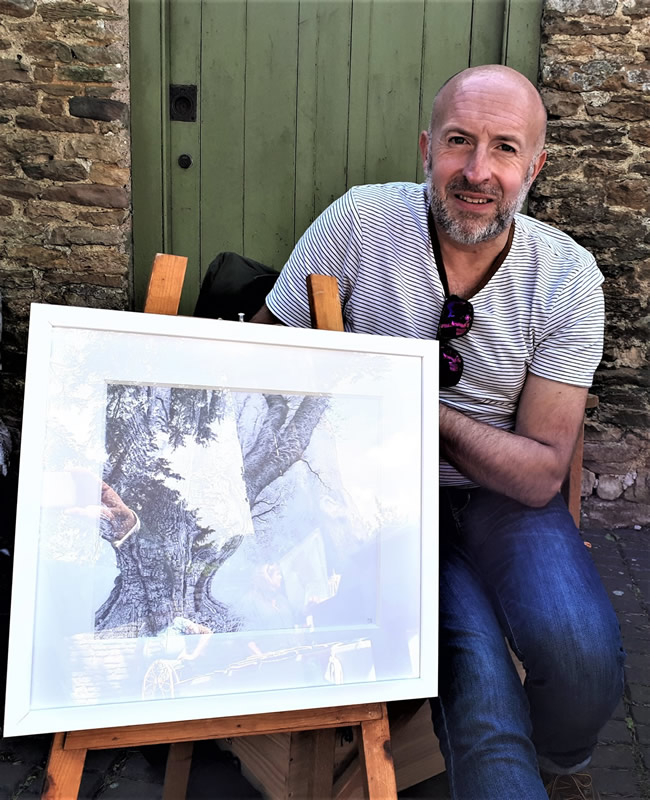 Graphic fine artist Paul Newman.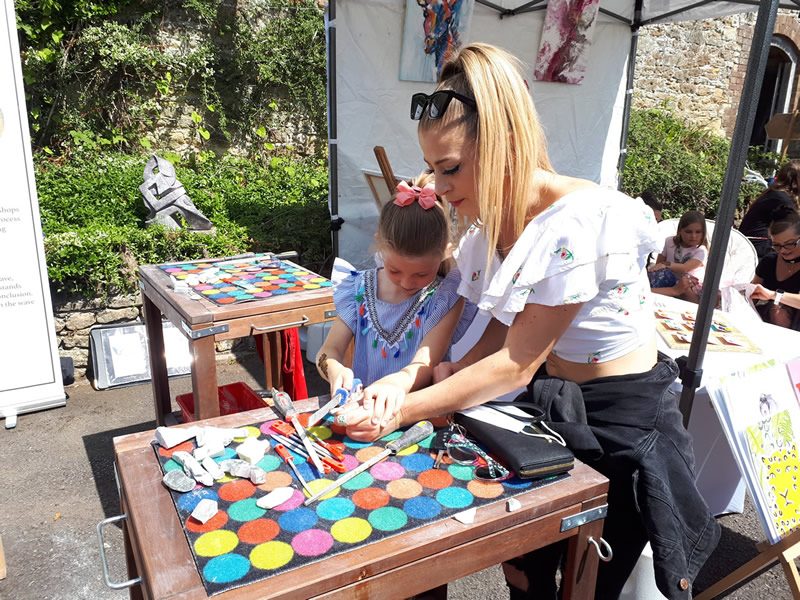 Trying out Asa Rich's therapeutic stone carving.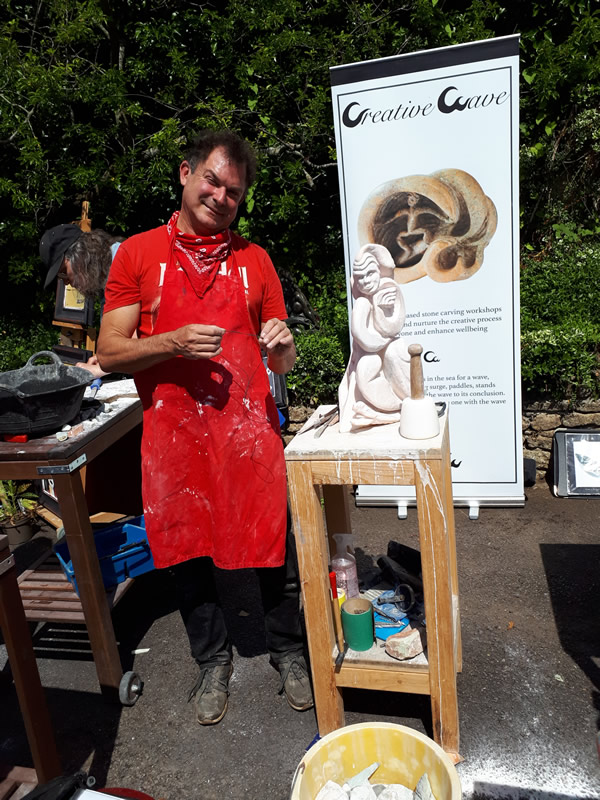 Asa Rich's therapeutic stone carving.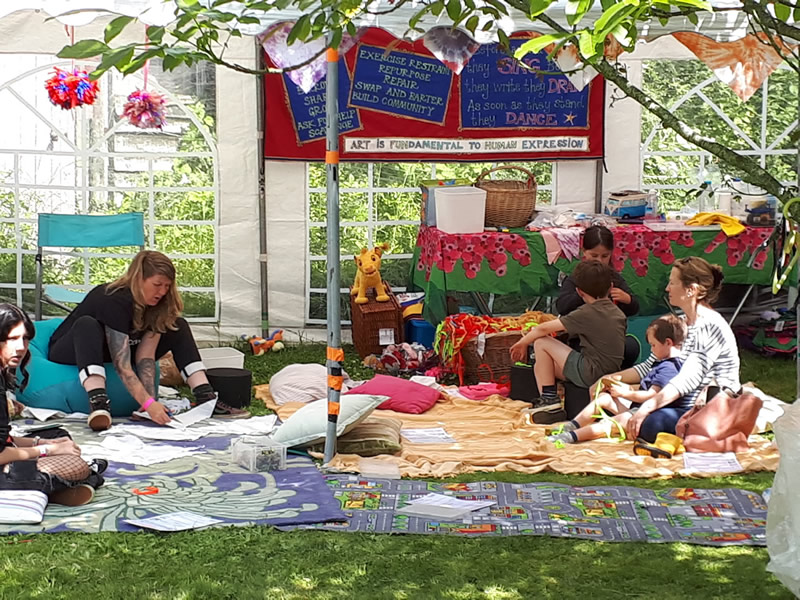 Learning how to design and dye scarves were very popular.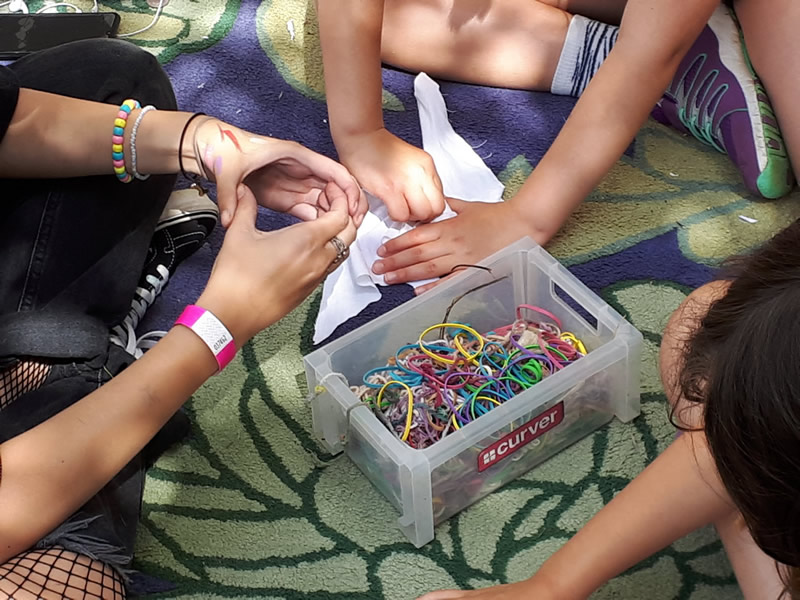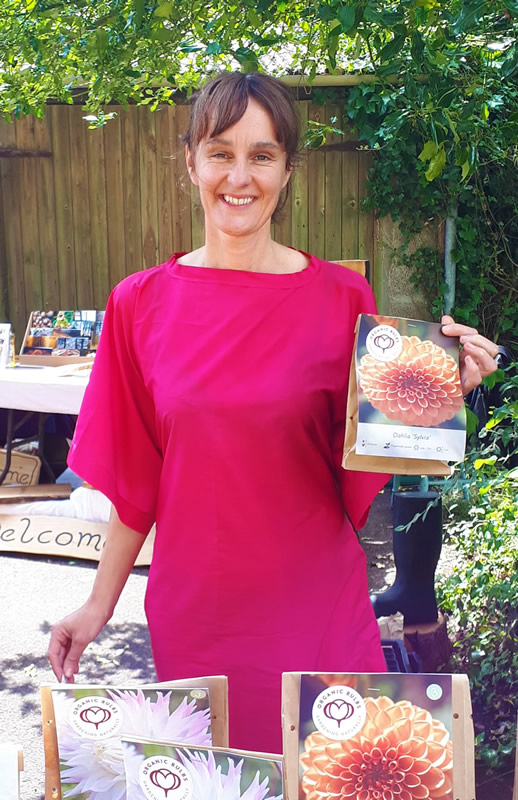 Bonita Newby was there from Castle Cary to promote Organic Bulbs for your garden.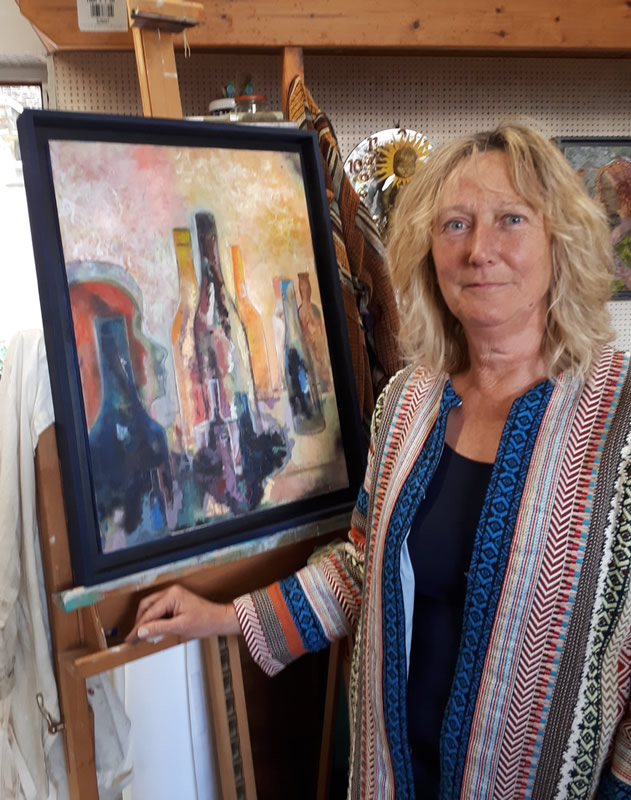 Local Artist Fay Hutchcroft opened her studio, displaying her still lifes, abstracts and portraits.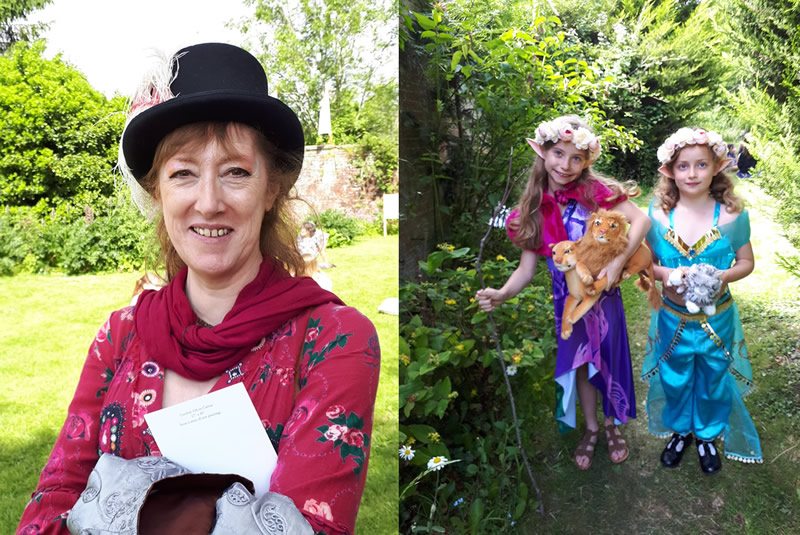 Storyteller Sarah Lloyd-Winder was there and these two came in Harry Potter costume to hear her perform.
Photos by John Moore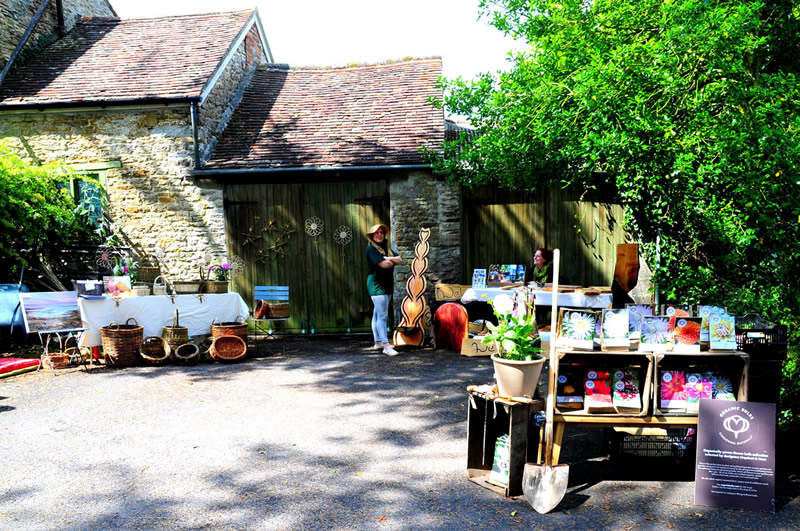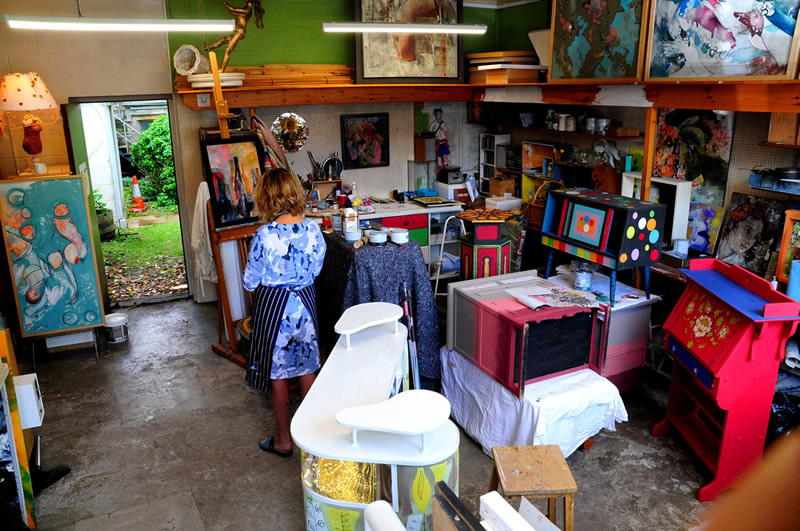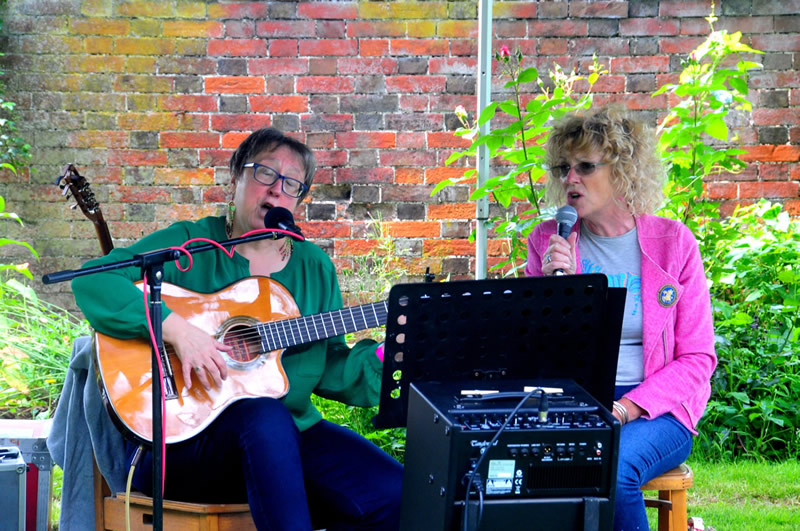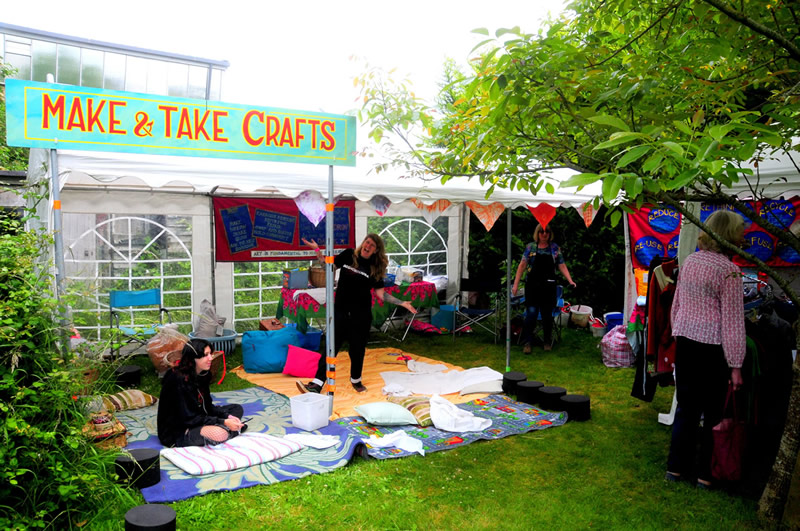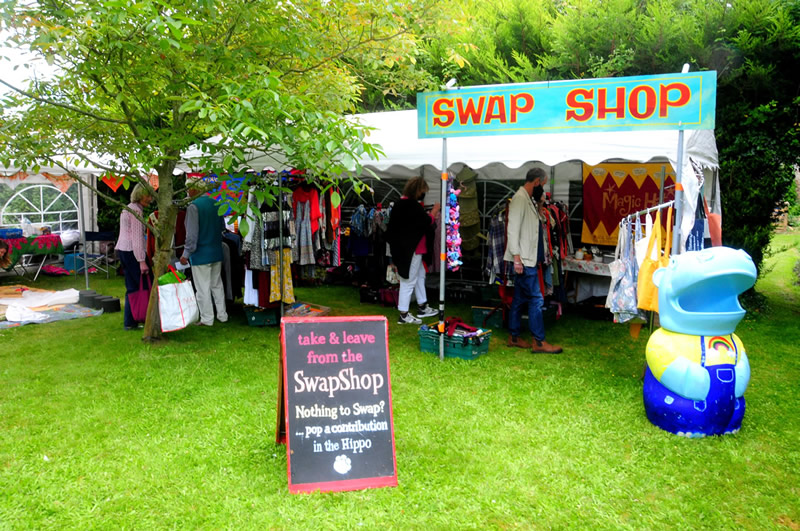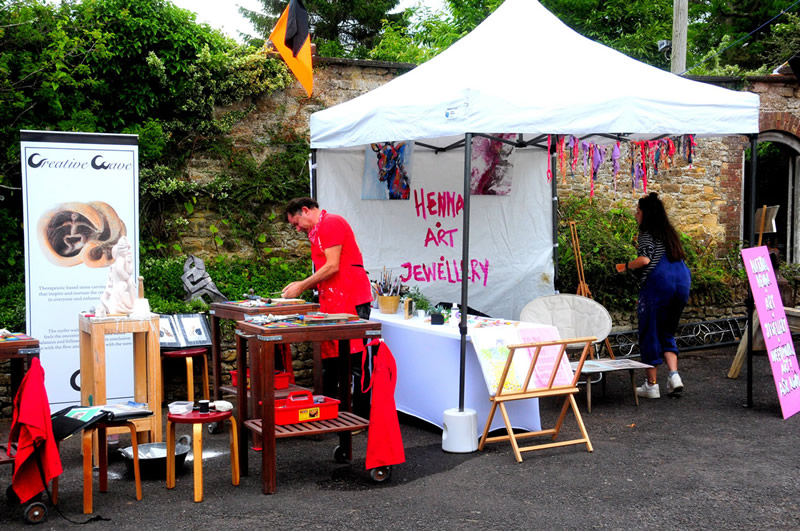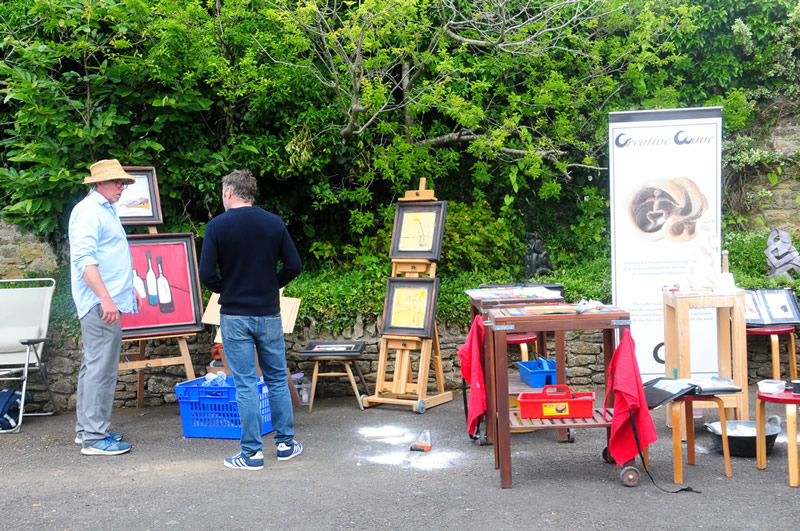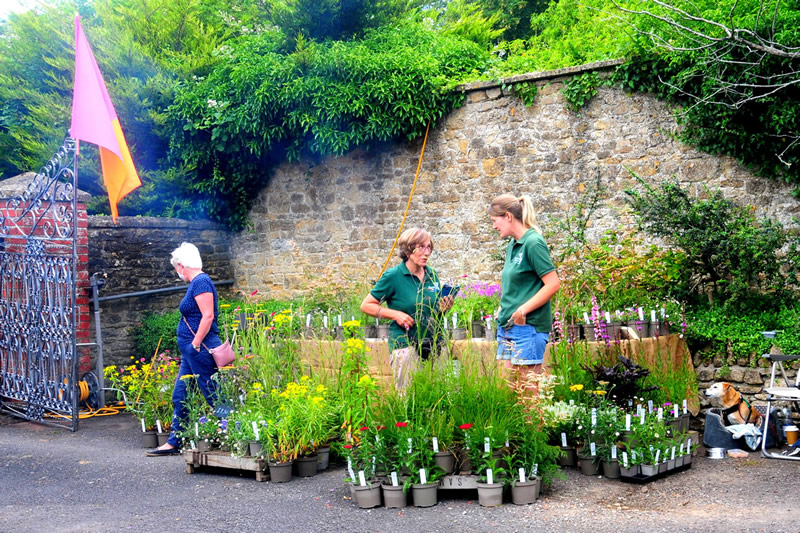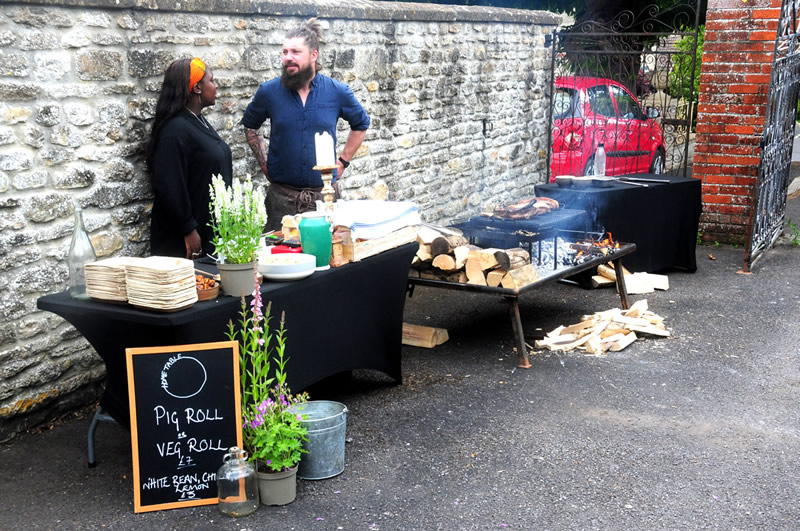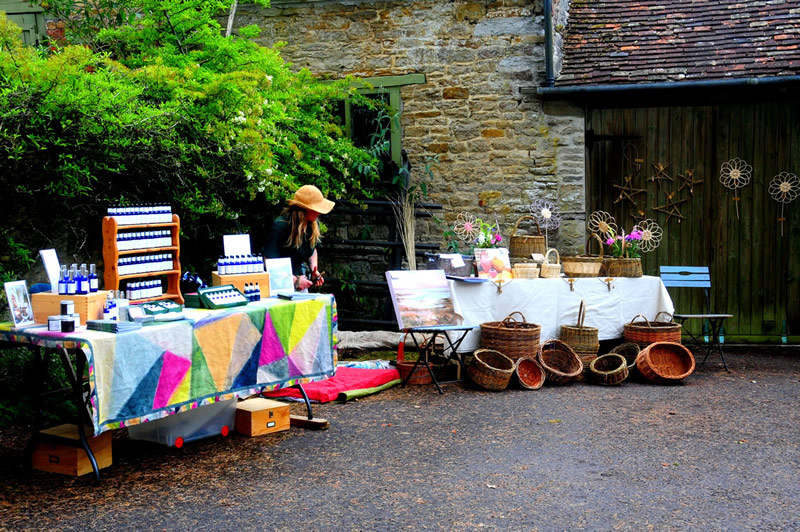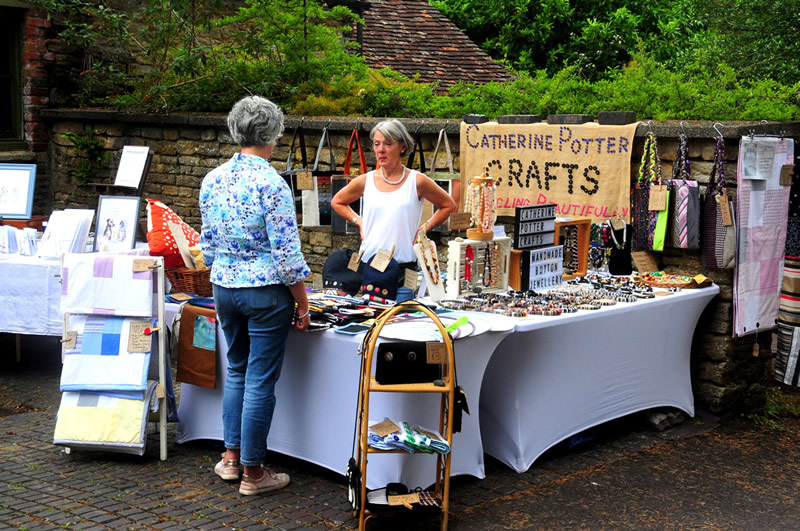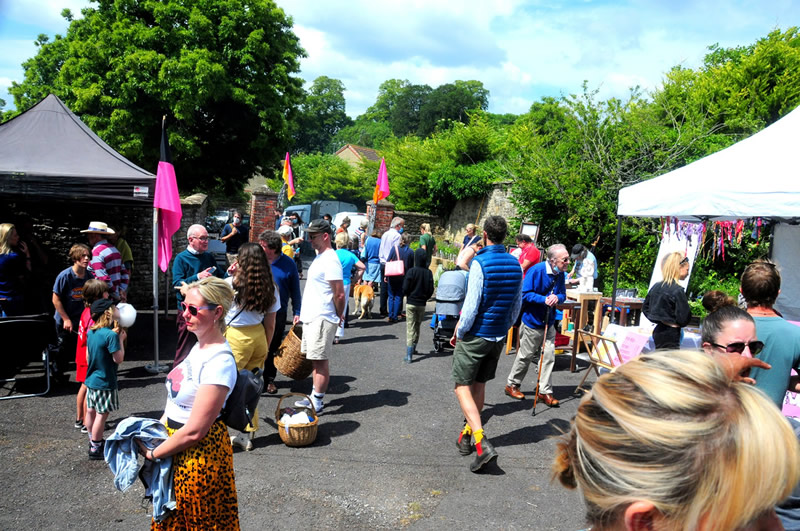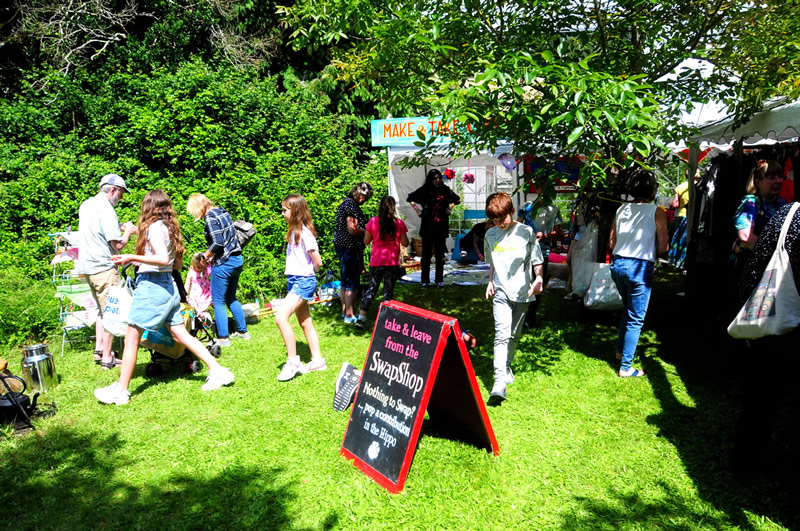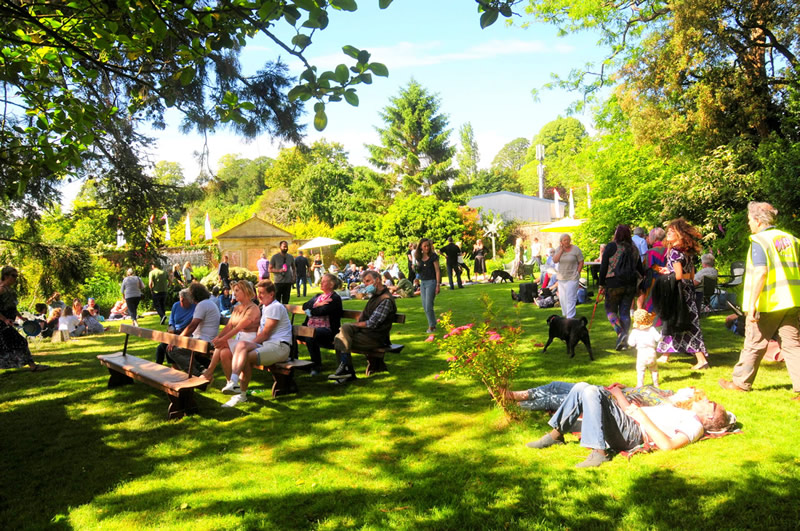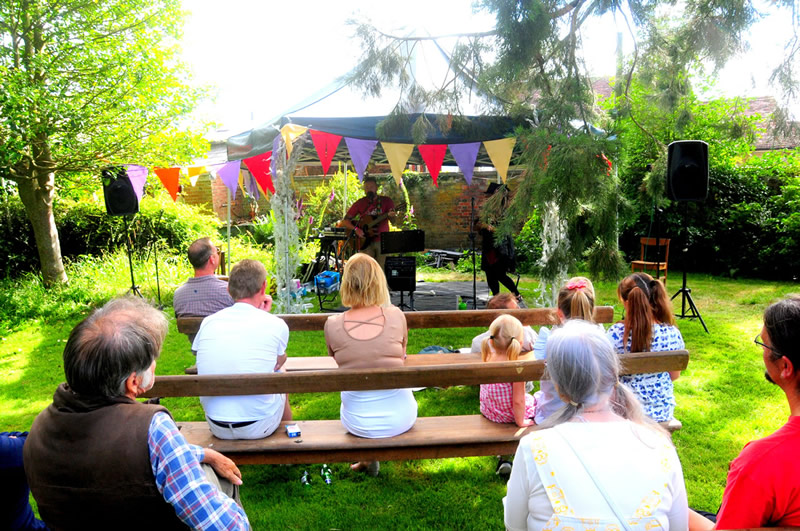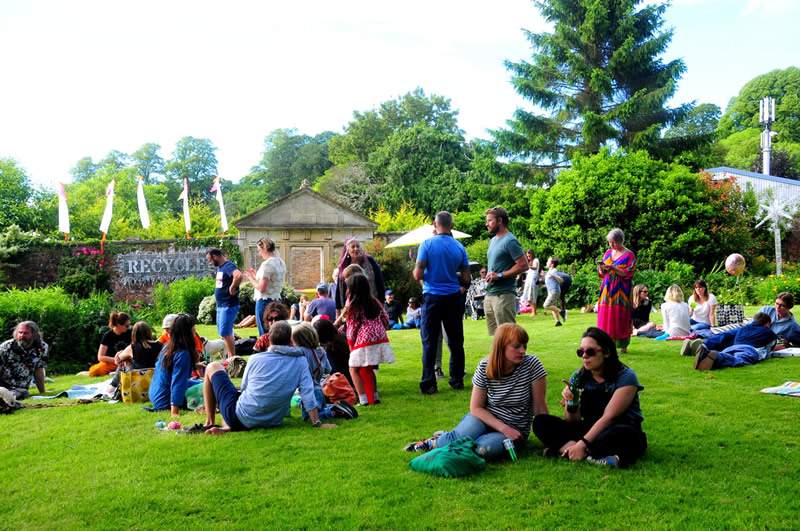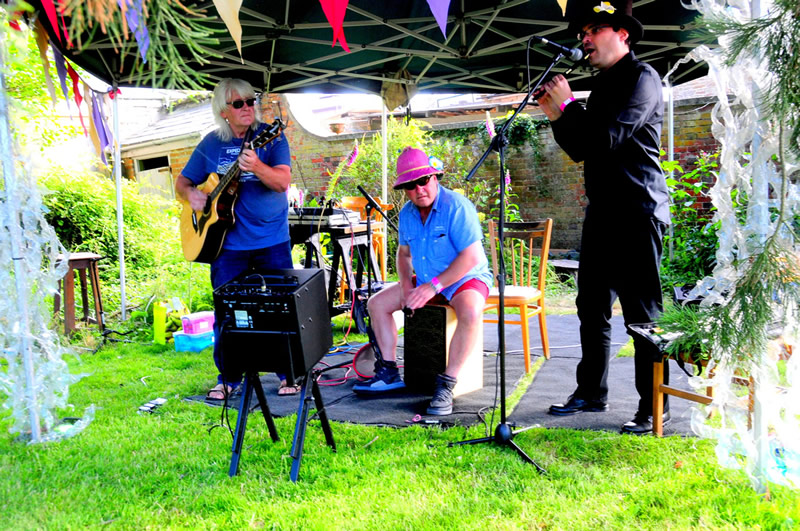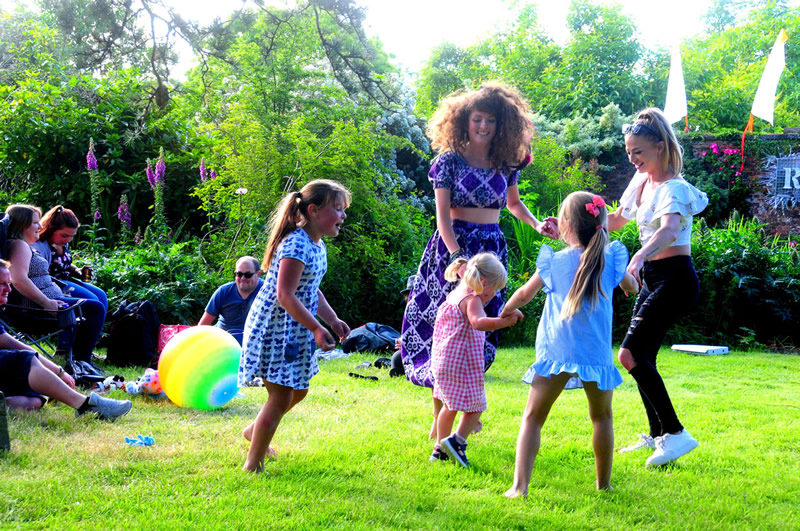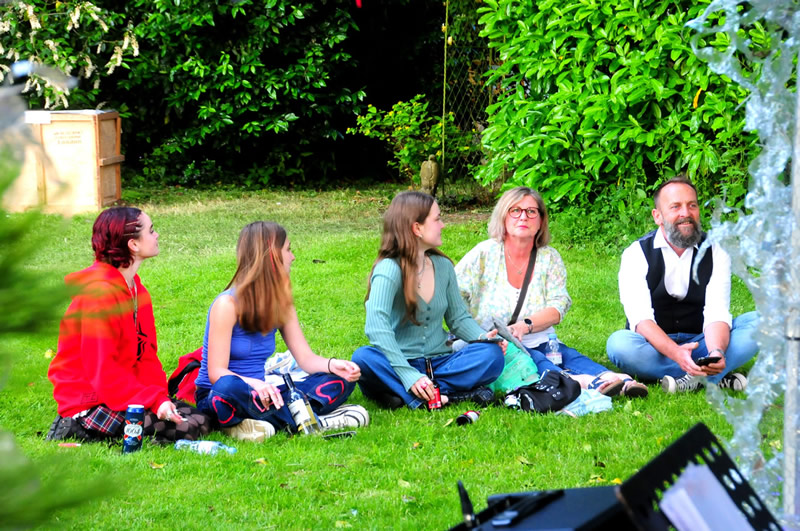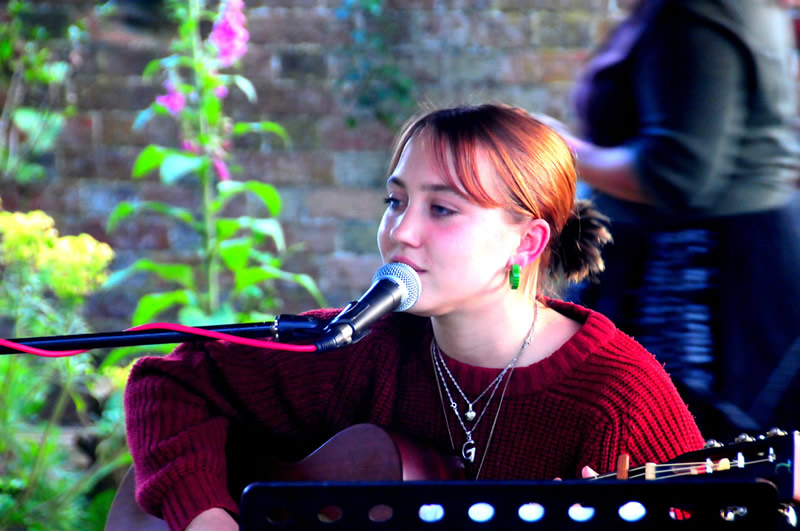 Photos by David Seares