Wincanton's focused community website, providing news and information including a full calendar
News » Events » Wincanton Town Festival
WTF is going on!?
Friday 25 June 2021, 21:09
By Helen Brown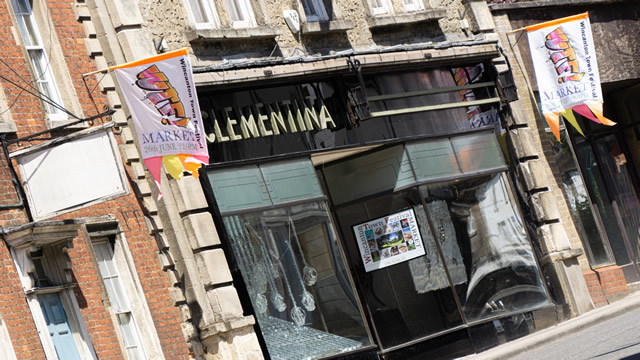 Yes it is! Preparations are well underway for the Wincanton Town Festival Market tomorrow, Saturday 26th June, 12 noon - 9pm at the Greening the Earth Gallery, formerly Clementina.
A collection of foragers and food producers, artists and artisans are coming together to create this unique event where people are encouraged to spend time with family, learn new skills and share experiences. There'll be live music, food all day, artist and craft demonstrations, nature activities and more.
Follow @wincantontownfestival for latest updates on Facebook and Instagram.
What to expect
Kate from the Wild Ones Forest School, based in Bruton, will be working with children of all ages with a selection of activities to promote learning through play.
Wincanton is home to three Foragers who will be running activities throughout the day. Carl the Forager has been working with the Wincanton Town Festival team to get the gardens ready and will be on hand to provide tips to create more sustainable living.
Greg, from Blighty Bushcraft, will be leading two foraging walks through Wincanton, leaving at 1pm and 3pm, discovering wild edibles on our doorstep.
Neil, from Bunker Bushcraft, will demonstrate bushcraft basics - they may even have a giant marshmallow for you to toast on the fire pit afterwards.
Zac Greening has curated a selection of local Artists who will be talking about their work. The Greening the Earth Gallery will be open to show Zac's work, as well as Fay Hutchcroft's studio.
Local artisans will be hosting workshops and demonstrating their skills. Lydia Ferrari will be creating baskets from willow and can repair any broken pieces you may have.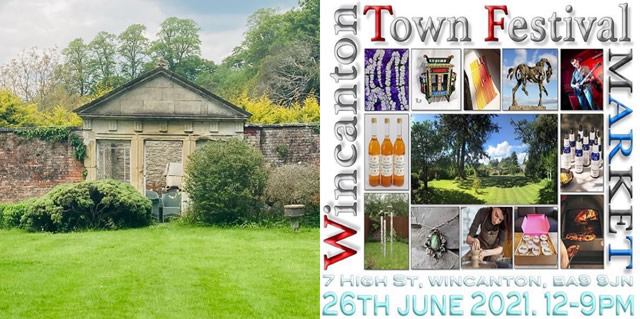 Millie from the Slipped Stitch will be holding a yarn dying workshop.
Graphic designers Turnbull Grey will be putting away their computers and pixels, and picking up their pens and presses to bring letterpress and lino-cut cards and printed ephemera. They will have a press and a selection of wood type so you can have a go yourself!
Saskia from Saskia's Flower Essences will be talking about how Flower Essences can help with love, life and loss.
You are encouraged to bring a picnic to enjoy in the gardens. Dowdings Apple Juice & Cider will be available as well as cakes from local baker, Helen, from Acorn House Bakery. The Bootmakers will bring their pizza, the Truckle Truck will have cheese and Paul and Nell from Home Table Dining will have locally sourced lamb (until 3pm). There will also be a well-stocked bar!
You are welcome to bring food and drink from Number 16, Seed Cafe, Lemon Tree Deli and other eateries in Wincanton.
The 17th century garden is waiting to be explored and we have been helped by a wonderful band of volunteers.
One Planet Wincanton have created a wild flower meadow. Carl the Forager has been weaving his magic, clearing, creating and making a compost bin. Sam and Chris from the BearCat Collective helped to clear and create, and volunteers from Seeds for Success planted and weeded. Claudia created the no-dig beds, and Lucy (aged 10) and Jack (aged 7) helped to plant and water them.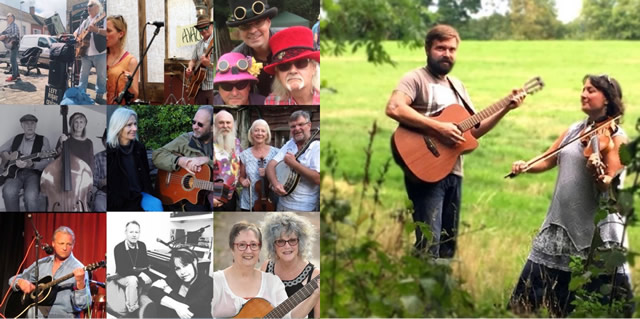 Music has been orchestrated by Sam at the BearCat Collective and artists will be performing throughout the day with local musician Georgia Savill closing the show in the evening. Disarming, striking, talented; this young artist delivers a distinctive style and flair. One not to miss.
The Honesty Jar, who encourage people to reuse and recycle throughout the year with their Toy Swap in Coles Yard and Swap Shop in Henstridge, will be making giant pom-poms and tie-dye bandannas.
You can relax with storytime in the BookSwap (and sssh! Don't mention the bear pit full of cuddly toys!).
The Secret Story Teller, Sarah Lloyd-Winder will be bringing a collection of stories to share and the Bootmakers will be painting faces.
Sara Kirkby has created a selection of traditional fairground games to play, and the cost of each turn will be donated to the Balsam Centre.
But that's not all
There will be more activities going on throughout the Town on the same day, including wellbeing workshops at the Seed Cafe, Swap not Shop at Bootmakers, and the first Repair Cafe at Coles Yard.
The Wincanton Town Festival Market has been been supported by different members of the community: Brue Valley Rotary Club are marshalling the event, James from Over the Moon tents has provided tents, Woofers from Bootmakers have helped to set up and Patrick Bateman from HB Design has created window signage.