Wincanton's focused community website, providing news and information including a full calendar
Headlines » Arts/Entertainment
Wincanton Art Trail: 21st September - 6th October
Tuesday 17 September 2019, 22:47
By Dave Smith & Safia Shah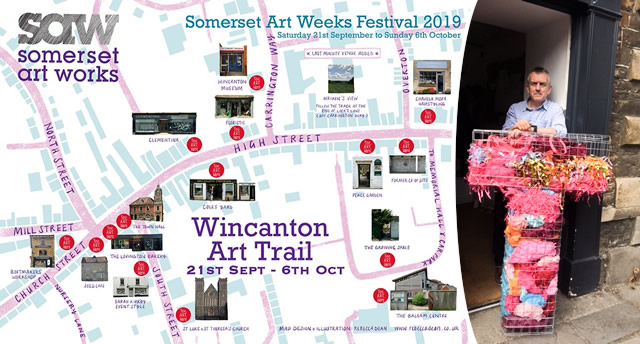 Wincanton Art Trail opens this Saturday 21st September to Sunday 6th October, coinciding with Somerset Art Weeks Festival 2019.
Schools, community groups, and local artists have collaborated to produce a number of unique installations that will literally turn the town into a temporary art gallery. The eclectic collection of works is presented as an arts trail entitled: "YOU ART HERE".
The trail is the brainchild of Wincanton's creative community and is intended to add destinational appeal to the town, inspired by and in support of the recently established town centre regeneration strategy.
The organisers hope visitors will appreciate the trail as something of a journey of discovery; leading them around the town to places they wouldn't otherwise typically go. To that end, there'll be 15 "YOU ART HERE" signs outside specific venues throughout the town to mark the places where you'll find exhibits.
Starting a day later, on Sunday 22nd, and for the duration of the Trail weeks, Bootmakers Workshop is putting together a pop-up gallery. Works by new artists will be available to view and buy upstairs, and established local artist Julie Jenkins will be showing a collection of her own work inspired by her solo travels to far-flung places. Downstairs, artist-in-residence Rebecca Dean will be showing her incredibly detailed work, which focuses on Wincanton's many beautiful historic buildings.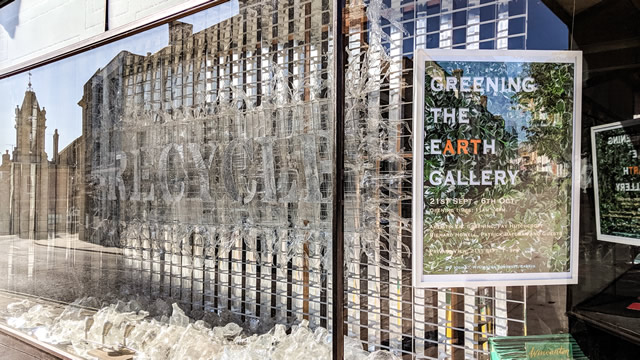 In the lead up to the opening of the trail, almost five hundred local school children are booked in at Bootmakers this week to help create street art that will feature prominently in Wincanton during Somerset Art Weeks.
The design workshop, dedicated to transforming scrap materials into new treasures, is braced to host class after class from Wincanton Primary School and Our Lady of Mount Carmel in a community initiative that promises to turn the centre of town into an open air gallery.
The children, aged between four and twelve, will use upcycled materials to fill huge wire cage letters which will be displayed outside their schools, located on Wincanton's South Street. In addition, there'll be a couple of very pertinent words place on the Bootmakers roof by prominent local designer Sara Kirkby.
Local artist Zac Greening's brand new exhibition space, Greening the Earth, a permanent cultural hub housed in the old Clementina building, will open its doors to the public for the first time on Saturday, showcasing newly commissioned ecologically sensitive artworks by local artists for the duration of the art weeks.
For those who'd like a Trail guide, there will be maps available free of charge from Bootmakers, Co-op and the Library.