Wincanton's focused community website, providing news and information including a full calendar
News » Arts/Entertainment » Local Artists
Julie Jenkins exhibition: Sacred Space
Saturday 15 September 2018, 21:43
By Julie Jenkins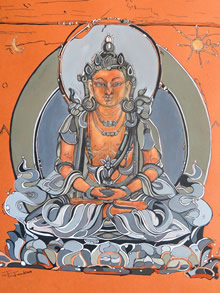 Sacred art forms and spirituality inspire my paintings which depict places of peace and power. My work can be viewed in my home, 2 The Old Police Station, North Street, Wincanton, BA9 9AZ.
Opening times: 11am - 6pm, Thursday, Friday, Saturday, and Sunday, from 15th to 30th September.
My solo exhibition, 'Sacred Space', is the seventh I have held under the umbrella of Somerset Art Weeks, Somerset Open Studios, in my tiny home where I have lived and worked happily in the community of Wincanton for 15 years.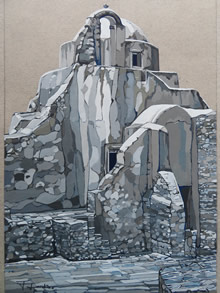 I am a professional artist and have held exhibitions in different locations both home and abroad over many years. My paintings are inspired by my widespread travel throughout the world, influenced by the people, their culture, and the energy of varying landscapes.
The brilliant light of Mediterranean countries produces a clarity of colour and contrasting shadows, which I have depicted in my Greek paintings. My travels took me further afield to North Africa, Morocco, Egypt and Tunisia where I recorded daily life in my work using an intense rich palette. Later, I ventured further to South East Asia, Central Asia, Indonesia, Malaysia, and China.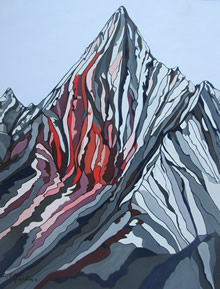 I lived for a while in India and travelled extensively around this diverse county, when the Himalayas became my spiritual home. I spent time painting and sketching in Kashmir, Nepal and Bhutan, and was fortunate to experience both cultural and spiritual events in these breathtakingly beautiful and majestic mountains of the Himalayas.
I am fortunate indeed to be able to produce my work, to focus on my creativity, because in the early hours of 21st December 2017 I sustained multiple fractures having fallen down my stairs on to the stone floor in the kitchen. I spent 6 weeks in Yeovil District Hospital, and after being discharged began to make an extremely slow and painful recovery in my home.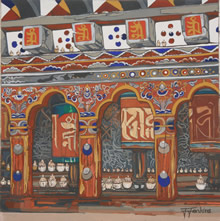 My dearest friends in Wincanton named me the Wincanton Warrior Woman, as I wore a substantial body brace for some time, right arm in a sling and walked with the aid of a walking stick. Not particularly an attractive image of this nomadic woman of a certain age, though I am lucky enough to have a good sense of humour and a determined soul.
I hope my article might give a sense of hope and inspiration to those who have suffered an accident, or disability. I truly believe that nothing is impossible, and that to have faith that all will be well, even if it is a 'blind faith', enables one to face life's challenges to the best of one's ability.
Julie Jenkins