Wincanton's focused community website, providing news and information including a full calendar
Headlines » Arts/Entertainment » Wincanton Youth Theatre
Wincanton Youth Theatre presents 'Now That's What I Call a WYT Christmas!'
Tuesday 10 December 2019, 16:37
By Sarah Adams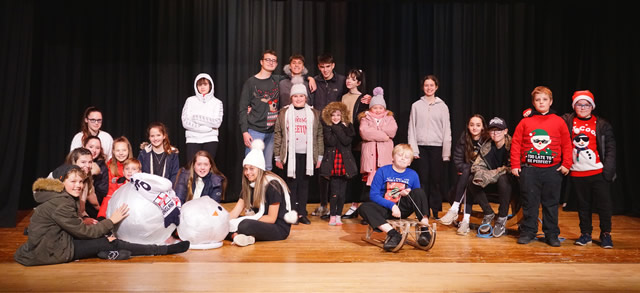 Wincanton Youth Theatre is renowned for its outstanding productions that showcase local young talent whilst promoting confidence and technical performance skills. This year has been no exception, with performances including John Godber's 'Bouncers & Shakers', Lloyd Webber's 'Joseph & His Amazing Technicolour Dreamcoat' and a showcase at Hauser & Wirth's much coveted Summer Party.
To top off this incredible year, members of the group have been busy putting together a fully festive delight entitled 'Now That's What I Call a WYT Christmas!'; a show that compliments all elements of the performing arts, including singing, dancing and acting.
'It was very interesting to start singing Christmas songs in July, but it is all so worth it! What a magical show! I'm so proud of them all.'

- Kate Kirkpatrick, Creative Director
'These children have worked so hard to produce this delectable Christmas treat; working together as role models, choreographers, tech, back stage and much more.'

- Sarah Adams, Producer
Wincanton Youth Theatre rehearses at Just Dance Studios on Sunday afternoons.
'Having the studio facility has really helped us ground the group' says Kate Kirkpatrick 'a separate music and dance space has now become essential due to our rapidly expanding group.'

- Kate Kirkpatrick, Creative Director
Guaranteed fun, festive and thoroughly entertaining, this show will get you in the mood for Christmas! Performances will be at King Arthur's School on Saturday 14th December and Sunday 15th December, 2pm and 7pm each day.
Tickets are £6 adults, £4 children and are available on the door or at ticketsource.co.uk/wytonline/e-xdkova.
Photo by Trixie Hiscock from Studio H.