Wincanton's focused community website, providing news and information including a full calendar
Headlines » Arts/Entertainment » Wincanton Youth Theatre
Wincanton Youth Theatre presents John Godber's Bouncers & Shakers
Friday 24 May 2019, 13:45
By Andrew Warren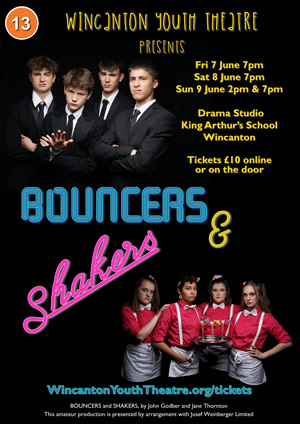 Wincanton Youth Theatre presents John Godber's acclaimed comedic social commentaries, Bouncers & Shakers. Bouncers & Shakers is TWO plays, either side of the intermission, that have it all. Sexual relationships, drinking, gang mentality and political commentary, and that's only in the ride over in the taxi.
Bouncers

Join us back when Madonna was "like a virgin", in the decade that invented excess. Come and spend a night with lads on the pull; with girls on the town; in a night club where anything goes. Meet Lucky Eric, Les, Judd and Ralph, the bouncers on the door of any night club in any provincial market town. Bouncers is about working-class Britons at play. It occupies the night-time, a nightmarish vision of the club world. Four bouncers portraying over 20 different characters invite us for a night out on the town. We meet giggly girls, lads on the make and Hooray Henrys to name buy a few. All against the tatty, glitzy glamour, flashing lights and pulsating beat of the disco floor.
Shakers

Spend the rest of the night with Adele, Mel, Carol and Nicky as they get made up, put on their smiles and their heels, and head to work in Thatcherite Britain. Set in a trendy bar that provides a means of escape from the gruelling pressure of life in the eighties. From these tropical dream worlds emerges a sad reality as observed by our female waitresses. The oh-so trendy cocktail bar where everyone wants to be seen: from the checkout girls to the chinless wonders, from the yuppies to the local lads ordering a 'Long Comfortable Screw'. A fascinating view of the reality that lurks behind the plastic palms and Pina Coladas.
So, let us take you to the place where membership's a smiling face. Brush shoulders with the stars. Where strangers take you by the hand and welcome you to wonderland.
Performances
Friday 7th June at 7pm
Saturday 8th June at 7pm
Sunday 9th June at 2pm & 7pm
Venue: Drama Studio, King Aruthur's School, Wincanton
Tickets £10 available online or on the door. Be warned, the drama studio has only 60 seats, so book early at WincantonYouthTheatre.org/tickets.
Poster photos by Trixie at Studio H