Wincanton's focused community website, providing news and information including a full calendar
Headlines » Arts/Entertainment » Wincanton Youth Theatre
Wincanton Youth Theatre presents Bugsy Malone
Saturday 2 September 2017, 14:18
By Andrew Warren

We're down to the last few rehearsals before Wincanton Youth Theatre perform its 2017 musical; the hugely popular Bugsy Malone. There will be three performances at King Arthur's Community School: 2pm and 7pm on Saturday 30th September and 2pm on Sunday 1st October. Tickets will be available online (www.WincantonYouthTheatre.org/Tickets), or on the door. For pupils, parents and staff of King Arthur's school, tickets are available from the school office.
The group has grown from half a dozen a year ago to over forty members. We've run a number of successful shows, and performed at a wide variety of events, including the Passchendaele 100 Remembrance service in Wincanton (watch the video here), and the Hauser & Wirth Summer Party in Bruton.
Kate Kirkpatrick, creative director, who co-founded the group with general manager Andrew Warren, believes that involvement in drama and the theatre fundamentally improves confidence and self-awareness in a way that other activities cannot. Consequently, it has a very positive effect on social skills and general demeanour in everyday life. They both know that not everyone is a natural singer, dancer or performer, but are of the firm belief that every single person has their own skills to offer.
The Wincanton Youth Theatre provides those involved with the opportunity to showcase and improve those skills. What makes us different is that we're run for and by the youngsters in the group: all roles, on and off-stage, are handled by the youth membership.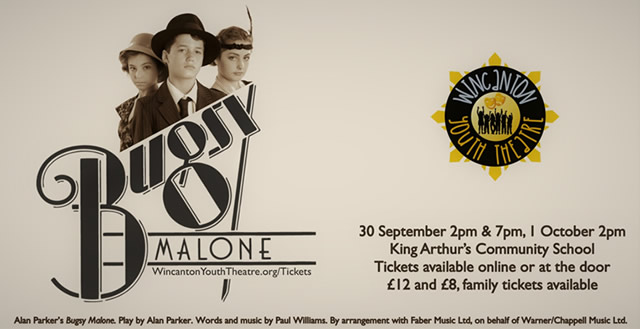 Bugsy is our first "proper" musical, and it's quite a community event, being held at the local secondary school, King Arthur's in Wincanton with weekly rehearsals at the Balsam Centre. But it's not the only thing going on.
We're scheduled for some charity events coming up to Christmas, followed by our own Christmas show. Also, a group of the older members is performing scenes from Sheriff's Journey's End at Hauser & Wirth early next year on the centenary of the end of the Great War.
Please come along for a great show, and to support these talented youngsters. Find out more about the group and its upcoming productions at www.WincantonYouthTheatre.org.