Wincanton's focused community website, providing news and information including a full calendar
Headlines » Arts/Entertainment » Wincanton Youth Theatre
"...and a partridge..." - Wincanton Youth Theatre's 2017 Christmas show
Thursday 7 December 2017, 23:43
By Andrew Warren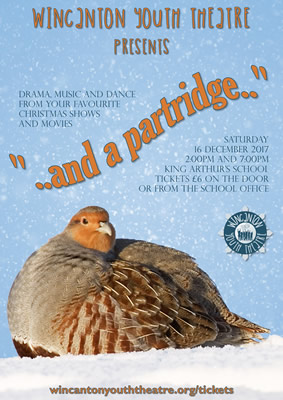 Following on from their huge success with Bugsy Malone in September, Wincanton Youth Theatre are proud to present their Christmas show for 2017, "…and a partridge…".
Featuring over twenty acts, including some wonderful singing, dancing and, this year, some serious acting. The youngsters are staging a moving WW1 drama based on the Christmas truce of 1914, including the reading of some real letters from the frontline.
There's also a scene from The Sound of Music, A Christmas Carol, by Dickens, will be performed in two minutes, and you'll get to travel along the yellow brick road to Oz. The only thing missing is the pear tree. All this for £6.
Performances 2pm and 7pm on Saturday 16th December at King Arthur's Community School. Tickets available at the school office, on the door, or online at www.WincantonYouthTheatre.org/Tickets.
Over by Christmas
In the summer of 1914, with the great armies of Europe mobilising, the continent was sweeping towards a seemingly unstoppable war. The British met the Germans on the road from Mons in a clash of steel on steel in an engagement that would not have seemed out of place 100 years earlier at Waterloo. But the big talk was of getting there before it was all over; over by Christmas.
But within weeks of those first encounters, as modern artillery and machine-guns swept away advancing troops with little effort, the two sides dug in. And the dream of a quick war died in the trenches that stretched from Switzerland to the North Sea.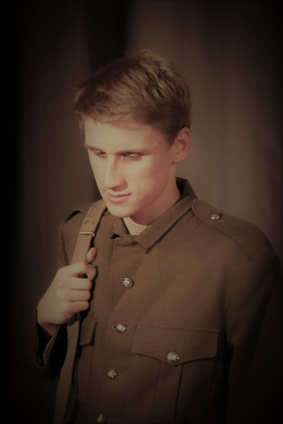 But something peculiar happened that first Christmas. Something that was never repeated. Something that survives to this day as a symbol of humanity amid the madness of war. The Christmas Day Truce. This event, in which enemies met to exchange gifts in no man's land, is so built into the psyche of the British, that it is the basis of music videos, and even a Christmas supermarket advert. But what really happened?
The truth is difficult to piece together, even this close to the events. In some places, shelling and fighting carried on without respite. In others, the two sides ignored one another, and tried to get on with a Christmas far away from their families. But not all along the wire, to be sure.
In some places, men took the huge risk of sticking their heads above the parapet, literally. And then walking across the frozen ground that separated their trenches. Introductions were made. Photographs shared, and gifts of beer and cake exchanged.
This era-defining moment is re-enacted by the Wincanton Youth Theatre at their upcoming Christmas variety show, "…and a partridge…". The short dramatic piece features the reading of actual letters from the front line.