Wincanton's focused community website for news, views and information including a full calendar
Headlines » Shopping/Retail » Wincanton Wholefoods
Owner Steve Stapleton Talks About Wincanton Wholefoods
Thursday 1 January 1970, 00:00
By Steve Stapleton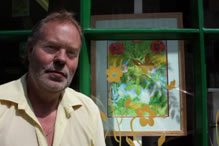 Wincanton Wholefoods is your local health store located at the top end of the High Street (next door to Andrew Barclay the butcher).
This shop specialises in two distinct categories:
1. Wholefoods; where you can browse and purchase a range of organic (pre-bagged) or non-organic (loose) healthy foods such as:
| | | |
| --- | --- | --- |
| Beans | Cereals | Coffee |
| Flour | Dried fruit | Grains |
| Granola | Muesli | Nuts |
| Pasta | Pulses | And more |
And also has a range of produce catering to people who may require gluten free, dairy free or other specialised diets.
2. Non food; where a section of the shop is devoted to supplements, ecologically sound body care products and Ecover cleaning products – including a refill station.
But this is more than just a shop where you come to buy produce because you have a "conscience". I have taken the time to learn about what I sell and I am always available to give advice and help you choose the products that are best suited to your needs (and, more importantly, what isn't best for you).
So why not pop in for a browse or just for a chat?
Or if you're looking for regular, quality information on complementary medicines, general health news and advice on how to lead a healthier life, why not sign up for Wincanton Wholefood's monthly newsletter by going to
http://www.wincantonwholefoods.com/newsletter.html
The shop is open:
Monday – Thursday 8.30am to 1.00pm
Fridays – 9am to 5pm
Saturdays – 9am to 2pm
Wincanton Wholefoods. 43, High Street, Wincanton. BA9 9JU Tel: 01963-31005