Wincanton's focused community website, providing news and information including a full calendar
Headlines » Shopping/Retail » Wincanton Country Market
Wincanton Country Market – Friday 5th February
Saturday 30 January 2016, 16:02
By Helen Hermanstein Smith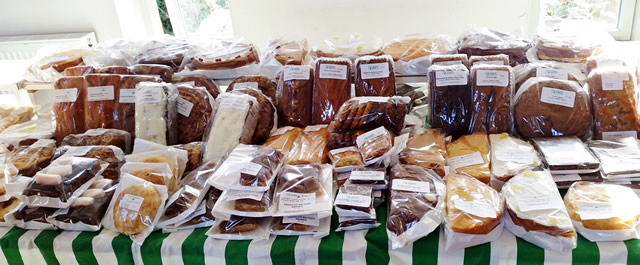 Wincanton Country Markets will hold their first monthly market for 2016 on Friday 5th February at The Barn, 30-32 High Street, Wincanton BA9 9LF (located via the Peace Garden entrance or via The Growing Space from the Memorial Car Park). The market will be held here every 1st Friday of the month and will run from 9.30am to 12.00 noon.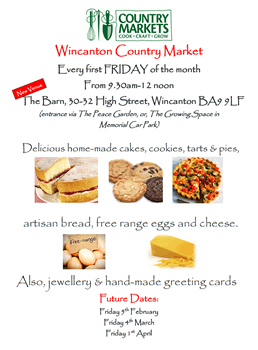 We are proud, but very sad to say, that at the end of 2015, two of our founder members retired, having given well over 25 years of loyal service to the WCM. Several of our other regular bakers and producers decided to take retirement too. In December 2015, it was decided that the WCM would relocate to a new venue – The Barn 30-32 High Street, Wincanton.
For over 90 years about 300 Country Markets have been operating nationwide across England, Wales and the Channel Islands. Wincanton Country Market is part of this network, selling homemade baked goods, preserves, locally grown market vegetable and fruit, plants and handmade crafts.
Formerly part of the Women's Institute (WI), Wincanton Country Market (WCM) has been going since 1969, when it branched off from the Wincanton Women's Institute. WCM started its first market in the White Horse Hotel, moving several times before arriving at Ash House (on the High Street opposite Clementina's Cark Park), its home for around 20 years. It soon grew too big for those premises and moved to the Dolphin Hotel. It was still located here when it celebrated its 40th Anniversary in May 2009. The WCM went from strength to strength and again outgrew its venue and relocated to the Balsam Centre in August 2011.
At the WCM, we pride ourselves on giving a personal service in selling high quality homemade produce to our customers. Customers are able to buy fresh homemade baked goods (sweet and savoury), free range eggs, seasonal duck eggs, local cheeses, seasonal game, preserves, garden-grown fruit and vegetables, plants and handmade crafts.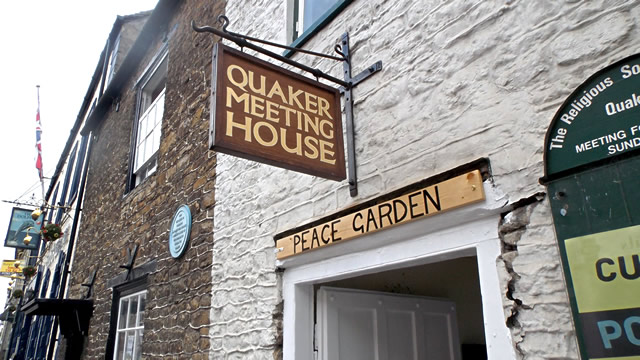 Our products are local and seasonal and are produced in a domestic kitchen or garden. There is something for everyone's taste! We produce speciality products for our Easter and Christmas markets too. Look out for a variety of mouth-watering delicious produce at our Easter Market on Friday 4th March 2016. Please come along to one of our markets if you would like to place an order for any of our produce.
The WCM is currently looking for individuals to come and join us as bakers and produce producers. If you are local and like to bake at home or grow your own produce, why not come and visit us at one of our monthly market days? We would love to have a chat. Just ask for Helen or Carol. The membership fee to join the Country Markets and become a producer is 5p, allowing anyone with cooking, gardening and craft skills can sign up.
We look forward to the local community coming along to support our long standing Wincanton Country Market.
The dates of our markets for early 2016 are: 5th February, 4th March and 4th April.