Wincanton's focused community website, providing news and information including a full calendar
News » Arts/Entertainment » Wincanton Choral Society
Wincanton Choral Society 25th Anniversary Concert
Sunday 19 April 2015, 16:36
By Philip Schofield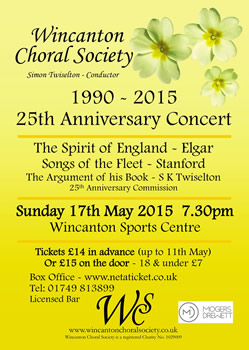 Celebrating its 25th Anniversary, the Wincanton Choral Society is singing a Commemoration of WW1 on Sunday 17th May 2015 in the Wincanton Leisure Centre.
The performance will start with the orchestra playing something many Radio 4 listeners will remember, the Radio 4 UK Theme Tune, a brilliant mish-mash of British popular songs.
The performance will include the 'Spirit of England', Elgar's last choral work, which he was inspired by Laurence Binyon's famous post-war poetry. An inspiring and thought-provoking choral piece, 'Spirit of England' is a very powerful piece of music, and deserves to be much better known.
'Songs of the Fleet' by Stanford was written to celebrate the accession in 1910 of a new King (George V), who was a Navy man. It's a light-hearted piece written by and for people with a love of the sea and with pride in the Royal Navy.
Our musical director, S.K. Twistelton, was commissioned to write a choral piece for the anniversary performance. The choir will sing his very moving piece "The Argument of His Book", based on a beautiful Finnish poem, written for Tenor (Paul Bradley) and Baritone (Philip Smith) soloists, SATB choir and orchestra.
Tickets for the performance are available from 01749 813899 or from the Box Office: www.netaticket.co.uk. Prices are £14.00 in advance if bought by 11th May, £15.00 on the door with under 18s at £7.00 at any time. There is a licensed bar.