Wincanton's focused community website, providing news and information including a full calendar
Headlines » Arts/Entertainment » Wincanton Film Society
The Imitation Game – Wincanton Film Society's Season Finale
Wednesday 3 June 2015, 13:31
By John Smith
The final screening of Wincanton Film Society's 2014/15 season, on Wednesday 17th June, is The Imitation Game starring Benedict Cumberbatch, Keira Knightley, Charles Dance, and Matthew Goode.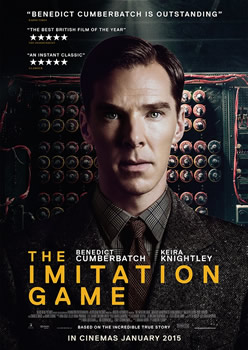 As the last film of the season, the evening begins half an hour early to allow for th Society AGM. This is your chance to volunteer to join the committee. Two of the current committee are standing down, so there is ample scope for new committee members.
Doors open at 6.45pm for pre-film refreshments at the King Arthur's Performance Enhancement Centre on West Hill.
AGM starts at 7.00pm
Film starts: 7.30pm
The film is based on the real life story of legendary cryptanalyst Alan Turing in his challenge to break what was regarded as the unbreakable code being used by the Nazis in World War Two.
The film covers Turin's work at Bletchley Park, where working with a team of brilliant code breakers they face the ultimate challenge. The code being used by the Nazis was unique, being recoded daily. So even if they broke one code, it was different the next day.
There were 159,000,000,000,000,000,000 possible code combinations that could be input into Enigma. How could this team of code-breakers possibly succeed? Surely the odds against them were too great. Benedict gives a master-class performance in this poignant film.