Wincanton's focused community website, providing news and information including a full calendar
Headlines » Arts/Entertainment » Wincanton Film Society
Wincanton Film Society 2014/15 Season Starts Tuesday 23rd September
Thursday 18 September 2014, 16:52
By John Smith
Wincanton Film Society celebrated the conclusion of its 10th year back in June with a screening of "Captain Phillips" starring Tom Hanks. The 2013/14 season was a good year for WFS, bringing an increase in membership and bigger audiences, reflecting the quality of the films screened through the year.

As in the 2013/14 season the WFS audience has chosen the films to be screened between September 2014 and June 2015. The titles suggest that they have another first class selection to bring to their audience.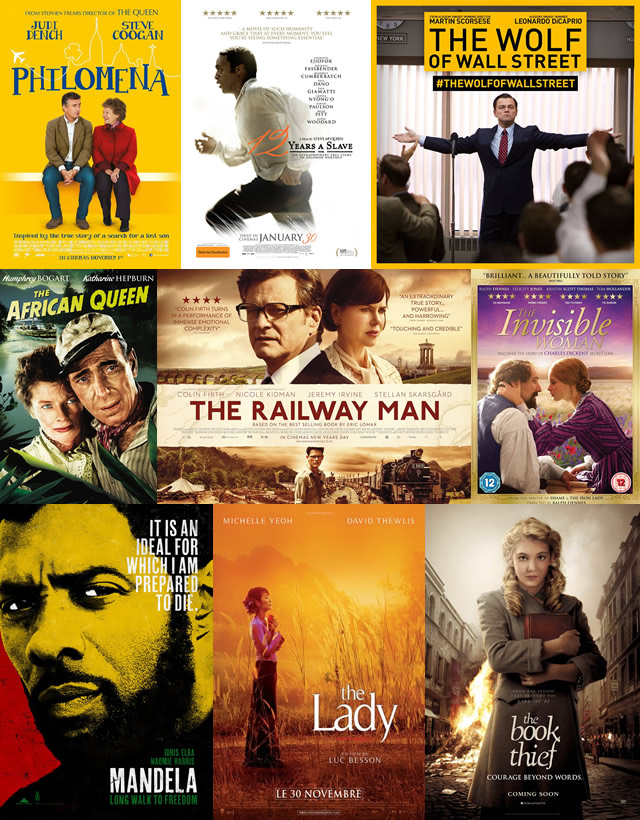 Tuesday 23rd September 2014 – Philomena
Wednesday 22nd October 2014 – 12 Years a Slave
Tuesday 18th November 2014 – The Wolf of Wall Street
Wednesday 10th December 2014 – The African Queen
Tuesday 20th January 2015 – The Railway Man
Wednesday 18th February 2015 – The Invisible Woman
Tuesday 17th March 2015 – Mandela – Long Walk to Freedom
Wednesday 22nd April 2015 – The Lady
Tuesday 19th May 2015 – The Book Thief
Wednesday 17th June 2015 – TBA (surprise film)

The Society is fortunate to have a great venue; the King Arthur's Performance Centre, accessed from the Dancing Lane entrance via the car park on the right. There is comfortable padded seating on risers for nearly 150 guests.
Doors open at 6.45pm, allowing the early birds to bag the best seats and then relax in the café style refreshment area with a cuppa and time to have a good blether, about films of course.

Put into the mix the BIG screen and surround sound (where applicable) and you have the vital ingredients for a great evening out. The Society is currently raising funds to buy a new projector, relegating the existing 10-year-old stalwart to much-needed backup duty.
The Film Society provides a great service for Wincanton and district and are deserving of all the support that they can get. They are grateful for the on-going support of Jenny at Divine Wines in the centre of town, where you can pick up your copy of the new programme. The programmes are now being posted out to members, past and current.

Membership of WFS is a fairly simple affair:

Single membership - £24 per annum.
Joint membership (two people living in the same house) - £42 per annum.
Price per film at the door - £5

You can join today by grabbing a programme, completing the membership application form and returning it with your membership fee in a sealed envelope marked "WFS" to Divine Wines. Or, you can click here to download a membership form. For more information visit the WFS website, email , or ring 01963 32552 and speak to Peter Gay, Chairman.