Wincanton's focused community website, providing news and information including a full calendar
News » Arts/Entertainment » Wincanton Amateur Dramatic Society
Don't Miss Wincanton Amateur Dramatics Society's Latest Pantomime
Monday 15 February 2016, 19:59
By Naomi Warren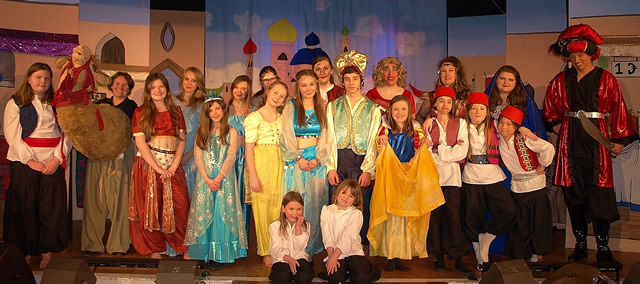 Formed by Janice Waldock in the year 2000, Wincanton Amateur Dramatics Society (WADS) has many valued members who enjoy working as a team to create at least two productions a year with an annual pantomime. Based at the War Memorial Hall in Wincanton, previous shows have included pantomimes, cabaret and plays. They are also looking at the possibility of a summer musical given by the current local talent.
New Pantomime: Ali Baba and the Forty Thieves
On 19th and 20th February, at 2.30pm and 7.30pm, WADS will proudly present their new pantomime Ali Baba and the Forty Thieves with a 14-strong cast of amateur theatrically minded locals from the Somerset area who range in age from 5 to 25. This is a young cast and, from watching the rehearsals, it is clear to see there is a real sense of family, care and commitment from the cast towards each other and the production. They are having fun and are very proud of what they are doing.
To promote the show, on Saturday 30th January there was a cast Flash Mob at Morrison's in Wincanton. To the surprise and delight of shoppers the cast performed various dance numbers and songs from the show.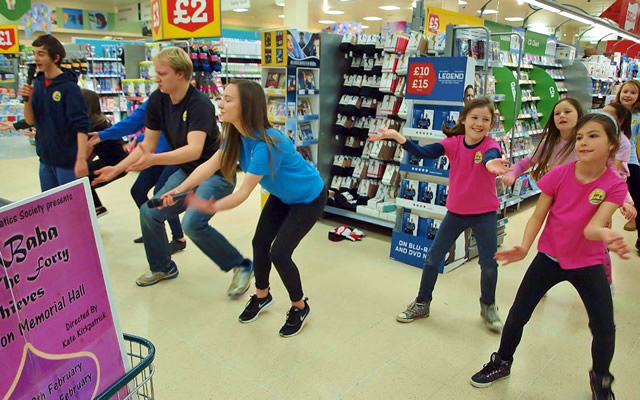 Quotes from the cast
"It's been such a fantastic few months of rehearsals and as director, I've never been more proud. I have a young, talented cast, a reliable and inventive crew and outstanding support from all aspects of the Society. This will be one pantomime to remember."
- Kate Kirkpatrick, Director
"Being a part of this Society has gained me loads of new friends. Everyone here is spectacular at what they do and I couldn't wish for anything better! Go Ali Baba 2016!!!!"
- Alex Parsons, playing Ali Baba
"I love being part of our annual panto productions: The amazing people that also love putting on a show. Sharing the stage with the talented cast. The creative hard working crew and production team. This is my first principal role and it's something I'll never forget. I never believed in myself and what I could achieve, but now thanks to the motivation and support that WADS has given me it's something I definitely want to do again. The people make this pantomime great, so please come along and enjoy the show."
- Maddie Green, playing Safiya
"I am new to WADS this year, but already feel part of the family and I am doing what I love."
- Amelia Warren, playing Huma
"The society is like one big family where you are welcome whatever your talent is."
- Jayne Bentley, Chair of WADS
"I decided to get involved with the music side of the panto because my daughter Emily auditioned and got a part this year. I've been looking for a reason to dust off my flute for a while now and joining WADS was the perfect excuse. I've met new people with a shared love of music."
- Trixie Hiscock, musician
"Getting children involved in the theatre at a young age is a brilliant way of igniting their imagination and creativity as well as teaching them the value of working together as a team to produce something really special, in a very enjoyable way that you could never achieve on your own."
- Sir Cameron Mackintosh
Tickets for the performances on 19th and 20th February are available at www.ticketsource.co.uk/event/110648 or by phoning the Box Office on 01963 824863.
Ali Baba and the Forty Thieves is a Ben Crocker Production. It is directed by Kate Kirkpatrick, the Musical Director is Jordan Chohawno and the Choreographer is Kylie James.