Wincanton's focused community website, providing news and information including a full calendar
News » Events » Discworld
T'was the Night Before Hogswatch…
Thursday 22 November 2012, 17:59
By Reb Voyce
Hogswatch is the Discworld equivalent of Christmas, celebrated every year in Wincanton with fans travelling from far and wide to partake of the town's hospitality. Characters from Pratchett's fictional world can be seen wandering the streets, and our pubs brim with colourful costumes and good cheer.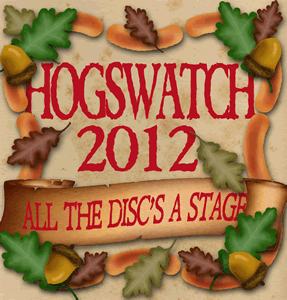 Festivities begin on Friday with storytelling as the Nog Inn welcomes back Purky Productions with a Quintet of Dark Tales. Doors open 8.00pm, and tickets cost £5.00 on the night. A 'Klatchian Nights' party in The Bear will serve as a meet and greet to help new faces to break the ice.
On Saturday a Civic Reception will take place at 2.30pm in the Town Hall with the town Mayor, and the Patrician of Ankh-Morpork in attendance. Places are strictly limited and pairs of seats will be raffled; tickets can be purchased from the Bear on Saturday until 1.00pm. The draw will take place at 2.00pm in the Sweetman Hall.
A Makers' Market at the Nog will be open from 10.00am on Saturday and Sunday, with diverse crafts including ironwork, jewellery, and millinery on display in a friendly and relaxed atmosphere, so please pop in – you may find that elusive Christmas gift!
The Dolphin will host a lecture and display of fauna exotica and cold-blooded critters on Saturday at 11.00am, while the marquee will be home to Discworld board games, demonstrations and tutelage for all to try their hand and pit their wits.
The Bear will become the Thieves' Kitchen, with a canteen serving Discworld-inspired grub to masters and apprentices alike, and entertainment and live music on Saturday evening in the Sweetman Hall.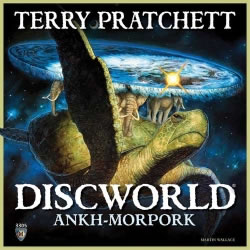 We're really pleased that three more of Wincanton's fine establishments have come on board this year in the spirit of the occasion. Wincanton Post Office will be open on Saturday afternoon for Hogswatch attendees to have their First Day Covers franked with the Wincanton post mark, and Times Past in partnership with Bath Theatrical Costume Hire will be running a pop-up costume shop with ex-hire, fancy dress, production apparel and vintage fabrics in the newly refurbished Applegarth Arcade, and The Cat Café will become the Hogfather's grotto from 3.30pm on Saturday, serving mulled wine and cider.
Lastly, also in the Sweetman Hall, our Grand Charity Auction at 11.00am on Sunday is a Hogswatch staple and huge fun, with film props and off-the-wall lots raising money for RICE (Research Into Care for the Elderly).
A full programme of events is available on the News page of the Emporium website, and you'll find some of the highlights on the Wincanton Window Calendar.
If you'd like to be part of a future event, or for more information please contact .