Wincanton's focused community website, providing news and information including a full calendar
News » Events » Discworld
Hogswatch Weekend - The Discworld Christmas!
Wednesday 21 December 2011, 12:13
By Periwinkle (aka Mandy Eldred-Tyler)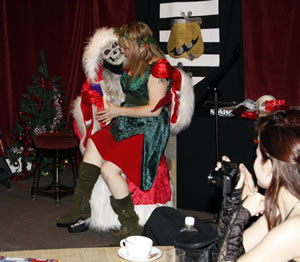 Local resident Periwinkle gets her gift from
the Hogfather. Photographer Robert Flach
As some of you may or may not be aware Wincanton is twinned with Ankh Morpork - the fictional main city of the Discworld created by Sir Terry Pratchett - and once a year the fans come from far afield to celebrate Hogswatch Weekend, which is our version of Christmas! We sit on the Hogfather's knee and get presents; we partake in a delicious sausage supper in the local hostelries of The Bear, The Dolphin and The Nog and all weekend our town is buzzing with Watchmen, Barbarians, Witches, Vampires, Igors, Elves and other strange sights but all in the name of charity and fun!
The last weekend in November was no exception - Bernard Pearson and his team, who run the Discworld Emporium in Wincanton High Street, unveiled their newly restored shop front ( restored to its original 1907 glory) and Sir Terry took time out from turning on the Christmas lights at Burnham-on-Sea to visit and spend the weekend with fans old and new - this year was the busiest yet!
| | | |
| --- | --- | --- |
| A poster from the Discworld Emporium website | | Sir Terry Pratchett. Photographer Loz Green |
With over 700 fans - a lot of them newcomers - attending, Sir Terry was on fine form and said how lovely it was to see so many people enjoying themselves at Hogswatch! He also gave us a little insight into his next book - always a treat when you attend these events!
Two Discworld board games have been created this year and over the weekend many people took the opportunity to try them out and give the games creators who were in attendance some feedback.
The new games are Guards! Guards! and Discworld - Ankh Morpork, both of which are available to purchase in Bernard's shop (making excellent Christmas presents for anyone who enjoys strategy games - whether they are into Discworld or not!)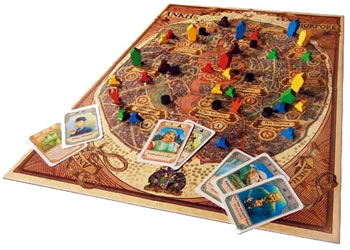 * Breaking news - Ankh Morpork now sold out everywhere in the UK but more supplies will be available in New Year *
So why not pop in and have a chat - you will be assured of a warm welcome and maybe even a cup of tea (if the moon is right and all the sigils are fortuitous!)
Opening hours are:
Monday, Tuesday, Friday & Saturday: 10:00am - 4:00pm
Wednesday and Thursday: Closed
Sunday: By appointment only - Please phone us in advance
Bank Holidays: Normally we're closed
Best to phone ahead of time if you're coming a long way.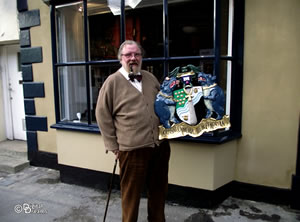 Photographer Stan (aka Joculator)
The shop has many interesting things, not just for Discworld fans, as both Bernard and Ian are talented sculptors - they have some beautiful and unique Christmas presents so have a look.
Browse their goods and see news about forthcoming events and what Sir Terry is up to, on the Discworld Emporium website and online shop.
The photo above was taken by Stan (aka Joculator). He says, "this is the only photograph in existence of Bernard pictured outside the Ankh-Morpork Consulate holding the newly arrived coat of arms prior to it being attached to the shop front. It was taken on 23 November, a couple of days before the fans started arriving for the Hogswatch weekend. I'd like to send many regards and thanks to the residents I met during my visit, especially Pete and Winnie at the Dolphin, Mark and Fiona at the Lunch Box, Jo and the staff at The Bear and obviously everyone at the Artificers."
Hogswatch and the other Discworld events held in the town raise a lot of money for charity, both local and national!
Wincanton was at first sceptical about our events but more local businesses are getting involved each time we hold an event - this time for example a new addition was the Lunchbox which made the Hogswatch dish "Boozy Figgins" which went down wonderfully well, selling out by lunchtime Saturday and then despite the lovely Lunchbox owners getting up at 6.00am and making more they again sold out within hours of opening time on Sunday!!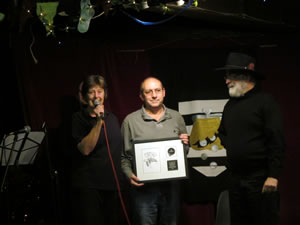 Photographer Anne Birgitte Nielsen
Andrew Barclay, the Wincanton Butcher, made over 1,000 sausages for our annual Sausage Supper and The Dolphin pub laid on special barrels of Discworld Cider - a potent brew which went down well with locals and visitors alike!
The Bear pub recently won the accolade of number one pub out of a list of 30 finalists by Famous Grouse Whisky and landlady Jo Wainwright says she is sure that the connection with the annual Discworld events helped - here is a link to that story.
Over the weekend Sir Terry presented a plaque to commemorate their connection which now hangs in the pub proclaiming that the famous author sometime frequents it!
Charity events held that weekend were:
Mr Harry John Pursey's performance of his dark fairytale 'The Monster Chef' raised £301.65 for Julia's House Hospice and the Stroke Association.
The raffle to join Sir Terry on his jaunt to the Christmas light switch-on at Burnham-on-Sea raised £380.00 for Secret World Wildlife Rescue.
Mr and Mrs Boggis raised £80.00 for the MS Society with their Thieves Guild talk and lanyards for the event!
Our Grand Charity Auction raised £2,978 for our sponsored charity RICE.
I hope to be a regular contributor to the Wincanton Window with Discworld stories and things that are happening at the shop - I hope you have enjoyed this story and look out for more news in the New Year!
Discworld journalist - Periwinkle!