Wincanton's focused community website, providing news and information including a full calendar
Headlines » Arts/Entertainment » Books & Authors
Local author publishes First World War novel
Tuesday 8 August 2017, 12:59
By Sarah Caundle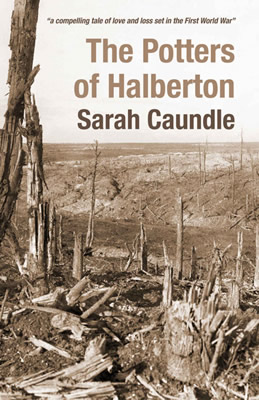 The Potters of Halberton is my first novel. It was published by Hollylodge Books in February 2017.
I felt a compelling need to write this story after visiting the Devonshire Cemetery on the Somme. I knew from family conversations that two of my great-uncles had died in the First World War (one the day before the Armistice) but hadn't appreciated the scale of it until I passed mile after mile of Commonwealth War Cemeteries while driving across northern France to take up a research post in Nancy. That prompted me to start reading about the war – the war poets, autobiographies, survivor accounts, and more formal histories – and to visit the battlefields of the Western Front and Gallipoli.
My book explores the impact of the War on loved ones at home as well as the men at the Front. As the war progresses the gulf between Front and Home widens and individuals are faced with painful realities. For some, there is growth, for others diminishment, until eventually love wins out.
I grew up in Halberton, Devon, so it was a labour of love to write about the area. After a career in the pharmaceutical industry in Hertfordshire I now live in Templecombe.
The Potters of Halberton is available from any good bookshop such as Winstone's of Sherborne, and internet booksellers.