Wincanton's focused community website for news, views and information including a full calendar
Headlines » Arts/Entertainment
Taunton Thespians Bring Sir Terry Pratchett's Play to Wincanton
Monday 11 June 2012, 17:02
By Ron Roberts
Lords, Ladies, Wincantoners and theatre-goers ahoy!
Taunton Thespians proudly announce that their 2012 Summer Tour brings
'Lords and Ladies' by Sir Terry Pratchett
To The Balsam Centre, Wincanton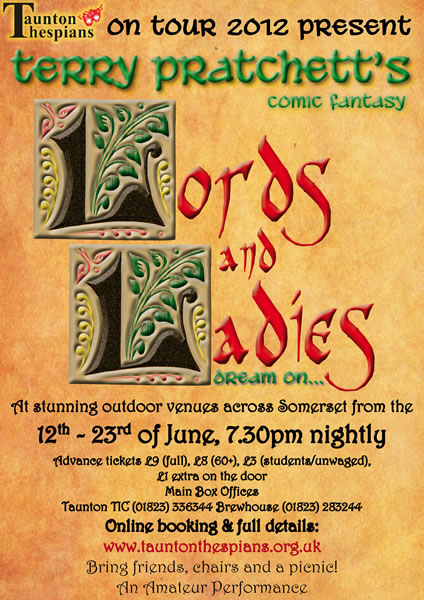 It is Midsummer Night and no time for dreaming as the good folk of the rugged hill-top kingdom of Lancre prepare to celebrate the wedding of King Verence and Miss Magrat Garlick, spinster and witch.
Visitors arrive from far and wide for the royal nuptials and the Lancre Morris Men are ready to entertain the guests. As the crop circles open across the land, less welcome visitors are poised to invade. Can Magrat shake off the influence of the old witches Granny Weatherwax and Granny Ogg and fight for her man? Can she defeat the Queen of the Elves? Who will be 'well met by moonlight'?
A theatrical adaptation of Sir Terry's comic fantasy with witches, elves, wizards, lovers, rude mechanicals and the world's second greatest lover - but definitely no monkeys!
The kingdom of Lancre will be transposed to the Balsam Centre on Saturday, 16 June at 7.30pm.
Gates open for picnics from 6.00pm.Tickets are available at the Balsam Centre, in advance £9.00 (full), £8.00 (60+), £3.00 (students/unwaged). £1.00 premium on the door.
Also from Taunton TIC 01823 336344 or Brewhouse 01823 283244 or online booking at www.tauntonthespians.org.uk. Tickets are valid at any venue.
NB: Open air performance: bring chairs, warm clothing, a picnic and friends!