Wincanton's focused community website, providing news and information including a full calendar
News » Shopping/Retail
Tables are turning in Wincanton at Highstreet Records
Sunday 23 December 2018, 22:28
By Alice Glover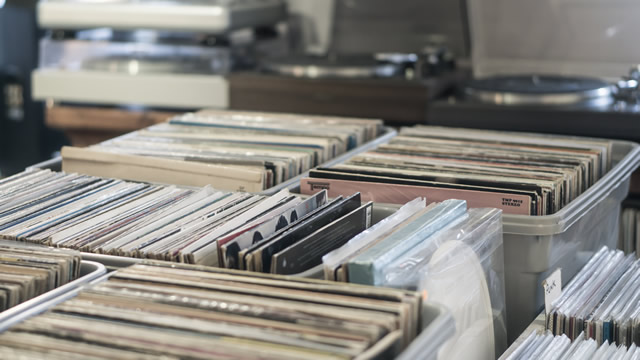 In a world where music is mainly downloaded onto a computer or listened to on the Internet, it is refreshing to see a resurgence of the vinyl record. While many people embraced the efficiency of digital music technology, there was one record fan that never gave up on the original, glossy grooved stuff: Brett.
Brett is a local chap who decided to settle in the area after living in London for a few years. He has a real passion for vinyl records and opened a great little shop in Wincanton's Applegarth Emporium last year.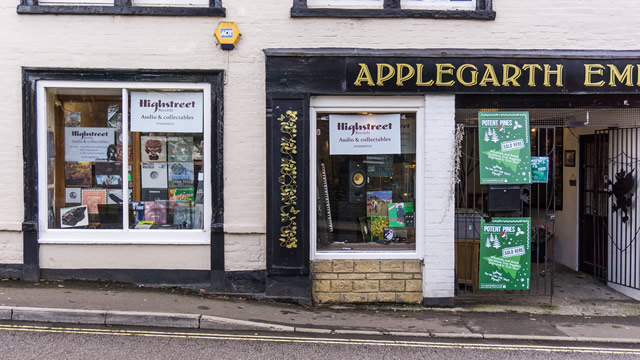 He sells an enormous selection of records from all different genres of music, or as he succinctly puts it, "everything from Abba to Gabber" (Hardcore Techno). This includes folk music such as Simon and Garfunkel, Susan Vega and the entire collection of Joni Mitchell albums - a veritable thesaurus of human emotion. It includes classic rock such as Queen and Pink Floyd, Jazz and Blues such as the album 'Si C'est Bon' by one of the most influential Jazz singers and trumpeters, Louis Armstrong. It also includes pop rock such as the beautiful, melancholic Kate Bush, country music such as Johnny Cash and pop music such Michael Jackson and 'Rubber Soul' - an album that captures the real skill and craftsmanship of one of Britain's most iconic pop groups, The Beatles.
However he is also looking to expand his selection of alternative records. This currently includes Reggae, Dubstep and early Psychedelia such the album 'I Spider' by British rock band Web and 'I see you' by International group Gong. It also includes 1970s 'Prog Rock' such as the album 'Lay Back and Enjoy It' by Juicy Lucy.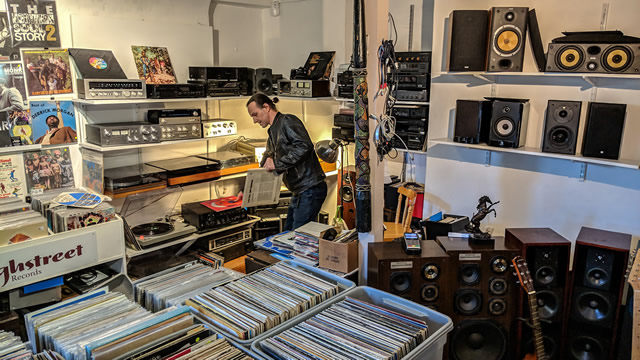 "I like anything that's a little bit odd", he told me. "The other day I came across an album I didn't even know existed! Lyon's Maid 'hits of the week'. Now who'd have thought that something as obscure as a compilation of hits from the charts that was sponsored by a 1920s ice cream company would have been released on vinyl?"

- Brett, owner of Highstreet Records
In the near future he would also like to start selling modern vinyl records released by current artists such as pop sensation Adele and the heavenly London Grammar.
Brett is always willing to demonstrate an album on his record player as a 'try before you buy' service. For him, vinyl recordings are the ultimate!
"It may be convenient to just click the 'play' button on Youtube but it's soulless. As Rock legend Alice Cooper said, Kids these days are tired of buying air. I really relish the whole tactile experience of putting on a record. It's a bit of a fag but there's something pleasurable about the ritual of removing the album from its sleeve, selecting the track and gently positioning the 'control arm' to make contact with the stylus and the sound groove."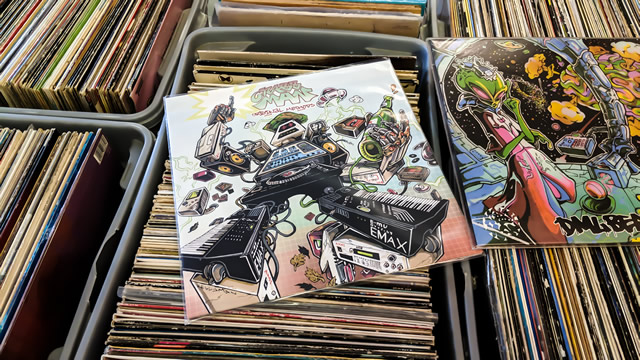 Moreover, it is not just the process of putting on a record that appeals to Brett, he is also enamoured by the artwork on some of the album covers.
"I mean just look at that" he exclaims, pointing to the stunning psychedelic artwork on Joni Mitchell's 1968 album 'Song to a Seagull'. "A CD or even less so, a download just doesn't have the same visual impact."
Because of their size, album covers were used as an almost alternative canvas for fine artists such as Peter Blake and his iconic portrayal of The Beatles on the Sergeant Pepper's album. Brett has noticed that some people are buying records for decoration. He also added that he gets customers that don't actually own a record player but will say "I'm going to buy, I don't know, let's say The Beatles 'Revolver' album as it'll look nice on my wall!"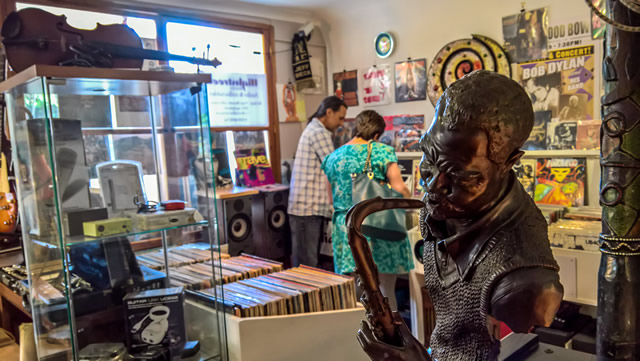 And then there's that sound! A CD may be more disposable but the sound is too sanitised. And now for the technical bit. By definition all digital music is compacted and converted into a binary format that is little more than 10-15% of the original recording. It's really a trick upon the senses. Vinyl, if well looked after really shows up the quality of a streamed MP3. "It's so much richer!" Brett exclaimed. While we were chatting, he put on Nina Simone's spine chilling album 'I Put a Spell On You'. What better way to experience vinyl's integrity! "This makes me melt", he said, drifting off into a blissful sigh.
"It has real depth and is almost organic in its purity of sound. Ok there's the odd hiss and crackle, particularly with older records, but it's all part of the charm!"
The simple reason is that it is all based on analogue recording. I.e. it is a true and faithful representation of the original sound.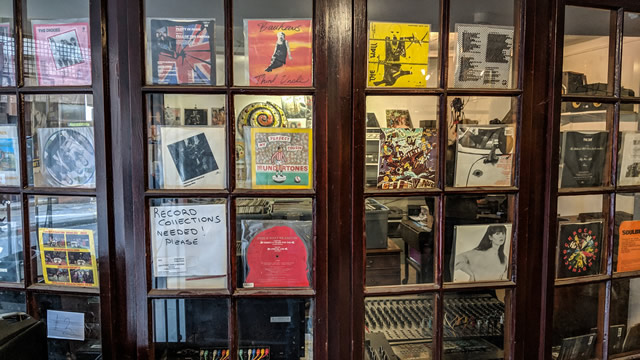 In addition to vinyl records, Brett sells an array of audio equipment and with a degree in Sound Engineering from Salisbury College he even does a bit of recording himself. His collection includes retro/vintage and 'valve amplifers' from the 1970s and 80s such as those classic models made by Quad and Audio Innovations. It also includes HiFi gear such as powerful speakers, 80s tape decks by international brand Nakamichi and record players, from the affordable to the more exclusive brands such as Linn Sondeck.
Moving onto to his studio gear! This includes synthesisers, monitors, mixers and the highly sought after 'theremin', a haunting sounding instrument that is operated without physical contact and made popular by British comedian Bill Bailey.
To compliment his collection he also sells retro furniture such as a little carved oak writing desk, a stylish chest of drawers, and collectibles such as musical instruments, industrial lighting and 'militaria'. With his electric guitars and an impressive display of deactivated muskets and swords on the wall, he likes to think of his shop as a 'man cave'.
The more I talk to Brett the more I feel that Highstreet Records is no ordinary record shop! With his warm, unassuming personality he has created an environment that is cool, inviting and immersive. As I flick through his latest stock I love chatting to him about our mutual disillusionment with some of today's music business or what Joni Mitchell refers to as "a cookie cutter industry".
Highstreet Records is open from Tuesday to Saturday, from 10-4pm.
07502 409724

Alice Glover