Wincanton's latest news, views and information, including surrounding towns and villages
Headlines » Arts/Entertainment
Scrap - The New Alchemy
Wednesday 15 June 2011, 16:35
By Fiona Campbell
Pylle Motor Spares - long established in the scrap business - have become art patrons! They have donated scrap to the Scraptors, who scavenge incessantly for material for their sculptures.
Pylle responded to an appeal by the Scraptors for bits and pieces for their forthcoming Trail at Stourhead. Sarah Herring and Ped Rossiter, at Pylle Motors said "It's great to see some things being created into art rather than crushed".
South West sculptors Fiona Campbell, Anthony Wilson, Paul Boswell and Rachel Macleay have formed a group called Scraptors. Although individual in style, they all use mainly recycled and found materials in their sculptures. Their new venture will be a circular sculpture trail "Beyond the Garden Gate" at Stourhead National Trust Estate, (1-30th September '11). With no funding for the project, the Scraptors have been relying on their own ingenuity to source materials.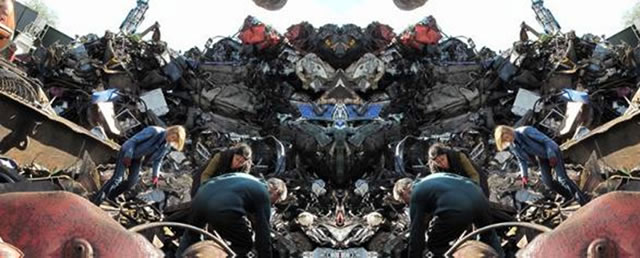 The spirit of alchemy overcame our photographer VJUltra - creating a palindrome image of our scrap hunt
Now that the price of scrap metal has reached new heights, the Scraptors are finding it more difficult to obtain donations of scrap, such as steel and copper wire, for their work. These days, people are understandably saving their scrap metal to trade in for extra money! It's a lucrative business for scrap merchants.
In additon to finding materials on walks, at scrap yards and in skips, some off-cuts of steel and scrap have already been kindly donated by friends, together with companies such as John Shepherd Feeders and Pylle Motor Spares. In response to a newspaper article, a lady, Karen Green, invited Scraptors to collect a supply of metal tools from an elderly man (Ed's) sheds, as he no longer required them. It turned out to be a treasure trove of trash - literally shed-loads of interesting shapes for their new pieces!
Fiona has been a regular customer at Pylle Motor Spares, scouring the huge heaps of scrap, usually to find various steel parts and colourful copper wire, which she buys. "The range of rich reds and oranges that come from alternators, for example, are fantastic colours for my woven sculptures." Apart from the obvious environmental benefits of using scrap, Paul says "I enjoy creating work out of scrap as it leads to an interesting collision of different materials."
In the mountain of scrap, Paul instantly saw a hippopotamus, giant dog and gorilla! "As a child, my nickname was 'Stig-of-the-dump'" says Rachel, "not a lot's changed!" Utilising coloured plastic bottles, Rachel creates exotic flowers and creatures. Anthony says "My idea of heaven is a giant scrapyard!" In his large, wild garden even the bushes become sculptures - nothing is safe from his zoomorphic touch!
Further donations of scrap steel, copper wire, colourful bottle tops, beads and buttons would all be much appreciated. Tel: 01749 880394 / 01373 836786 or email . You can learn more about Scraptors on their blog: www.scraptors.blogspot.com.