Wincanton's focused community website, providing news and information including a full calendar
Headlines » Shopping/Retail
Say it with Gold at Alex Appleton Jewellers
Thursday 11 February 2016, 13:15
By Fanny Charles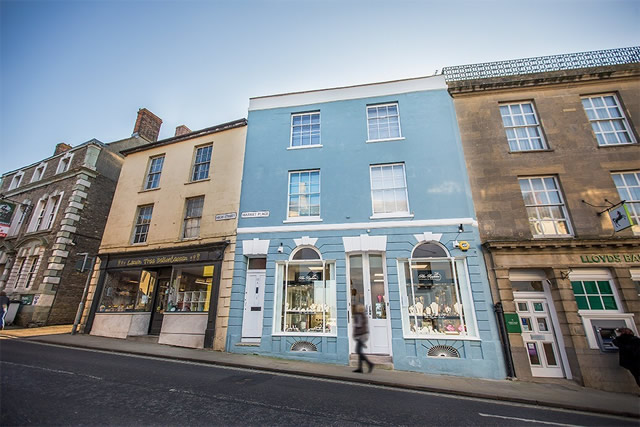 The beautifully restored shop, which opened in November
One of Wincanton's finest town centre buildings has a new lease of life as the shop and workshop for goldsmith Alex Appleton – if you haven't yet looked into the beautifully refurbished former chemist's, this is the week to do it.
Pop in and see the range of bespoke handmade jewellery – "wearable art" as Alex and her husband Clive describe it. You might find the perfect Valentine's Day present for your beloved! And don't miss Alex's stunning new creation, an opal pendant, ringed in diamonds, with an exquisite gold dragon, gently flexing his wings and wrapping his tail round the pendant.
It is an essential reminder of the extraordinary quality of work that this highly qualified goldsmith produces – here in Wincanton!
Alex and her husband Clive Kirby bought 13 Market Place in May 2015 and spent the next six months restoring it. The building had been empty for several years and had fallen into a terrible state of disrepair.

The building at 13 Market Place was in a sorry state
when Alex and Clive bought it
"We have painstakingly restored the premises to its former glory and are proud to make this our new store, back on the High Street," says Clive. It was a major job – the building is listed, but the front had been coated in plastic masonry paint, which had to be carefully removed and the stonework beneath repaired, before repainting with a German mineral paint by the specialist manufacturers Keim.
The doors, a feature of the front of the shop, had to be replaced, to the same design, but to high security standards, and the internal fittings, including the glittering tiled floor, reflect the quality of the restoration and the nature of the business.
Alex began her career in the jewellery industry more than 20 years ago, working in her parents' jewellery shop (T & S Appleton Jewellers of Gillingham). She trained and qualified as a professional jeweller and gemologist and opened her own business in Wincanton in 2004. She is a member of the National Association of Goldsmiths and holds the association's Fellowship Diploma, and has a fine reputation for her extensive product knowledge and excellent customer care.
She specialises in design work, in gold, platinum, diamonds, emeralds and aquamarines. Much of the business is based on creating bespoke designs to customers' particular requirements.
But Alex and Clive are also committed to providing all the traditional jewellers' services, including repairing, servicing and cleaning jewellery. Maintaining claw tips, stone mounts, ring shanks and clasps is essential. A loose stone now could mean a costly repair (or replacement) in the future. The resident goldsmith, David Reale from Sicily, is always on hand to give advice where necessary; estimates for repairs are available by request.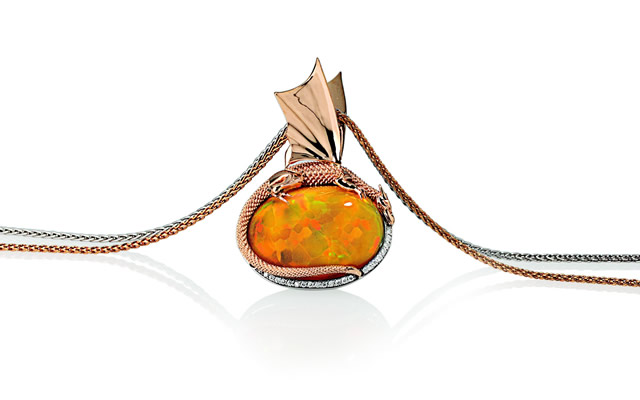 Alex's newest creation – an opal set in diamonds encircled by a gold dragon
The well-equipped workshop is downstairs in the basement of the building, which still has its centuries-old flagstone floor. Repair services include ring sizing, chain repairs, replacement of missing stones and the sympathetic restoration of antique jewellery. Silver items such as teapots and candlesticks can be restored; pearls and beads can be re-strung; a hand-engraving service is available; and watch and clock repairs are carried out locally by an experienced horologist.
Alex Appleton Jewellers is open from Tuesday to Friday from 10.00am to 5.00pm, and on Saturday from 10.00am to 1.00pm; telephone 01963 824640; www.alexappleton.co.uk.