Wincanton's focused community website, providing news and information including a full calendar
Headlines » Events
Recall Flyball Club's Boot and Table-Top Sale is on Saturday 11th May
Thursday 9 May 2019, 22:12
By Tracey Pratt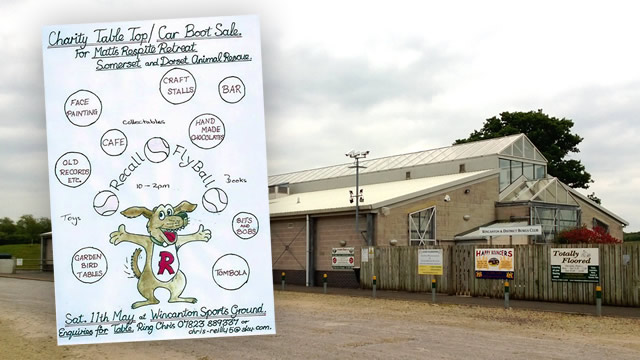 It's that time of year when we think about tidying the house and garden, clearing out and refreshing our spaces. This often means a great pile of things we don't need anymore; DVDs we have watched too many times, clothes that don't fit or we are bored of, toys and books we have grown out of and, if your house is like ours, lots of items we bought and never gave, or things we were given and don't know where or how to use them!
So why not box it all up, hunt out the pasting table or picnic blanket and come along to Wincanton's first boot sale of the year being held in aid of two very important local charities!
On 11th May, Wincanton Sports Ground will be the venue for Recall Flyball Club's Boot and Table-Top Sale raising money for Matt's Respite Retreats and Somerset & Dorset Animal Rescue. There will be lots of fun and activities for you to take part in and it's a chance to get to know the club and the charities involved.
The gates and doors will open to sellers at 9am and then to buyers between 10am and 2pm. The price of a pitch or table will be £5. Tables should be booked by contacting Chris on 07823 889339 or but "booters" are invited to just come along and set up on the day!
The money taken in boot and table fees will be shared between the two charities to help them carry on their important work, and the Flyball Club will be running stalls of their own. Then it's over to you to use your best market calls and negotiating skills to earn yourself a few extra pounds for a special treat or project of your own – remember the saying "one man's trash is another man's treasure"! Encourage friends and family to come along and hunt out a bargain, browse the craft stalls, play some games or have their face painted.
Let's hope for some great weather for a fun event in support of two fantastic charities! See you there Wincanton!