Wincanton's focused community website for news, views and information including a full calendar
Headlines » Shopping/Retail » Papertrees
Papertrees: Books, Stationary, Papers and Magazines
Thursday 1 January 1970, 00:00
By Adrian Ollerton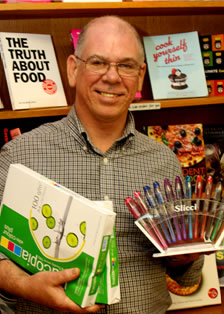 Well who can believe it? We have now been open for three and a half years already!
I would just like to take this opportunity to thank the People and Businesses in Wincanton and surrounding districts for their continued support because without you we would not be here, Thank You.
On the Book Shop side we have a varied range of new and reduced price books in stock and don't forget if you need a book we don't have we will always order it for you.
Papers and Magazines. We will order your papers and magazines and reserve a copy for you just in case they sell out before you get to the shop. Again we will order a one off copy of a magazine or paper for if you just want to know what it is like before you put a continuous order in.
Toys. Currently we have a new stock and new toys coming in all the time
Stationery. We are fully stocked with most needs for your home or office. Everything from a Paperclip or Printer Cartridge to Office Furniture. Again if we don't have what you want in the shop we will get it in over night for you.
Along with the stationery we also offer other services, like:
Laminating up to A3 size
Black and Colour Photocopying up to A3
Comb and Heat Seal binding
A complete Printing Service from design to the finished product i.e. letterheads, business cards, leaflets, posters, brochures and anything else you would like printed.
What's New?
We now have Academic Diaries 09/10 and 2010 Diaries in stock (that time of year already) with Calendars and wall planners coming in soon. Hopefully if I can find the right supplier I will start getting more Arts & Craft materials in stock.
As always there is a friendly welcome for all at PAPERTREES and if you have any suggestions as to what else you would like to see us carry – please let us know.
Adrian Ollerton
Papertrees
33 High Street Wincanton 01963 32356