Wincanton's focused community website, providing news and information including a full calendar
Headlines » Arts/Entertainment
Musical Talent! Open Mic Night Comes to The Nog
Friday 1 February 2013, 13:30
By Amy Cutts
The next Open Mic Night at The Nog Inn will be on Thursday 7th February at 9.00pm. Don't forget, everyone is welcome, so get the date into your diary. Whether you want to come along and strut your stuff, or just listen to some great live music in Wincanton, you can be assured of a warm welcome here at The Nog!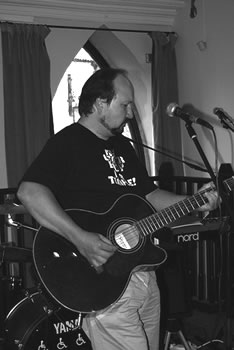 Hosted by Ross Kirk, a local musician from Wells who has vast experience in organising these events, Ross will be providing and setting up the basics, such as mics, PA systems etc, and we'll be ready to start at 9.00pm.
What can I say about our first open mic night last month? Wow - we were incredibly (and pleasantly!) surprised it was such a hit! Will and I must say a huge thank you to Ross for being such a brilliant host, and to everyone who came along and took part. Thank you also to all those who came along and listened to these talented people belting out some corking tunes!
So, to Ross, Rebecca, Jonathan, Local Band Live (anyone who can play The Levellers like they did is worth a trip down here in itself!) and the young chap from Rochdale who just happened to be visiting family in Wincanton and popped along and played guitar and sang at his very first open mic night - THANK YOU! You were all superb and we really enjoyed listening to you.
So come on, this could be you I'm talking about next month!
For further details please give us a call on 01963 32998 or pop in and see us!