Wincanton's focused community website, providing news and information including a full calendar
News » Arts/Entertainment » Local Artists
Margaret Miller Exhibits in Divine Wines
Monday 24 December 2012, 01:52
By Margaret Miller and John Baxter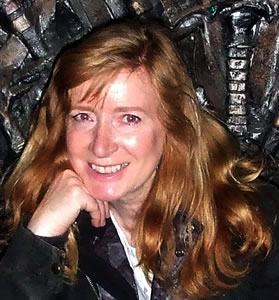 Professional Artist and Designer Margaret Miller has an exhibition of her work currently in Divine Wines, Wincanton High Street, until the end of the month. As well as examples of her portraits and views of Wincanton landmarks, she has a delightful selection of cards.
Margaret's current exhibition clearly shows what a versatile and accomplished artist she is. Working with pen and watercolour she produces quirky and highly recognizable portraits of people, their pets, their homes and landmark buildings such as Wincanton Town Hall, the Parish Church and Clementina's. Running through her work is humour, warmth and intimacy and she describes her work as influenced as much by cartoon and graphic novels as fine art. It is work to make you smile.
Margaret studied Drawing and Painting at Edinburgh College of Art, later gaining a B.A.(Hons) in Theatre Design/Three Dimensional Design at Central/St Martin's in London. Following a number of years working for the BBC as a Design Assistant on productions as diverse as "Allo Allo" and "Holby City", she now concentrates on her own creative artwork.
She has undertaken numerous commissions across a variety of subjects such as house portraits, both in the U.K. and abroad, animal and human portraiture, and images for business cards, websites and advertising.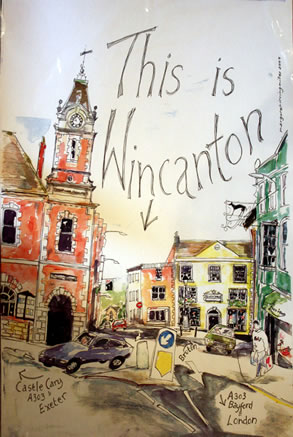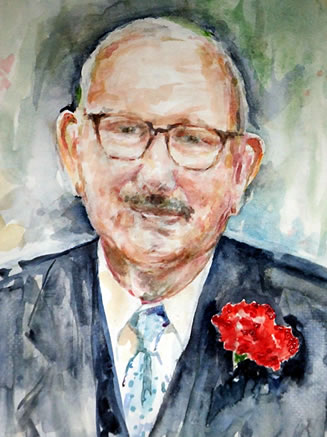 She has illustrated several children's books, including The Life of Robert Burns by James Veitch (2010 Stenlake Publishing), and produced visualisations for gardeners and developers. These include the Silver Gilt award-winning show gardens 2009 and 2010 at the Malvern Gardening Show for Foliation Ltd, Newent and illustrations of proposed developments such as the Laverton Hall in Westbury.
Margaret was also awarded runner up in the international World of Interiors magazine "Design a Room" competition.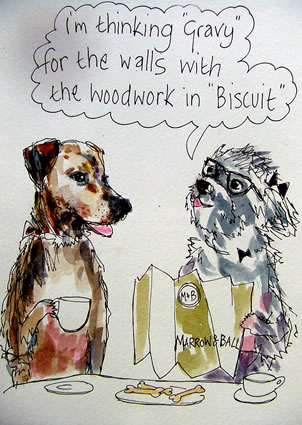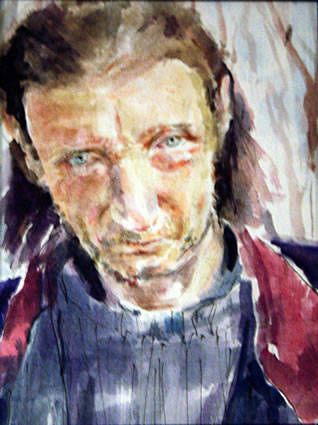 What Margaret Has To Offer:
Original, tailor-made art and illustration - unique pen, ink and watercolour pictures in your choice of subject. Just post or email a photograph.
House and garden,business, friends, family, celebrations, pets, passions
The added option of a set of postcards featuring the chosen image. The images can also be transferred to other accessories.
The possibilities regarding subject are unlimited and open to discussion.
Margaret also supplies drawings for developers and landscapers, such as interiors/use of space and garden design, as well as illustrations for books and websites.
From A5 (21cmx15cm) to A1( 84cmx59cm) - you specify size, personalised detail and optional words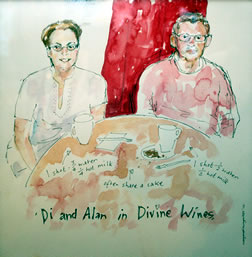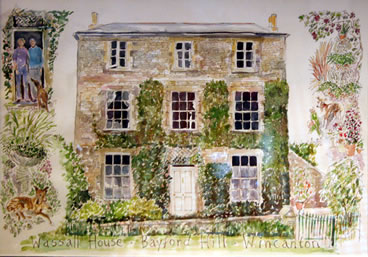 "We were delighted with Margaret's rendering of our traditional Perigordian cottage - she totally captured its character and friendly quirkiness."

- John and Jean Parker, Dordogne, France
"I can't thank you enough for the picture of my friends' business - Blandford's Cafe! They said it was the best retirement present ever."

- Kim Macrory, Marylebone, London
"It was such a simple process... to email a photo of my parents' much loved dog and receive back a truly characterful portrait which now has pride of place...."

- K. Grogaard, Dumfries
"I'm so happy with Margaret's painting of my shop front. I use the image on business cards, advertising etc - it perfectly reflects our individuality."

- Divine Wines, Wincanton,Somerset
For an informal discussion please contact Margaret on or call 07748 166331.