Wincanton's focused community website, providing news and information including a full calendar
News » Arts/Entertainment » Books & Authors
Make More of Vegetables - Series of Innovative Cookery Books Launched
Thursday 1 January 1970, 01:00
By Giles Harbottle
VEGETABLES IN THE SPOTLIGHT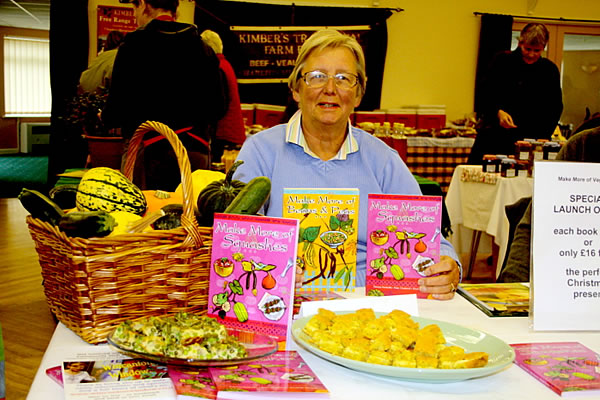 Sugar-snap peas with prawns, salmon and runner bean bake or pumpkin soufflé - but of course. Why didn't we think of that before. With a plethora of vegetables often available at certain times of the season, how best to cope with them, making them really appetising and being inventive in their presentation?
'Grow your own', 'veggies are good for you' and 'five-a-day' are very much 'in' phrases at present, particularly by those trying to promote greater self-sufficiency and wanting to be more 'green'. The message, although much in vogue, is nevertheless important, as we know vegetables are good for us and if we grow them at home we are helping our beleaguered planet in all sorts of different ways. So how do we make more of vegetables?
The first two books, in an innovative and inspiring series on vegetables have just been launched. On Friday 6th November author Patricia Harbottle signed copies of her books at a stand at the monthly Wincanton Farmers Market and will again be there on 4th December.
The first two titles of the attractively produced, easy to read books, at £8.99 each, are Make More of Beans & Peas and Make More of Squashes, both published by the HotHive. Greens and Roots in the series follow next year.
Although not a vegetarian series, the books' accent is on vegetables. There are simple and clear instructions as to growing, preparation and the serving of them, with 50 inventive recipes in each book. At the Friday market two plates of delicious samples from the recipes were available for people to try.
Food enthusiast Patricia Harbottle, who ran a successful catering company in London for many years, before moving to Dorset where she now lives near Shaftesbury, has contributed the recipes to the series. Co-authors in the enterprise who describe the simplicity of growing and caring for vegetables at home, even where space is limited are Peter Chadwick, an organic horticulturalist, and Elisabeth Winkler, editor of The Source and former editor of the Soil Association's magazine Living Earth. Visit her website: www.realfoodlover.net
Acclaimed Italian cookery book writer Anna Del Conte, who has contributed the forewords, says: "When Patricia told me she was going to write a series of books on vegetables I knew all the recipes would be winners. The 50 recipes are a joy to read and I am sure an even bigger joy to eat."
Copies of the books may be purchased at Papertrees in Wincanton, Tel: 01963 32356 or email: Make sure you don't miss the opportunity of obtaining these informative books for your own shelves or as presents for your friends for Christmas.
For more information about the books visit www.thehothive.com
Giles Harbottle
Tel: 01747 838078 or email: