Wincanton's focused community website, providing news and information including a full calendar
News » Shopping/Retail » Wincanton Post Office
HSBC Prepares to Close – Can Your Post Office Bridge the Gap?
Monday 18 January 2016, 17:11
By John Smith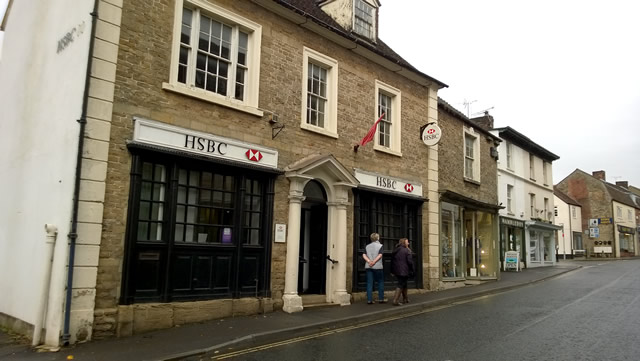 The count-down is now on till the Wincanton High Street branch of HSBC closes on 22nd January at 3.00pm. Current customers received notice of the closure back in October 2015 and news of the closure has caused serious concerns in the community.
For those using online banking services, little difference will be experienced. To use offline HSBC services car owners will have the inconvenience of driving at least 12 miles to find another HSBC branch (Shaftesbury, Yeovil, or Shepton Mallet).
However, being a rural town, non-drivers and especially the elderly still depend on public transport, with the main service being to/from Yeovil. That means using a good portion of a day just to visit your nearest bank branch, an important consideration at a time when doubts are being cast over the future of some local bus services. The tightening of local government budgets could have a big impact on public transport in rural areas.
Despite these worries it's not the end of the world. Current HSBC customers can still do their banking locally. The solution lies within your own Post Office. As long as you use your HSBC bank paying in book/cards, you can bank cheques or cash, and make withdrawals in the normal way.
In fact the Post Office can handle banking for most, if not all of the main banks. You also have the added bonus that Wincanton Post Office is open for transactions later each day than conventional banks, and they also open on Saturdays.
Wincanton Post Office opening hours are 9.00am – 5.30pm Monday to Friday and 9.00am – 2.30pm on Saturdays.
HSBC clarified the situation for their local business clients with the following statement.
"HSBC business customers who have a Debit Card facility on their account can now undertake cash withdrawals and cash deposits at Post Office counters. The values are limited depending on the status of each individual Post Office and these should be checked with the individual Post Office branch. We are currently working on a cheque deposit facility with the Post Office for our Business customers and this is expected to be available later in 2016."

- HSBC
Nigel McCormack, Wincanton Postmaster confirmed that being a 'Main Post Office' there are no limits on transactions. If you have any questions or concerns call in at the Post Office and ask for advice.
For simple ATM transactions you can use the external machines at NatWest, Lloyds, and Morrisons. You can also use the Co-Op in-store ATM in the town centre.