Wincanton's focused community website, providing news and information including a full calendar
News » Arts/Entertainment
Have a go at Taiko ('big drum') at a FREE taster in Wincanton
Tuesday 29 March 2022, 00:24
By Emma Fletcher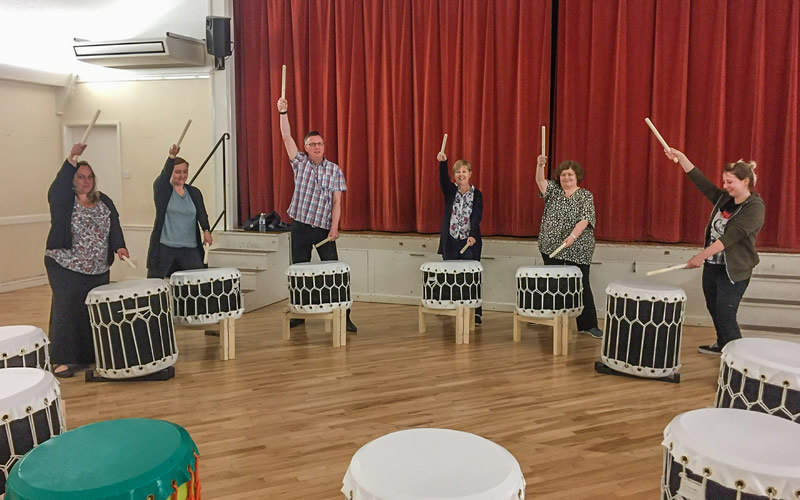 Exercise can sometimes feel like a chore, something you have to do to be healthy but not always a pleasant experience. Well I have found a way to exercise and engage my brain. I have always loved music and movement and have taught music in schools for over 30 years, but when I discovered taiko about ten years ago I was thrilled to find a world of fun, rhythm and physical exercise that I could really engage with.
I went along to training courses and took part in some classes and found an activity that exactly suited me. Eventually I purchased my own set of drums and have been running workshops and a class in Wincanton. COVID has been an unwelcome interruption to my business but nevertheless I would really love to continue to get more people involved in the wonderful world of taiko and expand my classes.
Taiko is a Japanese word meaning 'big drum'. In 1950's USA, the first experiments combining Japanese taiko drums into one ensemble began. Taiko groups are already well established in Japan and America.
You have to stand to play and most of the playing requires big arm movements and working as a connected ensemble. The musical challenge is to create accurate and interesting rhythms, while the movement challenge is to create beautiful shapes and make it a visual spectacle.
I clearly love taiko and am offering some FREE taster sessions for new people to come along and give taiko a try. I would love to see Wincanton become the town of taiko so why not come along and give it a try? You may find the thing you have been looking for like I did!
The free sessions are
Tuesday 29th March 6:00pm to 6:30pm
or
Tuesday 5th April 7:30pm to 8:00pm
both at
Wincanton Primary School hall
(please enter via the old school entrance)
To book a place email or phone me on 07544 531837.
Check out E.L.F Music Workshops on Facebook if you would like to see some taiko in action.