Wincanton's focused community website, providing news and information including a full calendar
News » Shopping/Retail » Preview Ladies' Fashion
Great Autumn Fashion Show at Preview
Tuesday 6 October 2009, 19:58
By Juliet Lake, Sarah-Jane Lewis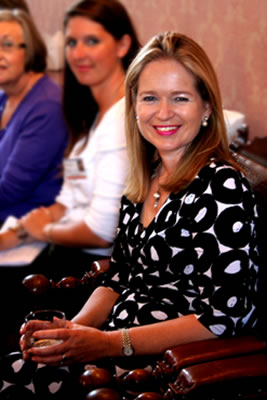 Fashion show weeks at Preview involve a lot of team work – and in the run-up to the shows several late nights and weekends. All the outfits have to be planned and written down and as you can well imagine, we spend ages going to and from the Town Hall with armfuls of clothes and hats etc. It is all good fun and you may be wondering how I got involved in it all. I think years of organising my four children helps with the planning side of things! I was the manageress of Preview before buying the business from Finn Kennedy last November. Prior to that I had worked in retail and travelled extensively, living in the Middle East for several years, although admittedly I was working on archaeological digs rather than in shops!
I love meeting new people and being a "people person" certainly helps. It is many years since I walked down a catwalk – but I did a stint at Lucie Clayton's in the 70's, so I do know a bit about the actual modelling side of things!
Our next shows will be in March and I hope those of you that haven't yet been able to attend one of our shows will be able to join us. We have a lot of fun!
I would also like to take this opportunity to thank all those who so generously contributed prizes and help.
Julian Shave for the wonderful flower arrangements and donating one of the beautiful pedestal arrangements.
Malcolm McCormack at the Post Office,
Andrew Barclay Family Butcher,
Rebecca Amesbury at Purple Sparkle Crafts,
Mark and Debbie at Wincanton Garden Centre,
Anna Cuff at Elegant Home,
Maxine Davis Hair Salon,
Sarah Emery at Mimosa,
Pauline and Lucy at Amour Lingerie,
Adrian Ollerton at Paper Trees,
Kayleigh at Capelli Hairdressing
Holbrook House
Montague Inn
Kings Arms Charlton Hawthorne
Jenny at Divine Wines for supplying the sparkling white wine – much appreciated by all
John Baxter for taking all the photographs.
Juliet Lake
The Preview Autumn Shows – A Celebration of Fashion
Once again, Preview Fashion Boutique of Wincanton excelled with two thrilling Autumn Fashion Shows staged in the Town Hall and introducing truly affordable, chic & new collections, The two sell out shows opened with a stunning sequence by Canadian Design house Joseph Ribkoff – a celebration of day and evening wear in rich jewel colours, stunning black & white and crimson. Ribkoff specialise in non crease fabrics, so easy to pack but always elegant.
New collections are from:
Avoca of Ireland – Herringbone tweed skirts at a respectable mid calf length (£125) or a combo of slimmer, knee length skirts with elegant slanted pockets topped by cute cardigans with contrasting trims, and 'Lollipop' jackets in rich Irish tweed at £167.
Ness is from Scotland (of course!) and comprises the most fabulous heather coloured tartan jackets with velvet trim and complimentary mixed coloured buttons at only £89.95. Matching tartan pumps at £29.95 and bags, large or small from £34.95 - £44.95. Total look over trousers, jeans, skirts dresses - This was the most versatile, everyday, affordable collection shown in the area for a long time.
Pomodoro showed a less structured collection with long, easy cardigans in rich textures at £75, worn over jeans at £65 or miracle 'size reducing' jeans by Michele at £99. A theme of red and black separates sharpens up smart, individual pieces for day. Pomodoro three quarter length coats in vibrant tweed mixes at only £109 make a clever investment for this season.
Kello of Denmark also produce beautifully cut coats in camel , hot pink or black & white tweed, varying from £179 – 249.
In addition to new labels, Preview retain solid favourites: bags by Gaby ( £49-65) colourful polo tops to wear under any outfit by Viz-a Viz at only £39.
More coats and jackets in Donegal tweed with matching hats, faux fur jackets and gilets by Cornelia James and Joseph Ribkoff from £135.
Colours across the collections are stunning this season: Purple, Raspberry, Crimson, Fuchsia, Bilberry, Teal, Sage Green, Graphite, Chocolate Brown and Black & White.
For weddings, evening and special occasion wear, total glamour with Frank Usher and Tina Taylor topped with hats and fascinators made to order by Nigel Rayment. Accessories include faux fur wraps in purple, blue, red or black,. Chunky pearl mix necklaces, shoes by Riva (£89) and Ultimate (£119) and even tights by Gypsy at only £6 a pair. The Designer Room is now cosily situated at the back of the main shop, so no more dashing up and down the pavement between the two former Preview shops, in the rain! Preview is open 10-5, Monday-Saturday.
Sarah-Jane Lewis
http://www.preview-ladies-fashion.co.uk - 01963 31676
A Selection of Images – by John Baxter