Wincanton's focused community website, providing news and information including a full calendar
News » Arts/Entertainment » Bruton Art Society
Forty Images From Bruton Art Society's 59th Exhibition
Friday 13 April 2012, 12:28
By John Baxter
However brilliant the reproduction, in this case simple digital photographs taken by humble self, there is nothing like looking at the real thing, and this year's 59th exhibiton of Bruton Art Society in the well-lit hall of Bruton School for Girls at Sunny Hill is no exception.
With 192 works framed and hung, a whole room of interesting "also-rans" not hung, a large collection of unframed paintings and prints (including etchings and Giclée prints) and a huge selection of cards, the exhibition offers something for everybody. Much of the work for sale is very reasonably priced, so if you would like to grace your home with an original work by a fine local artist, this is your chance.
Each year the Society gives a prize to the best work, chosen by the Head of Art at the school, and everyone agreed that this year's piece was exceptional. It is a study simply entitled "Hands", executed in pencil, and is an image of exceptional power – something one does not forget. The artist is Emily Tse, 18, of Hong Kong. Sadly she had gone home and was not able to hear our congratulations.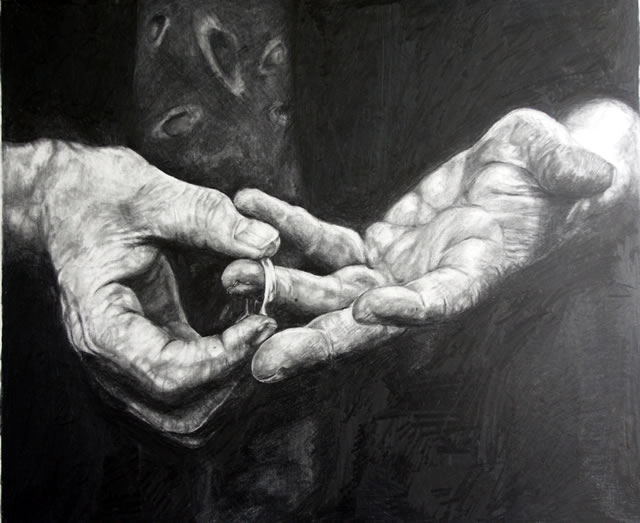 Clive Dand was again responsible for hanging the exhibition, with the help of a hard-working team from the committee. This is no small feat and takes several pressured days. This year's selection committee had spent many hours deciding which works were up to scratch, for the society prides itself on the quality of the work it promotes.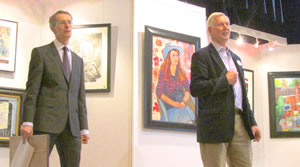 This was also the last time that John Burrough, headmaster of Bruton School for Girls, opened the exhibition as he is retiring after ten years in July this year. The Society is very grateful for his generosity in letting the society use the school hall.
What follows is a selection of some forty images. This simply shows the pictures that caught my eye as being rather good and excludes some which were difficult to photograph because of the light reflected in the glass of their frames. Reproductions of course also distort scale, so you cannot tell if the pictures are bigger or smaller. Still, I hope you will enjoy them and if you look at the work featured on the Wincanton Window for the last two years of exhibitions you may find the comparisons interesting.