Wincanton's latest news, views and information, including surrounding towns and villages
Headlines » Arts/Entertainment
Casespace - Sculpture Exhibition at Bruton Museum
Friday 13 January 2012, 19:13
By Fiona Campbell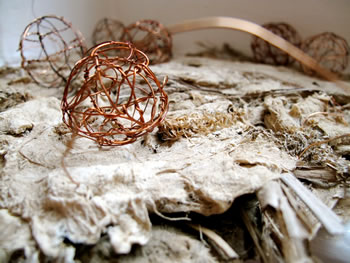 Fiona Campbell will be showing some of her work in a small solo exhibition called Casespace, in Bruton Museum throughout February 2012. The gallery is largely contained within a special museum case (plus one corner of the museum), which changes monthly and exhibits local artists/makers and occasionally, private collections of things.
In addition to Fiona's steel, copper and wire sculptures (using some retrieved materials), she will also be showing her sketchbooks, mixed media drawings and prints. Sometimes playful, Fiona's work explores primal life forms as woven or linear drawings in space, using vibrant colours, layers and textures.
Jackie Brooks from the Museum says: "I try to encourage exhibitors to think of the space three-dimensionally and to be aware that it can be viewed from four perspectives, if they choose."
The Museum displays other interesting artefacts including work by Bruton's sculptor Ernst Blensdorf and a collection of local geology.
Admission is free and the Exhibition runs from 1 - 29th February; Tuesday, Wednesday and Friday 11am - 1pm and Saturday 11am - 3pm. Bruton Museum, 26 High Street, Bruton, Somerset BA10 0AA. Tel: 01935 462855.