Wincanton's focused community website, providing news and information including a full calendar
Headlines » Arts/Entertainment » Bruton Dub Club
Bruton Reggae Fest – 11th July
Thursday 2 July 2015, 17:49
By Mat Runacre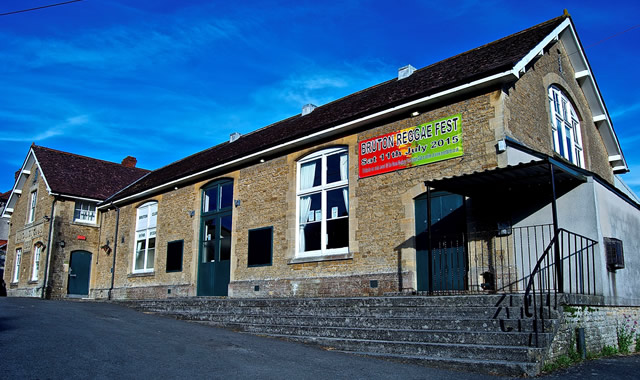 With a background working in reggae music, moving from Tottenham to Bruton deprived me of a good night out! Eventually I had to scratch the itch so put on a free gig in The Bruton Castle pub restaurant with London RnB band Korus and local acts DJ Frank and MC MVP, which was well received.
I had hired a PA for the night from Phil Harry, a member of the Bruton band KUSH that played at the Packhorse Fayre this year, which got us chatting. We hatched the idea for the Bruton Dub Club in collaboration with Clapper Priest, a singer/MC from Hackney I've worked with for over 30 years.
We launched at the Bruton Community Hall in September 2014 and had to move to the larger Bruton Club Hall in December. The numerous friendly, appreciative crowds spurred us on and encouraged us to book better known acts such as One Style MDV, Radical Dance Faction, Dubheart and Banco de Gaia.
The layout of the Bruton Club, with an old bowling green out the back, led us to broaden our horizons and by February the Bruton Reggae Fest was already in the planning stages.
On Saturday 11th July Bruton Dub Club will bring you the best in live reggae and beyond at its first one day festival, noon till midnight, both in the hall and out on the green at The Bruton Club, Quaperlake Street, Bruton.
Tickets: £10 on the door, or in advance from The Bruton Club, The Green Monkey Juice Bar, Bruton High Street or online from Eventbrite.co.uk.
Featuring:

Bristol's full Roots Inspiration Sound System bring their heavyweight roots reggae and spiritual dubs.
One Style MDV, UK stalwarts, hailed by their peers!
Trench City bring their uplifting Caribbean vibe of sweet harmonies with rootsy beats.
Hackney's favourite hardworking MC. Clapper Priest.
Emiliyah and the MightyZs All Stars, mighty vocals that accompany an irresistible urge to dance!
Sons of David, heartfelt reggae from the West Country.
Local reggae from the bouncing Blue Midnight.
The Beaconaires, Lamyatt reggae heroes
Koichi Sakai, nothing but the very best in Soul, Jazz, Funk, Reggae, Latin and Afrobeat from the man behind Ghetto Lounge.
Lana Sound from Andalucia, spinning some new and classic grooves - expect some fine bass sounds.
Invisible System will groove us with their eclectic fusion of Ethiopian music and western reggae, dub and jungle music.
During the day inside the hall we have some of the region's most talented young artists. Markie B has been nominated the best Drum 'n' Bass DJ in the South West. System Antics and Ratatat have their own sound systems and host parties throughout the UK. MC MVP and Mo Brown bring some talented Bruton vocals to the arena. DJ Frank and Raw Footage are local working DJ's newly plying their sounds across the country.
Also with:

"Good To Go" renowned mobile Caribbean catering
Green Monkey Stall
Cafe Roma
Pinky's Bar
Bruton Club Bar
Skittles competition
For more information see our event on Facebook, phone 01749 813244 or email .