Wincanton's focused community website, providing news and information including a full calendar
Headlines » Arts/Entertainment » Bruton Dub Club
New Bruton Dub Club Showcases Reggae & Dub Talent
Tuesday 2 September 2014, 11:34
By Mat Runacre
The new Bruton Dub Club has its opening night on Saturday 13th September at 8.00pm. The night is a new monthly show of talent in the world of reggae and dub, hosted by Lyrical wizard MC extraordinaire Clappers Priest.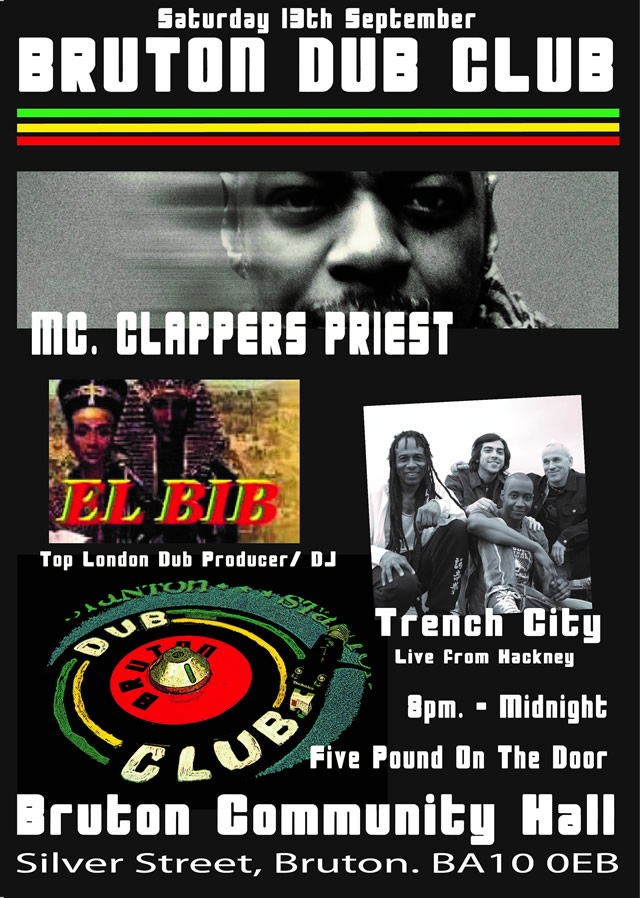 A regular singer/MC at London's Reggae Club, Passing Clouds, Reggae Roast, Notting Hill Carnival, Glastonbury and many others, Clappers Priest has toured Italy, Germany, Spain, Japan and The Netherlands as well as releasing his own recordings. He's at your lyrical service with his unmistakably unique style of blending Jamaican dialect with UK English to produce sounds for your acoustic pleasure.
Supporting him on the decks is El Bib, a Scottish / London-based dub/roots producer and also the co-founder of the dubvibrations.com net label.
He will be mixing it up for an evening of unique London dub.
Live on stage will be Trench City, a band who blend musical genres together into a beautifully crafted songs. From sparkling afro high life guitars with laid back reggae beats to classic soul/rock with funky Caribbean vibes, they're all about creating new musical fusions, but always with a groove that gets your feet moving.
There will also be a reggae merchandise stall.

Whilst it's called Bruton Dub Club, future monthly shows will mix it up with some R&B, Reggae, Dancehall, Roots etc. The 2nd Bruton Dub Club is on Saturday 18thOctober 2014 featuring Korus and El Bib followed by Saturday 15th November (Headline to be announced).