Wincanton's focused community website, providing news and information including a full calendar
News » Arts/Entertainment » Bruton Art Society
Bruton Art Society Five Schools 2014 Winners
Thursday 5 June 2014, 12:15
By John Baxter
Each year Bruton At Society hold a competition to promote and encourage art at the five secondary schools in the area.
Thirty artists from five schools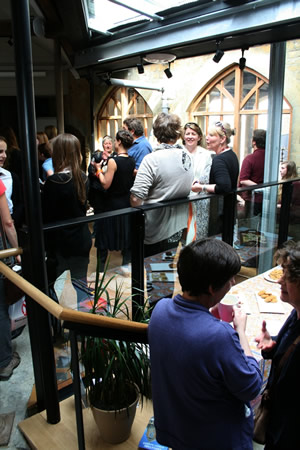 On Wednesday 21st May there was a meeting in the handsome new Market House room in Castle Cary, where thirty young artists, six from each of the five school, (Ansford Academy, King Arthur's, Wincanton, Bruton School for Girls, Sexey's Academy and King's School Bruton) came to see what they had all produced and crucially, who had won the prizes.
The best GCSE artists
They came with their teachers, who had chosen them as the best in their GCSE year, and we were joined by two head teachers, Mrs Nicola Botterill from Bruton School for Girls and Mr Chris Beech from King Arthur's Wincanton
An exhibition with voting slips
A4 photos of the works were on display on the walls and the student artists were all issued with voting slips and asked to choose their favourite three. This sparked off lots of discussion and of course provided an alternative teenage view to what was then announced by Professor Vaughan, chairman of BAS, as the winners.
The winners
Seven certificates of commendation for excellent work were given, two runners up prizes of £15 to Sam Young of Kings and Georgie Lewis of Bruton School for Girls, and Holly Austin of King Arthur's took the £50 first prize.
See all the works
All the works are now up on the Bruton Art Society website, but here are the three prize winners. Sam Young of Kings was unable to be there as he was competing in an athletics competition in Yeovil.