Wincanton's focused community website for news, views and information including a full calendar
Headlines » Shopping/Retail
Boxhouse Publishing is Having a Birthday!
Friday 6 March 2015, 22:20
By Rebecca Morris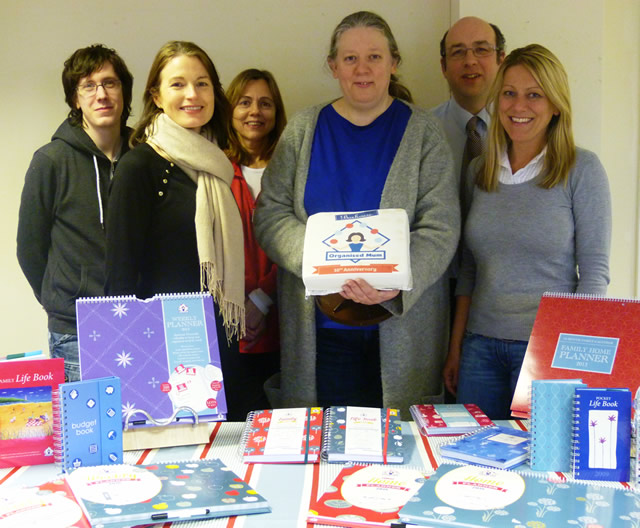 Wincanton-based Boxhouse Publishing, the company behind the Organised Mum brand of calendars, diaries and home stationery, is celebrating its 10th birthday this year.
Started by mum-of-two Sarah Sadler on her kitchen table, the company specialises in creating innovative calendars and diaries to help busy mothers manage their hectic lives. Ten years on and having started life with just two products, the company now boasts a range of calendars, diaries and other organisational stationery and accessories, and employs seven full-time staff.
As well as selling online and through major retailers such as John Lewis and WHSmith, the company also has distributors as far afield as Malaysia and Singapore. In recent years, the company has also achieved further success overseas, tailoring a number of its flagship products for the German, French and American markets.
Managing Director Sarah Sadler states:
"I'm very proud of all that the company has achieved over the last 10 years. We have come a long way since I created my first calendar and diary after finding that none of the products on the market fulfilled my needs. As a young mum struggling to keep organised with two small children, I needed organisational features that would help me run a home, not an office. I soon realised that there must be other women out there just like me and that there was a gap in the market, so I decided to create my own and the Organised Mum brand was born!"
Sarah believes that there are a number of reasons for the company's success:
"Being a mum myself, I can really identify with our target market and tailor our products exactly for their needs. Our customers want beautiful, high quality products combined with practical features that will really help them keep on top of their day-to-day organisation. As such, our products include lots of clever features such as the perforated shopping lists and colourful reminder stickers that we include in our Life Book diaries and Weekly Planner calendars.

"Providing excellent customer service, I believe, is also one of the key cornerstones to our success. Many of our customers have been with us from the early days and still come back to us year after year."
The company is planning to celebrate its 10th anniversary with lots of customer competitions and giveaways on the launch of its new 2016 range in June when it will unveil the exciting new designs for the coming year. Plus, with other new product designs including a Budget Book and new additions to its diary covers range, the company looks set for further success in the future.