Wincanton's focused community website, providing news and information including a full calendar
Headlines » Events » Outdoor Film Nights
[NEW DATE:]

Bohemian Rhapsody: FREE open-air movie at Cale Park!

Wednesday 24 July 2019, 17:53

By Dave Smith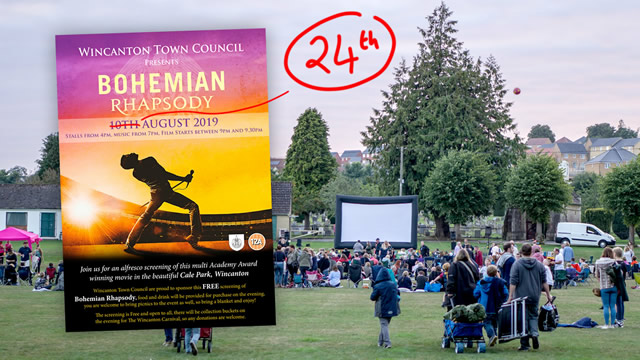 [UPDATE: 15th August 2019] Open-air film night has been rescheduled for Saturday 24th August.
[UPDATE: 8th August 2019] Alas, due to the pesky water cycle, movie night at the park has been postponed. Sad face.
---
Last year, Wincanton Town Council arranged its first ever outdoor movie at Cale Park, screening The Greatest Showman to well over 800 people. Having been a universally praised and unmitigated success; the talk of the town for weeks, it's no surprise they're going to have another go this year!
On Saturday 10th 24th August 2019, Wincanton Town Council will present Bohemian Rhapsody (12A), the story of the legendary rock band Queen and lead singer Freddie Mercury, leading up to their famous performance at Live Aid in 1985.
Wincanton Town Council presents
Bohemian Rhapsody (12A)

Saturday 10th 24th August 2019
Cale Park, Wincanton
Stalls from 4pm, music from 7pm, film starts 9pm-9:30pm
This screening is FREE and open to everyone. There will be food and drink available for purchase throughout the evening, but you are welcome to bring your own picnic, so bring a blanket, choose a spot and relax!
This year's event will support Wincanton Carnival, so there'll be representatives walking around in costume with collection buckets. There's no obligation, but any donations are very welcome and will help to keep running another of Wincanton's annual spectacles.
What's different this year?
This year there'll be a few small changes to an otherwise winning formula. Last year, though the event didn't officially start until about 6pm with music, people seemed inclined to make an day of it and began turning up much earlier in the afternoon. The organisers have decided this presents an opportunity to extend the festivities, and for local groups and charities to reach out to the community.
To that end there will be stalls on the green from 4pm. There'll be food, including pizza and Bootmakers crêpes and candyfloss in addition to what'll be available from Cale Park Kitchen, as well as fun inflatables, and stands representing community groups and charities. There'll also be an information point manned throughout the event by the likes of Town Clerk Sam Atherton and Works Supervisor Steve Lee. It'll also be the collection point for lost property, including children!
Stalls at the event are free of charge, so if you're interested in having one contact Sam at , phone 01963 31693, or pop in to the Community Office under the clock tower.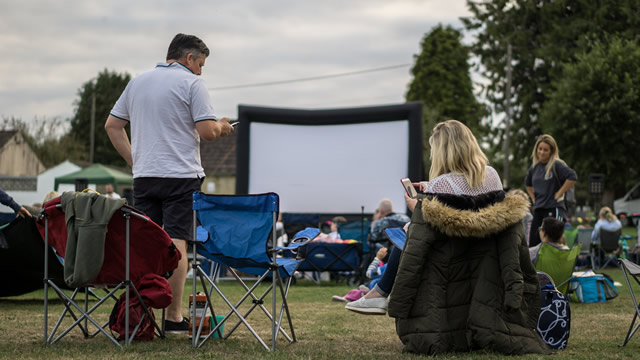 Music will start at 7pm; Queen, of course, to build the atmosphere before the show. Fair warning: there may also be karaoke. This event is earlier in the year than the last, so the film won't begin until between 9pm and 9:30pm when it's dark enough.
The Cemetery Lane gate will be closed from 3pm, and the area behind the screen will be off-limits. This means fewer distractions, but parking will be even more limited so if you're unable to walk in from a little further out it'll be worth planning to arrive early.
We've been enjoying an incredible run of good weather that is forecast to continue, but it's worth noting that due to the dependence on delicate technology, if there's any rain the event will be either cancelled, or more likely postponed.
Finally a word about the main sponsor of this year's movie at the park: Wincanton Film Society. After showing monthly films at King Arthur's School for 11 years, the Society was suspended in 2016 owing to a shortage of willing volunteers to form the committee. Having raised a significant sum of money for the purposes of purchasing new hardware, the remaining committee members deliberated over what to do with it after it became clear the Society was unlikely to be revived. Eventually they agreed to entrust it to the Town Council for the purposes of supporting film-related events in the town. What better way to spend it, than a free-for-all outdoor film at Wincanton's beautiful Cale Park?
---
Related articles