Wincanton's focused community website, providing news and information including a full calendar
Headlines » Arts/Entertainment » Wincanton Film Society
Anchorman 2 – The Legend Continues... at The Bear!
Sunday 6 April 2014, 16:49
By John Smith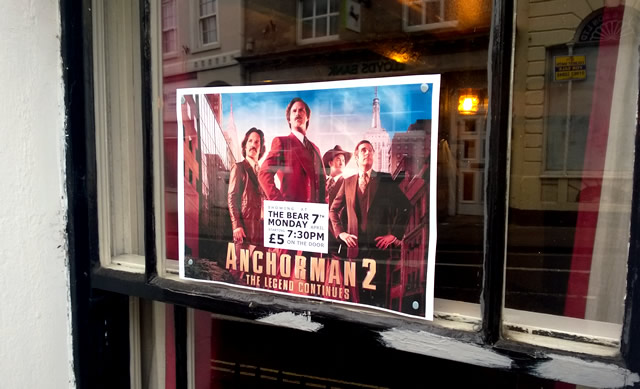 April's movie at The Bear is Anchorman 2 – The Legend Continues, showing on Monday 7th. Will Ferrell continues in this role with this latest offering. Ferrell is credited with writing the script for this movie and also stars in it, alongside Steve Carrel, Paul Rudd, and Christine Applegate.
You will also see Greg Kinnear and Harrison Ford playing a part and down there in the credits you will come across Alex, Magnus and Mattias who we believe to be the sons of Will and his wife Viveca, who was his long term girlfriend until they tied the knot in August 2000. This gives "keeping it in the family" a new meaning.
For a synopsis of the story, see here.
Join us in The Sweetman Hall at The Bear, Wincanton on Monday at 7.30pm. Doors open at 7:30.
Make a night of it and grab a snack/meal at the bear to enjoy while you watch the film. It's a great way to enjoy a film. Help us to keep the big screen in town. Spread the word.
For information, contact John on 01963 34327 or at .