Wincanton's focused community website, providing news and information including a full calendar
Headlines » Arts/Entertainment » Spectra Musica
An Invitation to a Celebration from Spectra Musica
Friday 17 June 2016, 12:15
By Sally Greenhalgh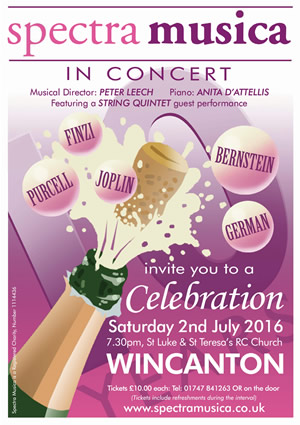 Chamber Choir Spectra Musica will hold a Concert of Celebration on Saturday 2nd July in St.Luke and St.Teresa's Church in Wincanton to mark the Tenth Anniversary year for the group.
Musical Director Peter Leech has been with Spectra Musica for eighteen months and in that time has brought even greater diversity to the music performed by the group, which results in very lively concerts reflecting his vast experience and enthusiastic character. His choice of music for the July concert is a truly triumphant mix, including Purcell, Finzi, German, Joplin and Bernstein. The very talented Anita D'Attellis will once again be playing the piano. A String Quintet will also be performing.
The choir evolved from discussions between Bill Watkins, Tony Fry and Simon Twiselton during the summer of 2005. It was to be a group of experienced singers who would perform music from Bach to Bernstein, Baroque to Bop. Auditions and singing day events took place during the autumn of that year and the fledgling group began rehearsing in the village hall at Bishops Caundle in Dorset.
Spectra Musica gave its first performance in Wincanton in December 2006 and has since performed three times a year throughout the counties of Somerset, Dorset and Wiltshire. Last December it was invited to sing in the American Museum in Bath, it has travelled to Cornwall to perform and also entertains at weddings and private functions. In 2007 the choir moved its rehearsal base to Wincanton, which is more central for the members who travel from far and wide. They are really looking forward to performing in the Catholic Church in Wincanton once again.
For tickets telephone 01747 841263, visit www.spectramusica.com or on the door.