Wincanton's focused community website, providing news and information including a full calendar
News » Arts/Entertainment » Local Artists
An Exhibition of Art by John Baxter in Divine Wines
Friday 31 August 2012, 13:33
By John Baxter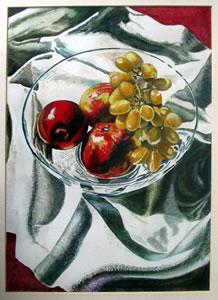 Local artists are lucky to find spaces where they can exhibit, so we have reason to be very grateful that Jenny Holt, who runs and owns Divine Wines in the High Street, does this. Following the example of a string of others I will be showing my work there during September.
Drawing, painting and photography have been part of my life since I was a child and I remain compulsive about them. At the same time I find it difficult to specialise in any one medium, preferring to move from one to the other, depending on opportunity, my mood and the nature of the subject. In addition to drawing and painting and using a camera, I also find the opportunities digital imaging and manipulation offers quite absorbing. Does this make what I do Art? That is up to you to decide.
I have had photographs exhibited in the Royal West of England Academy and in Bonham's in London and took part in and had solo exhibitions of drawings, paintings and photographs in North Devon before moving to Wincanton ten years ago. Since then I have been a member of the Bruton Art Society exhibiting with them and regularly taking part in a life drawing group in Charlton Hawthorne.
As well as framed paintings there will be some mounted prints and drawings on show. The cards on sale will be to support St Margaret's Hospice.
To see some of my work visit www.getshot.co.uk