Wincanton's focused community website, providing news and information including a full calendar
News » Arts/Entertainment » Bruton Art Society
25 Images from the Bruton Art Society Exhibition
Monday 22 August 2011, 14:21
By John Baxter
Yet again Bruton Art Society produces an exhibition of varied and interesting work of a very high standard. Dont miss seeing it at Bruton School for Girls (Sunnny Hill).

This year's exhibition yet again does not disappoint. To give you a good taste you will find here a selection. They were chosen and photographed by me in blissful ignorance as regards the artist or what the hanging panel thought of them. Obviously they are the pictures that caught my eye - less the images we have already put on the Window to publicise the event. If you like them remember computer images are no substitute for being confronted by the real thing - so come and see them.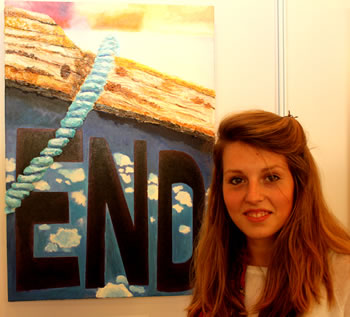 Doing this gave me a good opportunity to really look and it struck me that a high proportion were of the sort of standard one would expect of the Royal West of England's annual Open Exhibition. More than that they show how much real artistic talent is to be found locally.
The school also threw open its art studios showing the exceptionally good work produced and here you see Sophie Bowen, winner of the Bruton Art Society Annual Award for a Bruton School student.
All the works are for sale and in addition to the paintings that have been chosen to hang there are also a large number of unframed pictures in the "troughs" which can be purchased at even more accessible prices and in addition to that many of the artists have produced beautiful cards of their work.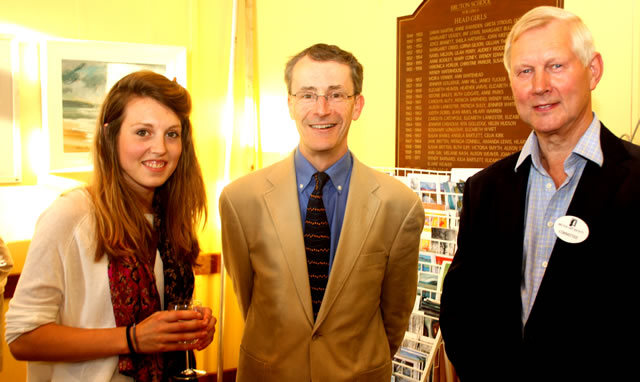 Sophie Bowen, Headmaster John Burrough and Clive Dand
Clive Dand supported by a faithful band of helpers hung this exhibition. He was extremely pleased to note that by making the Society membership more accessible and providing opportunities for the display in the unframed section of digital images (so beginning to break down the divide between "photography" and "art") this year has seen a considerable increase in new members.
And what of the pictures that did not make it and were not hung? Don't miss going to see them too. You will find them all laid out in an adjoining classroom. This is a brave and sympathetic thing to do for every entry is the result of a lot of hard work and thought and rejection is painful. This is your chance to judge the judges and decide if you think some found there were just as good as those that made it. Or are they? These works are also for sale. So have fun, come and see. Open daily 10am-5pm 20th-28th August.