Wincanton's focused community website, providing news and information including a full calendar
News » Events » Yarlington Plant Fair
Yarlington House Plant Fair & Open Garden is on Saturday 11th May
Wednesday 8 May 2019, 21:11
By Dave Smith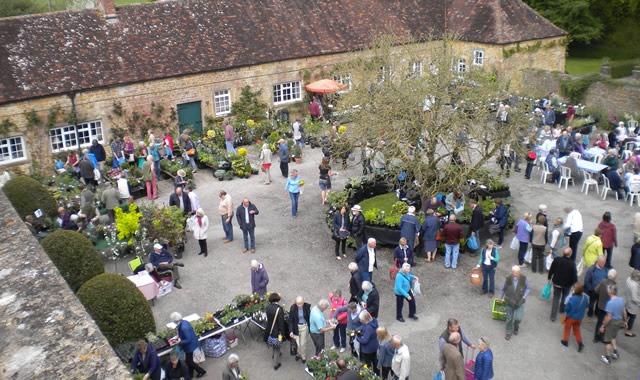 On Saturday 11th May, from 10am till 4pm, Count and Countess de Salis of Yarlington House are hosting their 18th annual specialist plant fair, and opening their beautiful gardens for visitors to enjoy along with a large and amazing selection of plants from specialist growers from all over the South West.
This is an opportunity to buy from a selection of unusual annuals on the Yarlington House stall, and a special day out for gardeners to enjoy the beautiful Italianate flower garden and huge walled vegetable gardens.
There will be refreshments available all day, and free parking. Entrance costs £3, but children under 16 enter free of charge.
In celebration of this year's fair, Rosemary Chambers has written a poem.
The Yarlington Plant Sale

Simply cannot fail.

Never will I have ever seen

So many different plants of green

All laid out on trestle tables

Neatly named with plastic labels.

In words of T.S.Eliot

"The women come and go,

Talking of Michelangelo",

But here is no museum,

Merely a Saturday Plant Show.

So let's ask Fraser "will it grow

And what are the seeds to sow?"

Ladies and their Gents in garden hats

Full of horticultural chat,

They pile the plants into barrows,

Stopping at the exit tent

Where Carolyn and Charles are intent

On counting out the money.

(More is spent when it is sunny)

Then away the punters go

With boxes, bags, and trollies too,

For now they have so much to do

Creating gardens fresh and new,

Spending hours in sweaty toil

Digging deep in well mulched soil,

Their herbaceous borders lush and bright

In gardens looking quite a sight.

On previous years I had my fears

For I knew not what I'd bought,

It made me feel quite fraught,

Until the summer came at last

And much to my surprise

Wild strawberries crept

Across my drive.

Their juicy berries all got squashed,

Beneath the wheels of my car,

Ready now only for the jam jar.

Yarlington Church and Village Hall will never die

For the Plant Sale has much to buy.

We'll all be there in two weeks' time

To join the queues and stand in line,

Waiting then in constant hope

Knowing indeed that we can cope

With plants whose labels we have lost.

But no, they will never let us down;

Flowers are the Country Lady's crown.

By Rosemary Chambers
(Illustration by Lyn Maxwell MRPS)