Wincanton's focused community website, providing news and information including a full calendar
News » Events » Play Days
Wincanton's Second Play Day of the Year in Cale Park
Friday 29 August 2014, 15:10
By John Smith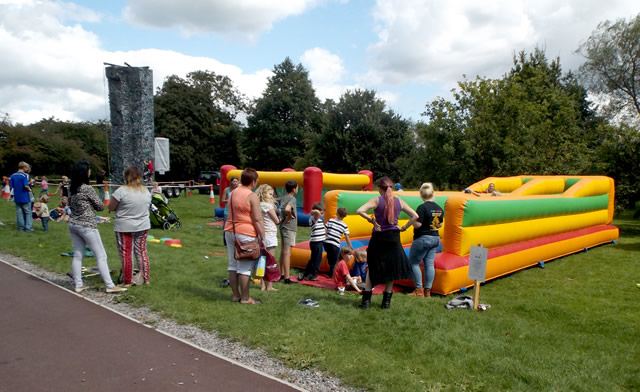 On Wednesday 20th August, SSDC Play Day staged their second event in Wincanton. The first Play Day was based in the Recreation Ground, but the second event was set-up adjacent to the new MUGA (Multi-Use Games Area) to encourage best use of the facilities.
Early in the morning Cale Park was a peaceful. Some folk walked through the park on their way to work. By 8.30am Stuart Talbott and his team were on site erecting a range of bright orange canopies to house the various activities. By 10.00am the activities were set up and the customers were rolling in.
Parents took advantage of the beautiful weather and brought the kids to Play Day. It was a great way to stimulate (exhaust) the kids. By the middle of the morning the peace and tranquillity had given way to the noise of kids having a great time with lots of fun and laughter.
Activities included:
The Bugfest Team with their great selection of creepy crawlies and slithery things.
South West Truckers with their selection of remote control vehicles. They are a social group based in Yate near Bristol, but they are interested to hear from anyone who would like to start a Wincanton group. Contact John Hinks on 01963 33079 or .
Wincanton Toys - Katie Thomas was on hand to show off the great selection of kids' toys they have available. Katie owns Wincanton Toys based in South Street, Wincanton, but also sells online (www.wincantontoys.co.uk). You can contact Katie on 07516 916089 or at .
Ready2Climb with their mobile climbing wall for the risk-takers.
Last, but not least the Bouncy Castle provided a great energy buster for all concerned.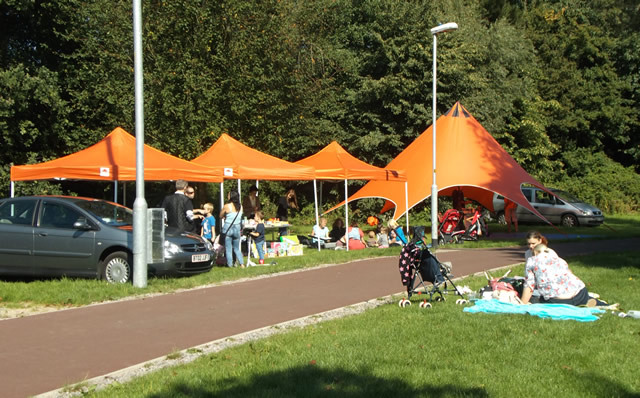 There are plenty of parents today who will be eternally grateful to the SSDC Play Day for all this energy zapping fun. Comments confirmed that the SSDC Play Days were excellent community events and deserve to be a permanent feature each summer. Apart from the SSDC Play Days it's good to see that the existing Skate Park and the new MUGA were being well used too.