Wincanton's focused community website, providing news and information including a full calendar
News » Events
The Wincanton 75 Stay at Home Street Party
Tuesday 5 May 2020, 21:44
By Dave Smith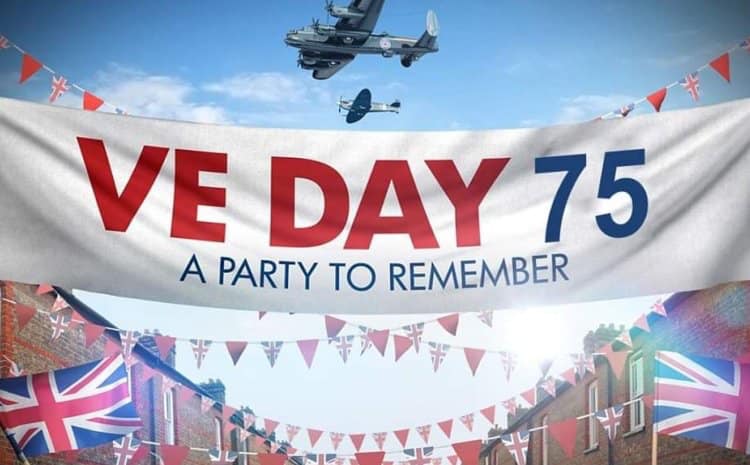 [UPDATE: 07-05-2020] Added messages from the Wincanton VE75 team and Wincanton Town Council at the bottom.
---
As we face some of the most challenging times since the end of the Second World War, it's now more important than ever for us to come together and unite.
The 75th anniversary of Victory in Europe (VE) Day falls on Friday the 8th May this year; this week. The occasion was to have been marked with a series of national events, culminating with a spectacular VE Day concert at the Royal Albert Hall. Plans were made by a local team to commemorate the end of WWII in Europe with several events in Wincanton, but under the current, sad circumstances they've all been cancelled.
Instead, the team has put a great deal of effort has into organising a Wincanton event that observes all the advice on dealing with the current situation, and those involved will continue trying to find ways to celebrate and to respectfully observe the hardship and sacrifice that was made 75 years ago; something that surely effected every single family currently living in the Town.
To this end, everyone is invited to host concurrent 'Wincanton 75 Stay at Home' street parties in their own gardens to celebrate VE Day. Remember, social distancing rules still apply. Do NOT invite anyone from outside your household to your party!
How to take part on Friday 8th May
The 'Wincanton 75 Stay at Home Street Party' team is encouraging people to decorate their houses in red, white and blue and have a picnic in their front garden. There'll even be a competition! To enter, take a photo of your decorations that you agree to be used on social media, send it to the Facebook event page, and then PM your address. The judges will have a walk past your house and the competition winners will be announced after 9pm.
Competition – Best Dressed House
Prizes: Andrew Barclay vouchers
£25 First, £15 Second, £10 Third
The Royal British Legion is also calling for people to join in with a UK-wide rendition of Dame Vera Lynn's 'We'll Meet Again' at 9pm. BBC One will be featuring the singalong as part of their VE Day broadcast, so get practicing now!
Timetable

| | |
| --- | --- |
| 11am | 2 minutes' silence at your doorstep |
| 2pm | Garden party/picnic |
| 3pm | Toast to the nation |
| 3pm | Prime Minister's speech |
| 4pm | Submit your pictures to the FB event |
| 9pm | Queen's address, followed by sing-a-long to Vera Lynne |

Competition winners will be announced after the sing-a-long.
If you'd like more information about this event and how you can get involved, visit @WincantonVE75 page on Facebook, the event page, or contact one of the organisers: Neil Anderson, Steve Lee and Dawn Old.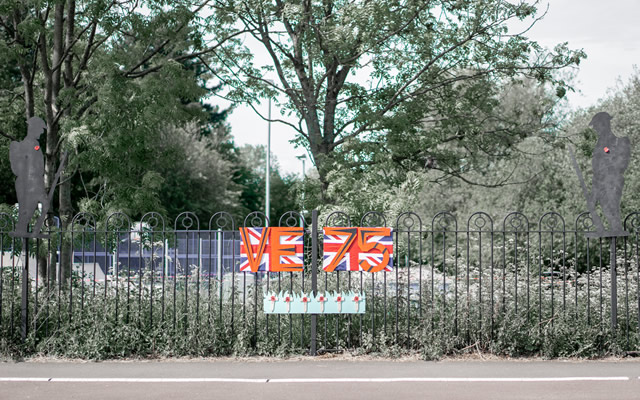 A message from the Wincanton VE75 team
"Let me introduce you to the team who have made all the behind scenes preparations for VE Day.

Myself, Steve Lee and Neil Anderson are the three responsible for ALL that is happening. Obviously we had a whole program of events planned from Thursday through to Sunday but due to the circumstances we find ourselves in we have had to work to find a way to respectfully still mark this milestone in history for our town.

Please follow the Wincanton VE page for everything that will be taking place during the day including a sermon from our new Vicar, the doorstep silence, the laying of the wreath, the nations toast, the pipes, the cry for peace, your own garden/street parties (whilst still practising social distancing) and then the queens speech, Dame Vera Lynn's We'll Meet Again and lastly the lights.

I would like to thank both Neil and Steve for all their help, Neil for preparing our wonderful VE display down on the edge of Cale Park, the Rev Alison Way, Bill Briody for playing the pipes, Donna Brewer for her help with the wreath, our very famous Curly Rodgers for being the town crier and Sam Atherton for her contribution.

I am bound to have missed someone and for that I apologise. It has been a challenge to continue with this act of remembrance under current circumstances so I am overwhelmed with the support I have had to achieve this. I can assure you that all filming was done practising social distancing.

Can I please encourage you all to follow the Wincanton VE page and to make sure the older members of your family can also see what is being uploaded. Please also join me and the rest of the team for giving our heartfelt thanks to all those that gave their life for us to be here today and have the freedom (outside of covid) that we have."

- Dawn Old
A message from Wincanton Town Council
"This year, our community celebrations within the town for the three days of commemorations have changed; however, our resolve to pay tribute to the many millions at home and abroad that gave so much can continue in our homes and gardens.

The national celebrations have been shared on our local social media with exciting activities for children and families to create their own experiences at home. Further information is available at www.veday75.org.

This is a time to remember and share stories of our heroes in families and communities. We have a unique opportunity to celebrate in a different way this year.

I am sure as a town we will come together at 11am for the two minutes national silence to remember the declaration of victory and the end of the Second World War in Europe.

Finally, it is heart-warming to hear of the many homes in our town that will host family parties over this time.

Stay safe and enjoy the celebrations in your home."

- Cllr Shelbourn-Barrow and Cllr Tudgay