Wincanton's focused community website, providing news and information including a full calendar
News » Events » The Winter Fair
The Winter Fair at the Racecourse - supporting The Balsam Centre
Friday 1 November 2019, 17:43
By Annette Yoosefinejad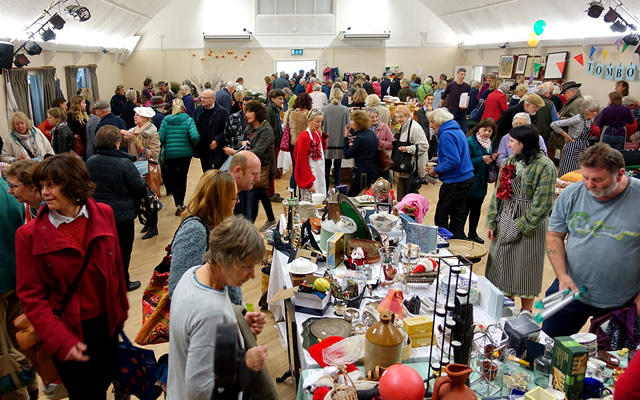 Another year has shot past and it is time again for the delightful Winter Fair. Formerly the Hft Christmas Fair and held in Wincanton Memorial Hall, this new event is being held on Saturday 23rd November at Wincanton Racecourse (BA9 8BJ) 10am - 1:30pm, entry 50p.
This remarkable fair has been going for over 40 years, organised by a fantastic group of 50 volunteers to raise money for charity. Until last year, the money raised went to the national charity Hft (Home Farm Trust) but with some new faces coming on the committee it was decided to raise money for a local charity; The Balsam Centre.
Unlike many fairs where tables are hired out, this group runs ALL the tables, collecting a phenomenal amount of bric-a-brac and clothes throughout the year, and persuading everyone to bake and make jams for the cake stand and the café.
A few weeks before the fair, they get together and sort everything out to the relevant stands; a giant swap shop to get all goods on to the right table. There's a preloved fashion stand, a kitchen stand, plants stand, books, jewellery, a "trash and treasure" stand, and there's even a huge stand just for handbags and scarves, and a picture stand! The sheer quantity of goods is breathtaking, and because it's all donated all the money raised from every stand goes to charity.
If you have never been before, I highly recommend it. There are some real gems in there. Last year I picked up and am now the very proud owner of a lovely pair of gold painted pineapple bookends (it doesn't translate well in print; you'd have to see them), and a shirt I "upcycled" by embroidering it (it took SO long that it will also be the last to be embroidered by me).
This year the Winter Fair is moving to Wincanton Racecourse. It's a big venue with lots of parking, and for those of you who used to walk up to the Memorial Hall, the CAT Bus will be available to take you to the Racecourse for free, from 9:30am. The bus will leave outside the Memorial Hall and shuttle back and forth throughout the fair.
So if you enjoy delving through junk, or are looking for a new upcycling project, this is an excellent place to start. You might even get that project finished in time for Christmas!