Wincanton's focused community website, providing news and information including a full calendar
News » Events » Talks & Presentations
The Nicholson Lecture at Maperton Church – Saturday 8th August
Friday 31 July 2015, 08:26
By James Scott

This year's "Nicholson Lecture" is given in memory of Brigadier Claude Nicholson, who commanded at the heroic defence of Calais in May 1940, just 75 years ago. The illustrated lecture takes place on Saturday 8th August at Maperton Church and tickets cost £12.50.
Please read the Ticket Booking/Donation form to book your tickets.
Previous Lectures have proved both interesting and convivial: we are exceptionally privileged to have Graham Mottram as this year's speaker and we look forward to a good turnout for what promises to be a fascinating and very enjoyable evening. As a recently retired Director of the Fleet Air Arm Museum at Yeovilton, he is not only familiar with his subject, he is known as a most accomplished speaker.
After three Lectures with something of a soldiering slant, this year it is the turn of the Royal Navy and the Royal Marines to be the focus of attention, and especially given our proximity to Yeovilton and to Norton Fitzwarren (home to 40 Commando), I hope we can demonstrate our support for them.
About this year's Lecture
One hundred years ago, Lieutenant Rex Warneford and Squadron Commander Richard Bell-Davies became the first naval aviators to receive the Victoria Cross.
In June 1915, Warneford brought down a Zeppelin over Ostend – becoming the first pilot to achieve this.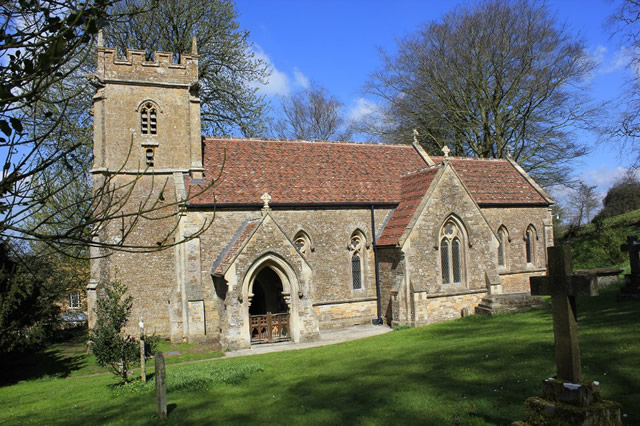 Later in the same year, Bell-Davies landed his single-seat fighter behind enemy lines in Bulgaria and rescued a colleague who had been shot down.
In this - the 2015 Nicholson Lecture – Mr. Mottram will trace their service careers and describe the dramatic actions that earned these men their place in history and the highest award for gallantry.
You can read more about the Lecture here.
Amazingly, for a tiny village with barely 100 residents, the Lecture has acquired over the last three years a status of its own, and people ask "What will be the topic next year?" In each of the last three years, the Lecture has raised over £1,000 for the service charity and £1,000 for the church.
Maperton Church really is something of a hidden jewel: set in a stunning location, the church was recently redecorated and refurbished, and anyone visiting it will be in for a treat.
More information about Maperton Church and The Nicholson Lecture can be found on our website, www.Maperton.com.